Maybe it was because I'd been reading too many detective novels, but there was something that didn't feel quite right about the revelation of a super group going under the name Revolution Saints.
The first we heard about them was that guitarist Doug Aldrich had left a fat pay cheque with Whitesnake to form the band. But that got back-peddled, and it was just one of several new opportunities he was exploring. As more information filtered in it became bible that Frontiers Records' President Serafino Perugino had long wanted to put out a record featuring Journey drummer Deen Castronovo on lead vocals. That doesn't quite say solo album but it had to have been on the cards at some point.
Now Castronovo has apparently sung the odd song live and on Journey records, and been received well. But, with all due respect, he's not exactly a name on his own, nor an established songwriter. Thus, we can easily see how bass player/vocalist Jack Blades got brought on board, having had AOR hits with both Night Ranger and Damn Yankees. Less obvious but no doubt the real man who grafted hard to make this all come together was Alessandro Del Vecchio – Not only does he work for the record label and would produce the record but he plays keyboards and is credited with writing a large part of it.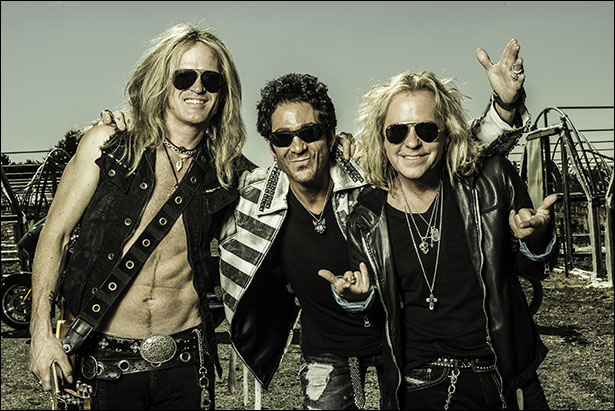 How late Aldrich actually came to the game is anyone's guess. Neal Schon guests on one track and Journey's main current vocalist Arnel Peneda puts in appearances. On paper at least it reads like things weren't completely panning out. But surely it was more than the economics of needing guest names to attract purchasers? Why were Peneda, Blades and also Alessandro Del Vecchio added to the vocal equation if the dream was to have an album sung by Castronovo?
Possibly because if you hear him sing one song or two you're surprised (some people still can't get over the first time they heard a sweet voice come out of the wild shaggy bearded man that was once upon  a time Phil Collins) and can enjoy it, but ultimately a fine pitched voice is not what it takes to be a great lead vocalist – Ask Ringo Starr, who after being given light relief numbers to sing with The Beatles actually established himself with some credible major solo hit singles back in the '70s – A lead vocalist is someone who knows there's a time to holler off-key, to be distinctive in tone and timbre and offer genuine personality – even if faking the emotion – not just louder harmonies. I may be completely off the mark here, but I think a business decision was made to call in additional singers to strengthen the sound. Do I think Castronovo does a bad job on his own? No, but the songs co-featuring other vocalists are generally the better ones on this album. In many respects it doesn't matter what conspiracy theories you consider my twisted mind's come up with the results are pretty good, and if they go beyond this first album, hopefully the singing drummer's learned some valid lessons about fronting a band but also that Blades' voice is taken more advantage of. All that aside, what makes the album stand out is placing Aldrich's harder driven guitar within the framework of an AOR setting, it's not quite a game changer, but it sure makes you listen.
From the get-go, 'Back On My Tail' throws all the right shapes for open-top car cruising, with some sturdy guitar chording  matching a good sing-along chorus hook, and some pretty decent hard-edged brief guitar soloing.  It's followed by 'Turn Back Time' a more melodic rock tune co-featuring Jack Blade on vocals, offering greater intonation and phraseology to the song, while not as immediate, whereas Aldrich slides his pick along his strings, then shreds, adding harmony guitar and widdles masterfully during his solo. Arnel Pineda adds co-lead vocals for 'You're Not Alone' a tune that starts on piano but veers away from balladry to become a mid-paced poodle-rocking melodrama.
There's a nice guitar chugging twist and turn opening with a stranglehold riff pulling in to keep 'Locked Out Of Paradise' in mode, then an ascending motif as the chorus comes in. then it breaks down half way through for the guitar to strut its stuff but ultimately Aldrich goes for the more obvious shred before kicking back in on song with some noticeably good drumming from Castronovo too.
Featuring an acoustic introduction 'Way To The Sun' grows to become something of an epic, recalling the way Bon Jovi took the heart of Rory Gallagher's 'Out On The Western Plain' for 'Wanted Dead Or Alive' and the band does it well for the most part, with Blades adding vocals and so too Del Vecchio, but more importantly Neal Schon taking the guitar solo – There's no two ways about it, it's  excellent; wandering purposely in echoed high pitch, with elegant passing grace notes, but also atypical of the man's sound so something that fits the proscribed formula that this form of music has taken. Schon totally outclasses Aldrich, but what the latter brings to the Revolution Saints table is a more aggressive bluesy hard rock, sure he has a tendency to overdo the histrionics, but overall it's that dichotomy of sound that helps make them distinctive. There are bonus CDs available that offer a version with Aldrich taking the solo, as there is a making of DVD that probably blows all my theories on how this band got together, but what the hell.
'Dream On' is irritatingly catchy 80s pop music; 'Don't Walk Away' begins with piano backing vocals before the band kick in power ballad style a little too drearily for my tastes; whereas it's followed straight after in the same manner  by 'Here Forever' that works much better. The bad ass pump and chorus holler of AOR rocker 'Strangers To This Life' features Aldrich shredding nicely as it draws to its conclusion, while the keyboard lead mid-rocker of 'Better World' borders somewhere between a good Survivor track and a throwaway FM one.
'How To Mend A Broken Heart' is rather magnificent. There's a great slamming guitar sounds played with urgency  with a fetching underflow of melody, all underpinned by a stop-start driving rhythm section and Castronovo's vocals soaring melodically high but with a much required rock edge. It then all concludes with the piano-led 'In The Name Of The Father (Fernando's Song)' that's comes across rather too earnest for me, not least because I'm not sure whether it's a Heart or an ABBA number it's reminding me of, similarly the guitar solo comes in on queue exactly when you expect it.
Coming to this with prejudices, I was suitably impressed along the way when it veered from the less obvious approaches of AOR to give a beefier sound on songs like 'How To Mend A Broken Heart' and 'Locked Out Of Paradise'. And while I've declared it's Aldrich's guitar that adds that edge, one shouldn't ignore how important Del Vecchio, the less well known musician among them, has been to both overall sound and composition.