What an amazing tribute to a gone but never forgotten hero – Ronnie James Dio, who I am sure, would be very proud of this.
Biography
Ronnie James Dio was born in Portsmouth, New Hampshire under the name Ronald James Padavona on the 10th July 1942.  It was a very sad day for all metal heads, as Ronnie bid his final farewell on 16th May 2010 after a long bout of stomach cancer, which was first diagnosed in 2009, and he climbed the Silver Mountain, throwing a salute of the metal horns (A hand gesture he popularized that has stayed within the metal community and remains to this day) for the last time.
Ronnie was in my opinion a wizard, I say this because his music was sheer magic and it lives on in the hearts of metal heads, far and wide and young and old alike.
Dio sold over 47 million albums throughout his metal career. Fronting numerous bands, his first being The Electric Elves, later shortening the name to the Elves and then moving on to Rainbow in the mid 1970's. He stayed with Rainbow until 1979 then left to join legendary Black Sabbath whom he stayed with until 1982 then left to form Dio with Vinnie Appice, Vivian Campbell and Jimmy Bane.
In 2006 it was confirmed that Dio would once again join Iommi, Butler and Appice to tour under the name of Heaven & Hell – the name of the first album Dio recorded with Sabbath. Ward was supposed to be included in the line-up but later withdrew.
On May 4th 2010 Heaven & Hell announced they were cancelling their tour due to Dio's ill health – Dio's last stage performance was August 29th 2009 in Atlantic City, New Jersey.
Dio died at 7.45am on May 16th same year, just twelve days after his final performance. A public memorial service was held on May 30th at the Hall of Liberty in Hollywood Hills. On all accounts the place was filled to capacity, with fans outside watching the service on a wide screen.
But the legend lives on in each and every one of us that bought his albums and saw him live in concert – this tribute album is to honour Dio with some of the top artists putting their signature to some of the greatest Dio, Rainbow and Sabbath tracks – with all money raised going to the "Stand up and Shout Cancer Fund!" Ronnie has the last word on the album from a moving performance of "This is your Life" released from 'Angry Machines' (1996) and a sad reminder that we will never hear a voice like Dio's again.
The Ronnie James Dio Stand Up and Shout Cancer Fund, co-founded by Wendy Dio, is a non-profit charitable fund 501(c)(3) dedicated to supporting cancer-prevention research, raising awareness and educating the public about the vital importance of early detection and prevention when dealing with this deadly disease.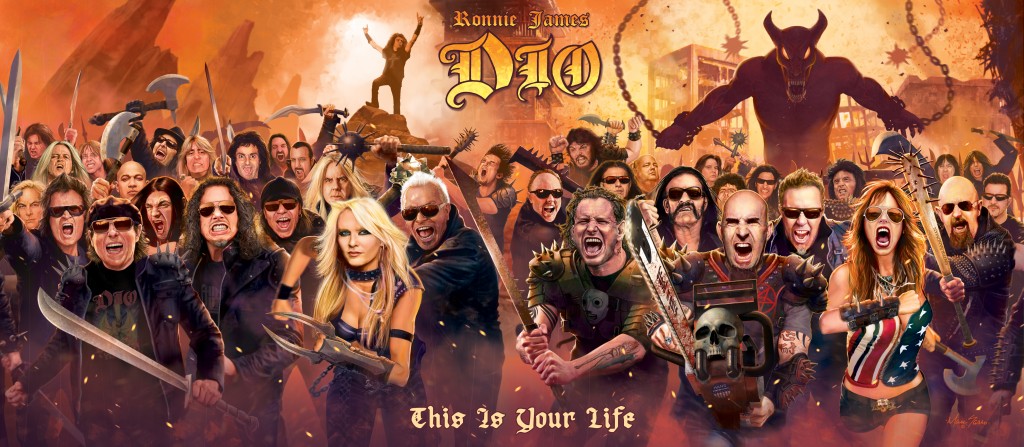 Review
Kicking off the album are the familiar tones of 'Neon Knights' sung by Anthrax, and although they have done an immense job with the track, no matter who sings this, I can only hear Dio's voice.
This is beautifully portrayed by Tenacious D 'Last in Line' starts off fluid and builds into a fiery beast, with a superb spin on the original, adding flutes that give it a truly medieval sound – Dio would be proud of this!
This is a beast of a track from Adrenalin Mob, who have not turned away from the raucous metal legacy Dio left behind with 'Mob Rules'
One of my favourite Dio tracks of all time – 'Rainbow in the Dark' although there were many! The words are so poignant and no doubt will stir a few memories. Sung and played brilliantly by Corey Taylor, Roy Mayorga, Satchel, Christian Martucci, Jason Christopher – (Previously unreleased)
Do your demons Do they ever let you go? When you've tried do they hide deep inside? Is it someone that you know? You're just a picture Just an image caught in time We're a lie you and I We're words without a rhyme  
Halestorm take on this mighty track 'Straight through the Heart' the slant being taken on by female vocalist, Lzzy with her strong and very distinct vocals, reminding me of Ann and Nancy Wilson of Heart.
'Starstruck' sung by none other than Motörhead and Biff Byford of Saxon another previously unreleased track is great, although Biff has lent his screaming voice to this it still has a good Motörhead spin on it, with the harmonies, although rough sounding, still blends superbly!
Being an avid Scorpions fan – still… I was interested to see what they would do to this track, 'Temple of the King' and in my opinion, they have made it their own. Klaus's vocals are unmistakable, as are Matthias and Rudolph's guitars – this is smooth and memorable.
'Egypt the Chains are on' a very under-rated track, expertly sung by Doro the metal high priestess lending her lilting tones to the proceedings, in an eastern take from 'The Last in Line'
Killswitch Engage sound slightly similar to the original, on 'Holy Diver' but saying that Jesse Leach has added a twist of his own with thunderously powerful vocals complimenting the track really well.
'Catch the Rainbow' clearly holding strong sophistication from Glenn Hughes, Simon Wright, Craig Goldy, Rudy Sarzo, Scott Warren – yet another previously unreleased track. These guys have done it proud with great musical content that flows seamlessly with orchestral appeal (Always did make me smile when Dio sang we 'Catched' the Rainbow)
'I' is quite a sinister track from Heaven & Hell and the take on this is from Oni Logan, Jimmy Bain, Rowan Robertson, and Brian Tichy. (Yet another previously unreleased track) Not surprising Jimmy Bane plays on this as his style has always been a bit dark, however, Bane is still superb and a legend in his own right. This is one is heavily laden with guitar! With strong bass lines – of course!
'Man on the Silver Mountain' starts off with a bit of a Country flavour, however it soon turns back into a recognisable track, that is until Halford starts to sing – and I just cringe as it sounds off key in places! Ouch! However, musically it sounds strong and still just as good as when Dio sang it originally with Rainbow.
"A fine and touching tribute to one of the best metal vocalists and composers that ever lived – Ronnie James Dio. Forever in our metal hearts – we salute you!"
'Ronnie Rising Medley' is just simply breath-taking – Metallica have really surpassed expectations with this, featuring A Light in the Black, Tarot Woman, Stargazer, and Kill the King, some fantastic tracks here that bring back memories of a misspent youth! I may have to take Metallica a lot more seriously after this! Truly superb guitar work!!
'This is your Life': Over to our legend Ronnie now with a beautiful ballad – I don't know if I will be able to listen all the way through without getting upset. It's humbling listening to his distinct vocals and hearing the words he wrote, knowing he will never sing and write again is just too much to bare.
The words are poignant as only Ronnie knew how to write. It makes me think about Wendy and how she is coping? – If we the fans feel upset on listening to Ronnie's dulcet tones – how does she feel being without the master by her side?
A fine and touching tribute to one of the best metal vocalists and composers that ever lived – Ronnie James Dio. Forever in our metal hearts – we salute you!
A Tribute Album to the late great Ronnie James Dio 'This is your Life' the  14 track album by Various Artists is out now!
Track List:
1. "Neon Knights" – Anthrax* 2. "The Last in Line" – Tenacious D* 3. "The Mob Rules" – Adrenaline Mob 4. "Rainbow in the Dark" – Corey Taylor, Roy Mayorga, Satchel, Christian Martucci, Jason Christopher* 5. "Straight Through the Heart" – Halestorm* 6. "Starstruck" – Motörhead with Biff Byford* 7. "The Temple of the King" – Scorpions* 8. "Egypt (The Chains Are On)" – Doro 9. "Holy Diver" – Killswitch Engage 10. "Catch the Rainbow" – Glenn Hughes, Simon Wright, Craig Goldy, Rudy Sarzo, Scott Warren* 11. "I" – Oni Logan, Jimmy Bain, Rowan Robertson, Brian Tichy* 12. "Man on the Silver Mountain" – Rob Halford, Vinny Appice, Doug Aldrich, Jeff Pilson, Scott Warren* 13. "Ronnie Rising Medley (Featuring A Light in the Black, Tarot Woman, Stargazer, Kill the King)" – Metallica* 14. "This Is Your Life" – Dio *Previously unreleased