To be a rock fan in the early eighties was heaven itself. The awkwardly named 'New Wave of British Heavy Metal' (NWOBHM) had seen some great bands coming forward, the Monsters of Rock festivals at Donington (forerunner of Download), had begun and there were some great live albums being released. No Sleep Til' Hammersmith, Strangers in the Night and Saxon's 1982 offering The Eagle has Landed which made it to number five in the albums chart.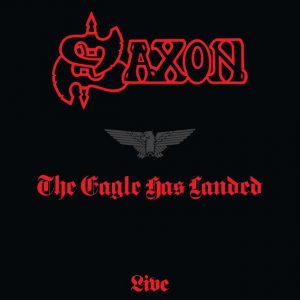 When The Eagle Has Landed was first released in '82, having been recorded on the European leg of their '81 world tour, Saxon were then close to the very peak of their powers. Helping to redefine the sound of rock and metal in the early eighties when metal really took a hold. This album is a representation of Saxon's golden period when it seemed for several years they could do no wrong. They'd produced a run of classic rock albums which featured some stone cold rock opuses. They had played any number of blistering 'live' gigs, all of which combined to make Saxon one of the frontrunners of the NWOBHM, alongside Maiden and Leppard. And Saxon are also one of the few bands from the NWOBHM era to have stayed on course, despite a wobble in the late eighties/early nineties. They're still out there and still doing it, giving their fans what they want to hear proper old school heavy metal.
The album begins with the crowd cheering as the sound of a motorcycle revving up can be heard and then the band appears and 'Motorcycle Man' erupts into life, and the pace never relents. They give us such great tracks as 'Princess of the Night', 'Wheels of Steel, 'Strangers in the Night' and 'Strong Arm of the Law'. "You're not getting tired, are ya?" Biff screams at one point, "I wanna see people dying from exhaustion".
On the original vinyl album, there were only ten songs… for whatever reason, their label Carrere decided on just a single album release. However on the remastered and reissued CD, six bonus tracks from Hammersmith Odeon have been added, including 'See the light shining' (dedicated to 'Fast' Eddie Clarke) and the epic 'Dallas 1pm'. The omission of 'And the band played on' has finally been rectified by being included as a bonus track, but the continued omission of 'Denim and Leather' is bewildering. Nonetheless, this is a superb 'live' album in every sense, classic rock as it should be played.