What an incredible Festival, this is probably one of the luckiest Festivals in the UK. For the past two years the weather has been perfect for the onslaught of phenomenal live Bands from all over the world. It's pretty unheard of for a festival to hand out stage times of all the bands playing on the day as you usually have to pay 2-4 beers for them (Be honest, that is how everyone sees currency at festivals) and although the drink prices have risen since last year to the usual festival standards, there's no shortage of people 'juggling' cups. The problems occurring last year with the huge wait times to get in for the Slam Dunklings was loads better this time round, so all in all it had evolved into a well organised monster of an event.
Some incredible performances were on display and although I had some great interviews with bands, it's the music we're all here to see. I caught the last three songs of The Aussie quintet Tonight Alive, and by that point the crowd had been worked up into a frenzy. Random body parts oscillating to the beat, people jumping, people on the shoulders of people jumping. It was the perfect vision of why festivals are so incredible and to have it so early in the day put everyone in a great mood.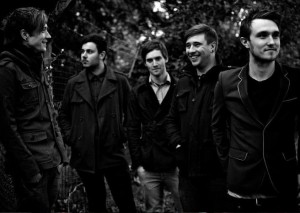 Staying on the main stage, Mallory Knox get a huge response as they walk out on stage straight into a perfect performance of 'Wake Up' setting the standard for the whole day. Huge props go to front man Mikey as he keeps the crowds energy high and crazed throughout the whole set and in fact the whole band put everything into it, so god darn pro!
After some more interviews a quick peek into Ska Punkers [Spunge] on the Vans Off The Wall Stage, and they were halfway through their 2002 single and P-Rock classic 'Roots'. The room was a skanking tank of lunatics and 5-mile smiles, great to see. Off to Pierce The Veil where lead singer Vic Fuentes is singing acapella, then joined with force by the rest of the band. Best reaction to these guys was when he announced their acoustic number 'Roger Rabbit' played flawlessly.
Last of the Interviews and onward to the Monster stage where Bury Tomorrow are storming it. My favourite part of the show was when Bassist Davyd tells people to put their left hand up, and then down on the head of the person next to them, "this person is going on your shoulders" he said. At which point the security at the front barriers have a heart attack and even though they're trying to get people to stay grounded, their following's not as big as Team BT.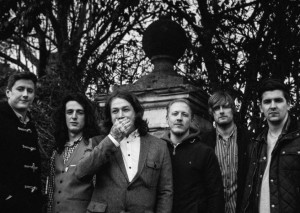 Deaf Havana come out on the main stage to a peculiar cover choice leaving many of the crowd wondering if Sun Stroke had properly taken effect as the boys blast out their own rendition of Robbie William's 'Let Me Entertain you' and during the second song 'Little White Lies' it felt that something wasn't quite right. I've seen this band a couple of times before and both times had been something special. After the song we find out that vocalist James Veck-Gilodi has lost his voice! He couldn't talk but he could still sing in places and gives it a damn good go, bonus being that he sounded like Johnny Vegas when he talked, 10/10 for effort.
Next up, we are at the Vans Stage and The Skints are on and it's a room full of t-shirts and hoodies from every different genre, all loving the chilled out Reggae vibes, the on stage presence and the pristine performance. This band is quickly becoming the staple diet for the UK alternative festivals and a welcomed mix up of Ska, Reggae, Punk and sheer musical talent.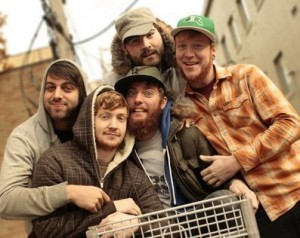 Finishing off at The Macbeth stage with the powerhouse that is… Four Year Strong. What a set… What a band… what a finale. These beard clad men on stage looked like they stepped off a Viking ship after a victory in battle and produced an incredible show for a packed room, minds were lost here. No one could stand still, even at the very back, the paralytics were stilling moving what body part they could control to the music. It was a phenomenal end to the day as they give about three encores at the end of their set.
Definitely one of the most successful festivals of the year so far, really well run with not one stage suffering with time issues or delays. A level playing field of bands and festival-goers. Band members would be out and about mingling with everyone, even the boys from Don Broco who were unbilled were there getting involved and supporting their fellow performers. Roll on Slam Dunk 2014!