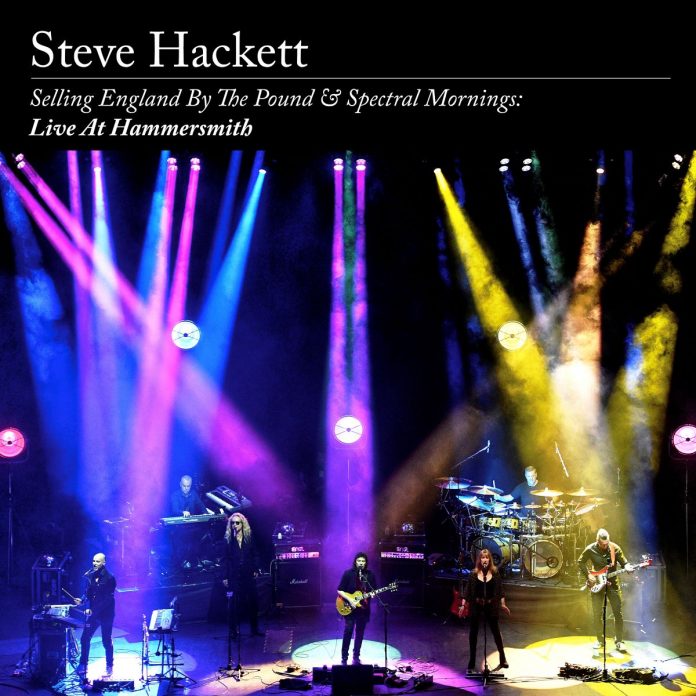 Forty-three years after leaving the band, Steve Hackett is now the acknowledged keeper of the soul of Genesis. While Genesis themselves have evolved into a proggy / MOR supergroup, playing the occasional truncated medley of some of their older songs, Hackett's out there giving us the real thing. Witnessed by the success of his Genesis Revisited albums and tours, on his 2019 tour he gave fans a complete performance of one of THE landmark 1970's prog albums. Selling England by the Pound is an absolute classic by any definition.
Live at Hammersmith was recorded by Hackett and his band on the last night of their 2019 tour and, as well as Selling England… Hackett also included his own personal favourite solo album, Spectral Mornings. This was beyond doubt a tour guaranteed to make any self-respecting prog fan salivate. After the intro music the band comes on and open up with 'Every Day' from Spectral Mornings. It's immediately apparent Hackett's surrounded himself with top-notch musicians, including Jonas Reingold (bass), Craig Blundell (drums) and Amanda Lehmann (gtr and vocals). After this, he plays three tunes from his 2018 album, At the Edge of Light, including the mighty 'Beasts In Our Time' – a timely warning considering the rise of parties dedicated to eliminating essential freedoms. Hackett's band then performs several songs from Spectral Mornings, including a gorgeous version of 'Virgin & the Gypsy,' 'Tigermoth' played as an instrumental, and 'Red Flower…' played on acoustic guitar with an oriental backing – these are followed by a brilliant rendering of title track 'Spectral Mornings,' all of which proves this album is one of the strongest Hackett's ever released. But the bar is then raised even higher as vocalist Nad Sylvan comes onstage and sings, to huge applause "can you tell me where my country lies?"
The band begins playing 'Dancing with the Moonlit Knight', which heralds the intro to an immaculate performance of 'Selling England…' with stellar performances of every song, particularly 'Firth of Fifth' and 'Battle of Epping Forest' and an awesome version of the epic 'Cinema Show'. Hackett also performs the rarely played 'Déjà vu,' a track by Peter Gabriel originally intended for the album but for whatever reason it was left uncompleted until Hackett took on the task. One of the criticisms leveled at Hackett on this tour was that the stage performance of 'Selling England…' was almost a note-for-note reproduction of the original album. Though on 'I know what I like,' John Hackett adds sax and Steve lets rip with a guitar break, and 'After The Ordeal' now features clarinet with the band rarely straying off-message from the original. However when an album is as virtually flawless as Selling England… no amount of improvising, irrespective of how good, is going to improve on it. The set concludes with two tracks from Trick of the Tail (possibly the last great Genesis album), with 'Dance on a Volcano' and a brilliantly loose interpretation of 'Los Endos,' with some amazing instrumental passages to complete a marvelous show. Live at Hammersmith is nothing less than a masterclass in how to play prog rock. There isn't a wasted note on the album and it's very likely one of the best 'live' albums you'll hear this year, or any other year.