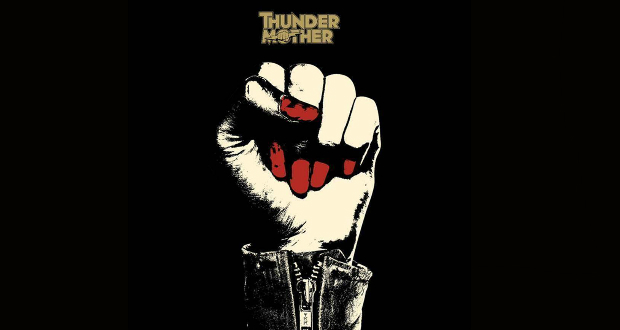 There is a clue on the cover of this album, it is a fist with the wrist showing a leather cuff. The fingernails are painted, the line-up is all female, the music is rock all of the way. Welcome to the world of Thundermother, a Swedish band that has gone through some lineup changes and is reborn with their self-titled new album.
The guitarist and founder, Filippa Nässil, started Thundermother in 2009 and, with the previous line-up, released two albums Rock 'n' Roll Disaster and Road Fever. In the past, they have supported artists such as Michael Monroe, W.A.S.P, D-A-D and Danko Jones.
The new look band formed in early 2017 and now consists of Filippa on guitar, singer Guernica Mancini, bass player Sara Pettersson and drummer Emlee Johansson.
First track 'Revival' reveals a group adept with their instruments. An anthemic start and when the vocals come in, what do we have? A classic 70s/80s heavy rock sound with Guernica sounding like a cross between Bret Michaels and Patti Smith. Instrumentally the bassist is damn good, the guitarist knows when and when not to play, the drummer is solid without any histrionics so beloved by many of today's drummers.
The best track is 'Children On The Rampage', a bluesy feel behind it shows a Stones influence and is a really well structured and executed song.
A slower pace greets us on 'Fire In The Rain'. The obligatory lighter-waving ballad is pretty good even if it doesn't break any new ground.
In fact, that is my summary of the whole album. It is a very pleasing set of songs which will not be skipped on the old iPod, but which will not set the world on fire. However, as this is their first with the new line up, I look forward to the next one, which should see them mature and develop.
This is a band well worth watching out for live and for their next release.
If you need comparisons, then think UFO sprinkled with a bit of Thunder and a hint of influence from the Stones.