So, what's in a name, eh? Well, according to the band once known as 'Agent', there's plenty, especially when your current name is too low profile to be noticed. So, they changed their name because "we weren't standing out online, especially on Google and Spotify, where it counts, so we decided to relaunch the band and reinvent ourselves a little bit along the way". Thus, Temples on Mars, a London based rock band, and not to be confused with Temples of Mars, a US rock band, was born.
Temples on Mars claim to be influenced by many eclectic and different strands of musical thought, everything from dance, through to prog rock and onto classical but, in the process, they aim to create a progressive rock sound, "combining melody and the heavy in a unique way." I'm unsure whether it's unique but the album they've made is certainly enjoyable. There are some blasts of heavy rock, with some blitzkrieg guitar and chunky chords running all the way through the album, over a solid incessant backbeat on the drums, and these nestle alongside a few quieter, more introspective moments.
'Bon Voyage' opens the album, it starts with a gentle introduction with a sound like a rocket ascending before the band launches straight into 'Gods & Kings', a track infused with a prog rock sensitivity and an insistent driving guitar beat behind the vocals. On the new album, their lyrics focus very much on the darker side of life (or death) and the state of the human condition. This can be seen on the track, 'So In Love With Your Own Drug', which is being released as a single, and it's a song which alludes to the state of modern society, people being so absorbed in themselves and forgetting how to live.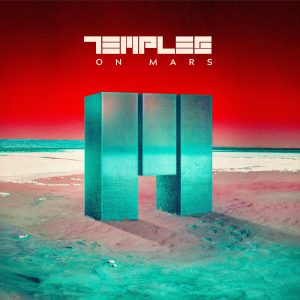 But, while tracks like 'Death in the Afternoon', 'Dining with the Devil' and 'When Gods Collide' are full-on rock workouts, they give full rein to their prog side on closing track, 'Chief Seattle', with a spoken word track over a synth backing. This track is somewhat at odds with the rest of the album, but a good way to close an album nonetheless.
Temples of Mars describe their new album as "Prog yet accessible and an absolute joy to listen to from front to back".  An absolute joy might be stretching things somewhat, but there's no doubt there's plenty here to enjoy.