Diamond Days
To kick things off the first support act Diamond Days really got the ball going. These lot with their modern rock vibe really got the crowd going, full of energy and confidence these guys managed with no problem to make their mark on the night! An excellent mix of vocals and solo's, playing a good mix of classics and some new tracks. They played 'You're Not Alone' one of the band brand new tracks, and already a classic. Then 'I rewind' with a surprise special guest…Harry Radford from Yashin! It even got slightly more nuts when Tom ended up trying to jump into the crowd demanding them to clap while he sings!

Pavilions
If Diamond Days wasn't enough next up we had post-hardcore, Liverpool dudes Pavilions. They kicked in after a very suspense start, you could feel the atmosphere change, everyone eager, the suspense was so big you could cut it with a knife…then Suddenly bang! – here they all come packing a punch! With a fantastic combo of electric post hardcore beats with a dash of rock! Which suddenly makes the crowd act like a swarm of wasps eager to go ape s**t. Which of course they did! They featured new track 'Science & Gods' from their upcoming album 'The Future is Mine to Make'.
The Blackout
So after the incredible support acts its time for the final, The Blackout. After yet another suspense moment from the start suddenly BOOM! – They all appear and it's simply nuts! Dancing, jumping, moshing – you name it, it probably happened. The crowd go bat s**t crazy! After a few moments – BAM! Sean Smith jumps right into the crowd and vanished for a bit, while Gavin Butler dominates the stage, with the other members as his trusty minions! Jumping around like a mad house.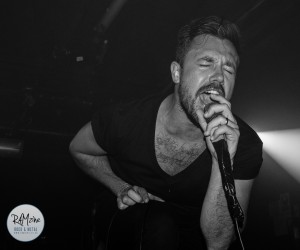 Nobody is keeping still! The atmosphere is fantastic! With of course an excellent combo of sweat, smoke, music, and alcohol. To a point where Gavin says "It's hotter than the devils d**k in here". Then suddenly Sean pops back onto stage somehow and then Gavin jumps into the crowd! I have no idea how its possible but Sean kept on swinging the microphone like it was nothing with a perfect catch everytime! The band  give out a bit of banter about Paramore as they talk about them touring with them many years ago saying "Has anyone heard of them anymore? Probs got day jobs, They have a girl in it so it was destined to fail". The banter was unreal but they topped it off saying "If you put Joke aka jk with a winky face you can get away with it". Then then added "Tweet us the most f****d up s**t on twitter with a jk and a winky face for banter". Well that should be interesting what people will come up with!
Mid set having a chitchat while preparing for the next stage, Gavin proudly yells "We are proud to be in Liverpool we love the atmosphere!". They were belting out such classic tracks as 'Children of the Night' – 'Start the Party' , and 'I Don't Care (This Is Why We Can't Have Nice Things)'. And for the finale 'Higher and Higher' really was a great track to finish the gig. Speaking of the final track everyone was in max 'give it beans' mode – Yelling along with the chorus while in a fashionable mosh tally ho.
Well I think its time to wrap it up now in a nutshell – the night was fantastic! I suggest you check and have a listen to the support acts. And carry on supporting The Blackout as their new upcoming album its meant to get more heavy like their old roots. Despite the downpour of what's happened to the band in the last 18 months, it seems it isn't weighing them down in the slightest which is a brilliant thing! But that's all for now folks, Chris signing off.