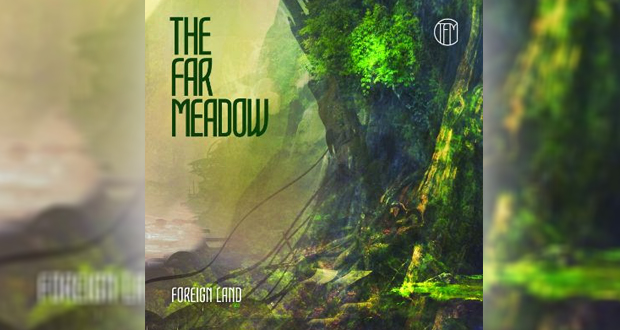 The Far Meadow are a symphonic, prog rock band from London who emerged from Blind Panic, and who've just released their third album, Foreign Land, the follow-up to 2016's Given the Impossible, which was this writers introduction to the band. Actually, the real introduction was seeing them open up the Saturday afternoons proceedings at the 2018 New Day Festival where, in the warm early afternoon sunshine, despite being given only 35 minutes, they sparkled with the quality of their playing and their ability to hold the crowd's attention.
My initial thought was Marguerita Alexandrou's voice might be some kind of an acquired taste, but this thought was soon dispelled the more I listened to her sing. She has a unique voice and it complements the music of the band effectively. One reviewer described her voice as being like the feisty younger sister of Stevie Nicks, but this does Marguerita a disservice.
This is their third album, but their second with Marguerita, and on this album they've raised the bar. It takes real chutzpah to begin a new album with a track which offers the listener very little change out of 19 minutes, but this is what the band do here with Travelogue, and they carry it off with considerable aplomb. It's a track mixed with competing styles, with touches of prog, classical and jazz rock, with homage paid to their inner 'Camel' on some of the instrumental tracks. Despite the length of the track, there's never the feeling of lots of filler being included. Every piece of music merits its place in the song. This is followed by two shorter tracks, 'Sulis Rise' and 'Mud,' with the former having a delightful keyboard instrumental break very reminiscent of the early seventies Canterbury Scene.
The band really come into their own, though, with the last two tracks, 'The Fugitive' and title track 'Foreign Land'. Together both tracks are almost twenty minutes but they contain some superlative playing, with guitar and keys to the fore. Both tracks contain tinges of Jazz-rock, and with Foreign Land occasionally sounding as though it's mid-70's Caravan. Despite the length of some of the tracks, there're no prog hysterics and unnecessarily long solos. They play music which, in places, is quite intricate, with some faultless guitar and keyboard pieces, and do so without leaving the listener behind.
Foreign Land suggests The Far Meadow are a band with the potential of making a name for themselves on the prog scene, and it's to be hoped they get the breaks all bands need if they're to move forward and realise this potential.