Tonight's gig hosted by Critical Wave at Unit Nightclub, Southampton turned into one of those evenings it was definitely worth leaving the house for. First up were 'Sights' a fairly happening heavy guitar band who had a strong leaning towards early Foo Fighters towards the end of their set. It was refreshing to see a heavy rock band with a female singer dressed more like Kate Nash than Hailey from Paramore or Amy Lee from Evanescence.
The next band up 'Ugly Love' – they had a bit of comical swagger about them. Classically punk-rock in sound and image they managed to drop the serious nihilist facade quite quickly, by the time introduced the 'Rockadile Dance' it was totally gone. (The 'dance' is likened to the one seen in Arp Attack's Crocodile Tears video). Ugly Love managed to get a few of the crowd miming along in a rather campy pantomime turn of affairs.
Crooks were up next and were amazing as promised. They are self define as 'alternative – emo – hardcore'. I'm not a heavy rock /thrash type of listener but these guys were impressive even outside of their music. The 'fourth' wall between artists and audience had evaporated with the singer in the crowd. The entire band started out on the dance floor shoulder to shoulder but as things got more hectic (and believe me, they did) some of them retreated back onto the stage, with all the band visually losing it to the music. Josh (vocals) really performed tonight and there were enthusiastic crowd members entirely having it – with Josh crashing and ramming into frenzied gig revellers looking as pleased as they were. The astonishing thing for me was the manner in which said frenzied moshing hardcore fans paused when the music stopped and politely applauded Josh showing maximum gratitude.
It's an interesting experience for someone not familiar with this style of music to be immersed in it and see the civil respect that goes on, shattering ignorant stereotypes that usually come intact with this genre. If there was a fan of the night award it would have to go to the dude from the crowd kept jumping from the crowd and grabbing the singers from each act into a selfie with his disposable camera.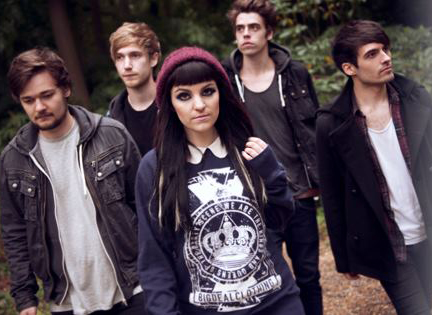 The Hype Theory were with us at last and after a long stretch of musical activity. I wondered if my energy would be lacking. Thinking back previous gigs I wasn't too worried, if ever there was a band that could energise a crowd it was these guys. From singer Katy's opening mantra "this ain't a school disco'" the performance could only get better from there as she ushered the crowd even closer with 'HYTH' blasting into the set. It's their clearly detectable love of performing that's probably why Kerrang magazine placed them #3 in their 'ones to watch' for 2014 (Katy modestly thought this was a typo at first). They played their big songs, 'reverie' & 'war cry' off latest album 'Captives'. The Hype Theory played some wicked fast furious tracks , one of them being 'Blood'. Katy clearly speaking her mind when from the lull of full crowd participation, singling some more active members of the audience out as her 'favourite' without truly offending anyone. They briefly slowed things down to play new song , quieter rock slow ballad 'Gone', grabbing everyone's concentration in the spotlight for a bit. The fierce rock animal couldn't stay down for long however as the pace picked up when it came around to the the finisher; 'Heartsick', infact it wasn't too long before everyone was singing the 'Woooh –ooh ash' chorus .This has become their trademark stage show standard, it's always a good point to reflect on how captive-ating they are live.
Tonight every band really made the most of the space between the Unit stage and the audience with the singer's from 'Sights' & 'Ugly Love' strutting up and down the dance floor serenading the crowd.