In 2010 Italian guitarist Andrej Surace and singer Francesca Di Ventura came to Great Britain, and, with the help of English bass player Rick Sivier, set about developing a musical identity that incorporated death metal and hardcore through to more melodic pop, and traditional rock and metal sounds. Two years later, having bid farewell to several musicians along the way, the band, now going under the name Heretic's Dream, were back in their homeland with an all Latin line-up.
Having signed with Videoradio (a label affiliated to Italian National Television) they received international radio airplay for their debut album The Unexpected Move (still available for digital download) alongside making well received videos. The band also supported American guitar hero Richie Zotzen and Swedish all-female heavy metal band Crucified Barbara on tour.
For Walk The Time, Di Ventura and Surace are now joined by Carlo Nicolucci also on guitar, plus bass player Jacopo Greci, Maurilio Di Stefano on both drums and flute, and assorted guests. Thematically the band's stated intention is that the album: "Exposes some of the experiences we face through our existence, the intricacy of human relationships, between father and daughter or a betrayed partner or a lifetime friend, the disguised place into a society that so often forces us to wear a mask". That intention is more readily apparent from the video to Outcasted, the first track on the album, wherein Di Ventura sits coyly on a wicker chair singing away in a poppy nursery rhyme manner as the stamp and thrust of death metal guitars flit in and out between other musical harmonies, visually intercutting to band members who unwrap bandages from their faces; possibly implying we're all emotionally damaged in some way while also holding our darkest fears and desires to ourselves and should be more open and reveal our true nature. Well, it could be, but it's the mild S & M aspect to it along with a naked female upper body in the latter part of the video that's going to grab most people's cerebral attention.
Listening to the record alone such themes are less obvious lyrically. Partly because there's an accent to Di Ventura's voice (albeit that it actually makes her voice evocatively appealing), but also that it's not always high in the mix, working rhythmically alongside the tune rather that over and against it in a more traditional rock vocalist style. Musically a number of the tunes vary upon the stylistic theme of that opening number being a mash-up of aggressive and emo sounds, nothing boring but not always standing out; music that might appeal to the young anime fan in your household looking to experiment socially and get some angst out of their system, to older ears it's more pleasant background stuff.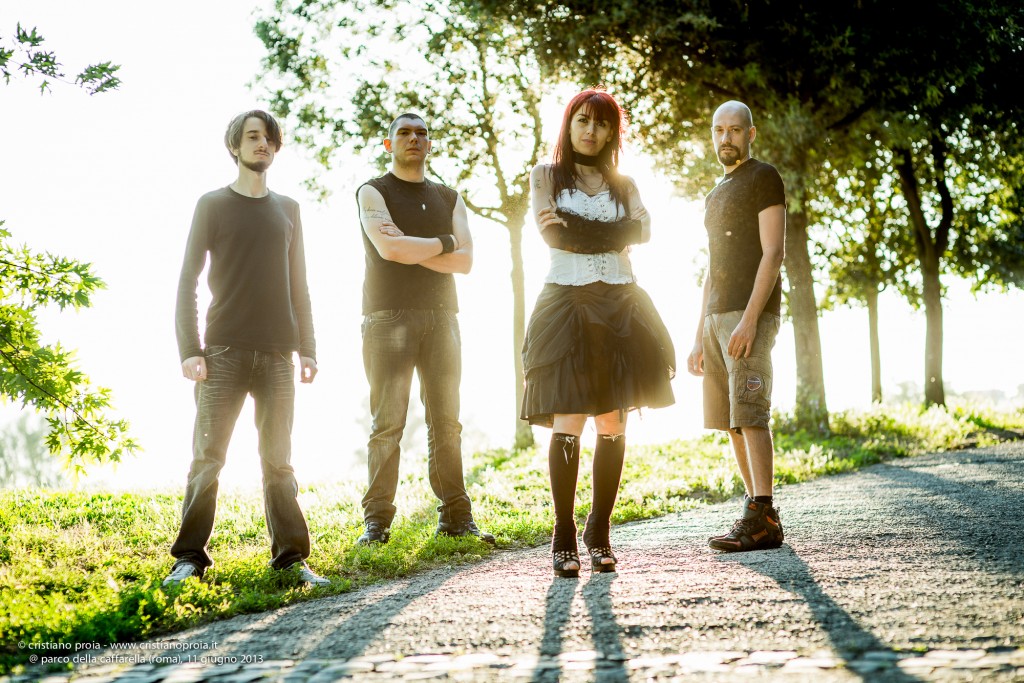 Chains of Blood  veers between industrial noise, U2 riffing, and a shredding little guitar solo, Behind the Mirror is more earnest chord driven modern rock with pop vocal melodies, Dreams Falling has deeper groves with death grunting thrown in for good measure, Connections chugs on a metal riff in between a sub-distorted funk rhythm section and wiggly Latin rock solo, Before the Storm is more full on, good danceable rock pop, and the slower The Broken Silence comes suitably near the end of the record.
The song that really stands out for me is Believe in You, departing stylistically to offer an acoustic track with Di Stefano's flute to the foreground; evocative of walking through long grass beside a gentle river on a summer's day. Di Ventura's voice is double-tracked, adding more weight, at times coming across like a European version of Judy Tzuke, and that's no bad thing.
More traditionalist in their rocking are Shockwave, that starts off like a swarm of angry hornets gathering in an early Judas Priest manner before a pumping bass transmogrifies it into The Mission with 60s Euro girly pop vocals over the top, and pleasantly high in the mix, while Fighting time offers a slower dirge opening, and has a male voice sharing verses with Di Ventura as they argue about love, then sing together, and finally as the vocal melodies continue Di Ventura's lead vocals rise to the forefront.
While Walk The Time lacks a truly strong batch of distinctive songs, charm and charisma is never far away and its contemporary appeal is self-evident.

7 /10