Having been relatively quiet for a period, local blackened plague, The Infernal Sea announced an extremely rare home town show, bringing an end to a tour with the noise bringers Abigail Williams. Seeing show after show going down well in post gig updates across social platforms from fans, excitement of our local anti-heroes grew and grew as our hazy memories are forced to think back two years since their last home show.
A cold Sunday night and competition with monumental sized gigs just a train journey away in London with the likes of Kreator, Dimmu Borgir, Hatebreed, Bloodbath, Revocation and Rivers of Nihil just to name a few always made for a tough fight to get heads in the door, and sadly, slowly they did come. The turn out was impressive by the end of it, but for those late comers, the fools missed out some mighty impressive opening acts.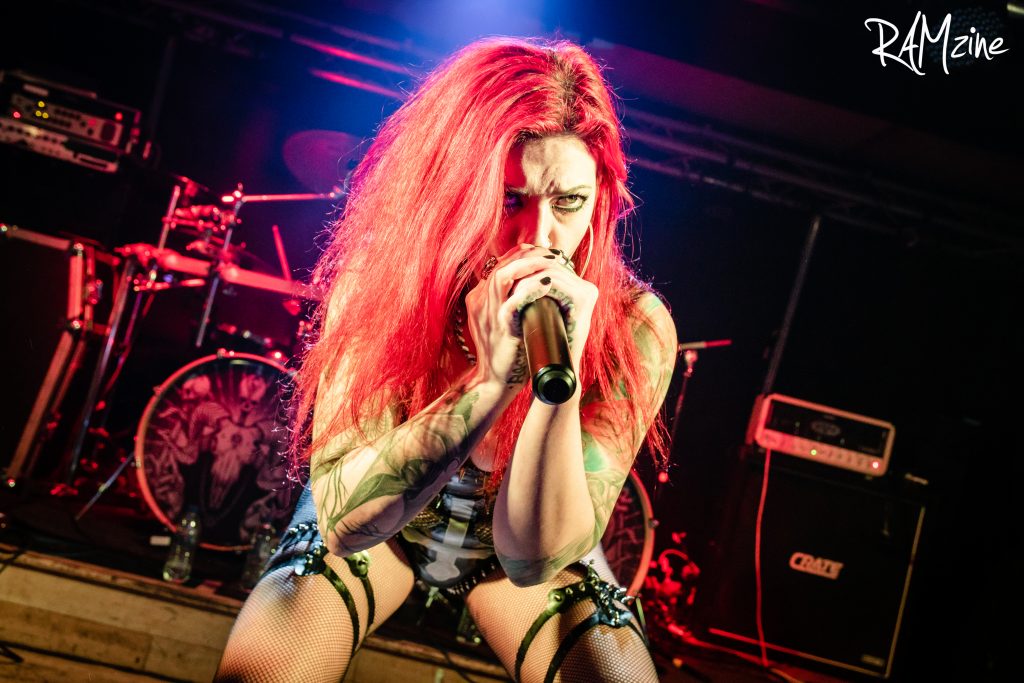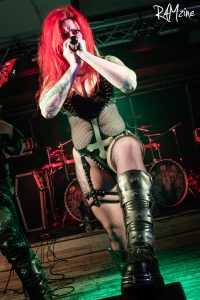 First up and support for the duration of the UK tour, came Maltese blackened death metallers Martyrium. Active as a band since 1999, they have countless hours and years under the belt to fine tune their impressive display. Their female fronted sound assault cuts efficiently through the cold evenings air, and newly joined vocalist Mikaela Attard fits in as though she has been weathering the storms with the guys for years. She dominates and pulls out a performance like she is in front of a thousand sized capacity venue and it draws in the crowd with ease. Never missing a beat, the band pull out the most professional of sets and fully deserved the support of the people.
Following up and in a stark contrast to Martyrium are relatively local band The Grey. The trio take on a doom laden, hard approach of solid instrumental post rock. Their tastes in music shine through their sound and its clear to see why they have fans in people like Damon Johnson of Black Star Riders. The expansive sound they create isn't unfamiliar with bands of their genre, but the band deserve more recognition from the genre themselves, which undoubtedly will come. Melodic hooks matched with a meaty bottom end, the dominance and command of the music is sculpted with a strong hand, creating an anything but dull performance to get lost in. A world apart from every band on the line up, but completely deserved and welcome by all means. One to keep an eye out for regardless of your musical tastes.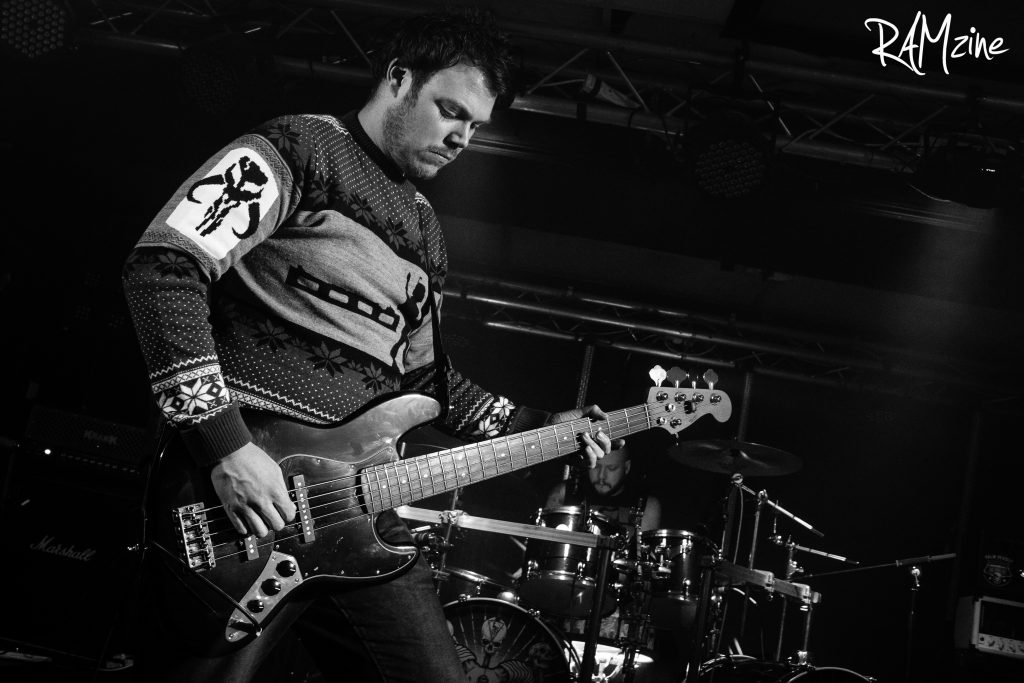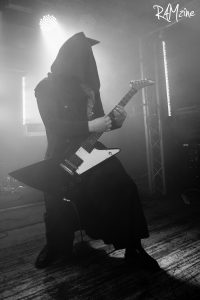 The bulk of the crowd is now in, and a sharp look around will see people finding faces they haven't seen in years, this is where the plague of The Infernal Sea began, those with a keen eye can even spot a guitarist from the days they were a five piece in the building. It is good to see so many still living and breathing that plague, albeit for a short period of time as we soon find ourselves lost in a sea of smoke and the regular green lights of the band. The unmistakable harsh bark of vocals cuts through heralding the beginning of what is commonly known as the ritual of The Infernal Sea. No messing about, they jump into the title track of their last release, 'Agents of Satan' and create an atmosphere unlike any previous show. Their time away from the local scene has garnered a thirst in the fans as they strain through the bleak smoke at the blackened, figures donning their variant of the beak-like masks from the bubonic plague era. A few technical hitches with sound would have distracted lesser bands, but there isn't even a flinch as the hooded men power through. Having started photography there courtesy of three years previous, it is great to see them develop their sound and push the boundaries of the black metal style they once began with back in 2010. With no cure in site, it looks like these Agents of Satan will be with us for much longer and stronger as they pass their ritual on further. A fantastic performance on the rare home town soil, guaranteed to pull out all the stops and a must see performance every time.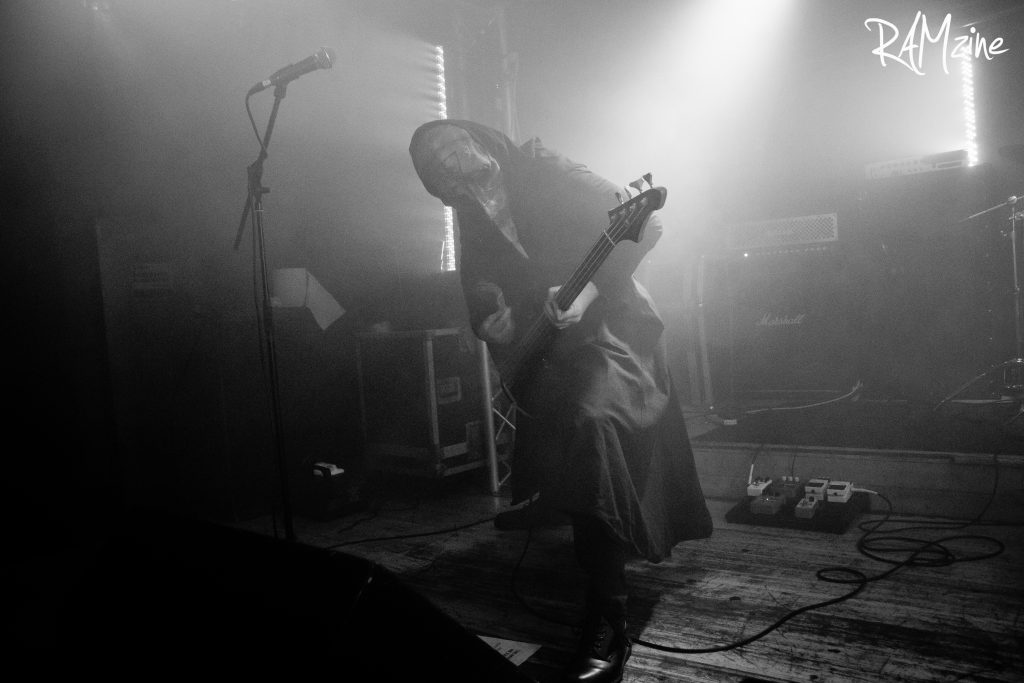 Abigail Williams are last up to polish off their European/UK tour. The ties they have made with The Infernal Sea are clearly obvious and the bands styles compliment each other extremely well. Having a varied line up through their history, their one constant being guitarist/vocalist Ken Bergeron, the power and performance would have you questioning how this unit of three haven't been together for years. Twin guitars and drums, the lack of a bottom end doesn't thin the sound surprisingly, rarely can a band without a bassist perform such a powerful, destructive set, putting them right at the top with bands like Pig Destroyer (until their recent release) and Wormrot with battering riff mastery being enough of a wall of sound to crush.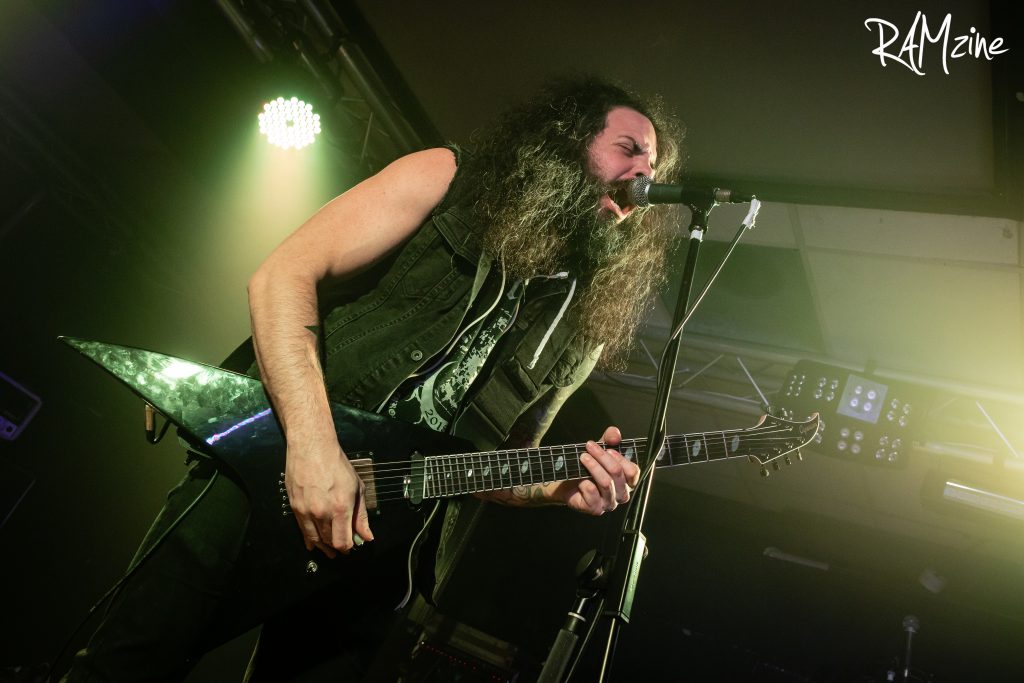 The band fly through song after song filling a fantastic, headline worthy set, it feels like this is the band we've needed to come to our lowly, often missed out on Peterborough. Monster length blackened metal tracks bounce from the packed out walls of the Met Lounge like a battle cry that has been waited on for an eternity. Not a single undead soul in the venue walks away unhappy. A coup de gras both venue, crowd and band deserve, we all hope it isn't another two years before the Infernal Sea play a home town show and bring friends of such calibre out to play with them. The best Christmas is a black Christmas, and all these bands created the blackest.