Depending upon how you interpret the various categories, Dutch band Within Temptation are either a Gothic rock band, a symphonic rock band or a straight-up rock band which occasionally dabbles in other areas. Whatever, what can't be denied is Within Temptation, a leading purveyor of dark anthems, have released another fine album, coming after the longest gap they've had between album releases in their time together, during which time the band, and particularly vocalist Sharon den Adel, underwent a lengthy period of introspection about where they were headed. Happily they decided to continue, their inspiration returned and Resist is the outcome. Sharon claims it's a milestone album for the band because if it wasn't "for Resist, Within Temptation wouldn't be here anymore. We've taken inspiration from modern music and given it a very dark face."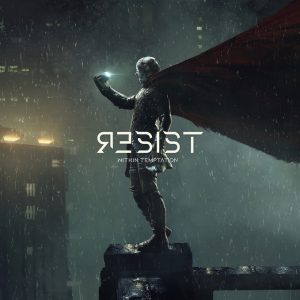 Within Temptation have evolved down the years from an exciting and dynamic symphonic rock band into a very polished and commercial band, being able to come up with some quite powerful but very catchy tunes. Their albums down the years are testament to this and, on their latest album, they've aimed for a more futuristic style, blending elements of their traditional sound within a modern musical approach, while staying true to their symphonic rock roots and sounding relevant at the same time. They've often been compared to bands such as Evanescence and Paramore though, apart from female vocalists, I don't see the connection, and Within Temptation are in a different league. Inside symphonic rock there are several very good female singers… Tarja, Anette Olsen, Floor Jansen… but Sharon den Adel stands ahead of the pack, and on this new album she confirms her status as one of the finest female singers in prog, or any other genre.
Resist is stuffed full of the bombast you'd expect from Within Temptation. They're a band built around grandiose themes and the use of epic backing. If you're already a fan, there'll probably be little on this album you don't already know. They've adhered to what they do best and, despite the lengthy lay-off, maintained the same high standards as on previous releases. The songs are good, the playing is superb and Sharon den Adel's voice is still gorgeous. From the powerful opening track, 'The Reckoning', which has been released as a single, right up to album closer, 'Trophy Hunter', Within Temptation show their mastery of using epic backing, which they employ to great effect, while never allowing it to overpower the song. This is a superb album from a band who're acknowledged masters of performing good symphonic rock.
Resist is out on February 1, 2019 via Spinefarm Records!