We love The Quireboys. The band has been working hard (in one way or another) since 1984. You know what to expect with The Quireboys. Classic rock and a bit of blues. And a slice of glam here and there. There is no bone-splitting metallic sledge-hammering in the Quireboys repertoire. So do not expect the anguish and anger found in other rock bands. Their songs are gentle – almost demure – but they always seem to contain a sand-papery edge. Cuttlefish-bone brightness. And smooth deliciousness.
The current 2001 line-up with front man Spike, guitarist Guy Griffin and bassist Nigel Mogg – has been very successfully doing what comes naturally to them for many years.
Their story reads like someone made it all up: One of their former rhythm guitarists was 'Ginger' Wildheart. Sharon Osbourne was once their manager. The band was signed to EMI to release their début album. They have toured with almost anyone worthy of note. From Soundgarden to Iggy Pop. They were chosen by Axl Rose to support GnR on the legendary "Use Your Illusion Tour."
Sixteen musicians have passed through the ranks of The Quireboys. Including the aforementioned Ginger Wildheart, plus Jason Bonham, Paul Hornby (of Dogs D'Amour) Phil Martini (of I am I) Ian Wallace (of King Crimson) etc.
In January of 2013, The Quireboys appointed marketing and festival guru, Jonni Davis, as their new manager – and they signed a worldwide deal with Off Yer Rocka Recordings. Their seventh studio album (since 2001) has now been released. 'Beautiful Curse' was produced and mixed by the legendary Chris Tsangarides ( who has worked with Judas Priest, Gary Moore and Thin Lizzy.)
The album opens with 'Too Much of a Good Thing' and that stumbling cattle-grid of rhythms, and guitars that squeak and crack like a rack of broken crab claws. The voice is taut and squeezed up hard – like big hair in a tight bun. The glorious chorus is a wonderful romp.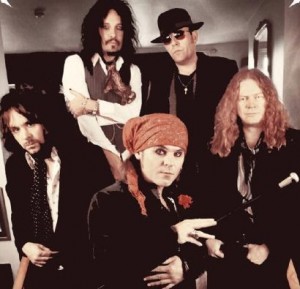 'Chain Smokin' is full of ragtime strides and shimmering light. Then 'Talk of the Town' has a simple mewing guitar that melodiously smears itself around the familiar verse. This sounds like a vintage Rod Stewart & The Faces number. It is velvety and saccharine sweet. Possibly it's a bit too blousy for some young ears. And very probable BBC Radio 2 material.
'Mother Mary' twangs and whimpers. Then an opalescent guitar shudders into life and announces the clawing, pleading voice. The 'drama school' piano jerks and chortles. The cloying melody will make your tendons sway. And your head will bob along gently to the beat.
'King of Fools' strikes out like a Rolling Stones song from about 1974. The percussion thunders in like peltering stones on a tin roof. And Spike's voice – made of turpentine and arrowroot – is stained with tobacco and rum. It is noxiously infectious – especially when it gets to the chorus. And that's a lot of fun.
Title track 'Beautiful Curse' comes at you like a deluge of hot jitter sauce and boogie rhythm. The knocking tappets of the drum-beats crack resoundingly against the flourishing keyboard sounds. They rise and expand like warm dough-balls in a clay oven. The "Blessed and Cursed" lyrics are warm, caring and nostalgic. And the guitar provides streamers of colour that get themselves tangled up in the warm browns and ochres of the melody.
'For Crying Out Loud' is a fast trip on a rickety steam rail-road. With a sticky hook and steeply climbing guitars. It's fast-ticking … and smoky. 'Twenty Seven Years' perhaps refers to making it beyond the 27 Club. The band has been playing for 29 years. So they have made it "Through the tears of 27 years…" The succulent organ glistens like sweat on the forehead, and the earnest vocal has an ingrained coating of dirt and grime. They play the song like they mean to stay around for another 27 years.
'I Died Laughing' sounds a bit too similar to the Carey and Dave Hall "Dreamlover" song ( Mariah Carey) to feel truly original. That song took the hook from The Emotions track "Blind Alley" – so maybe that's part of the fun for The Quireboys. Taking an old piece of machinery. Stripping it down. Souping it up. And making it spark again.
The songs on this album will never make you gasp in amazement. Or make your moustache-whiskers stand on end. The songs will not rivet you. Nor will they deliver a counter-punch. But the songs will calm your nerves after a jarring workday. And will provide a pleasantly creamy background for your daily activities.
And inside the corners of each song, you might find valuable nuggets – wraps of gunpowder and glue – hidden like steamboat contraband – for only the curious to find.
The riff laden boogies on 'Beautiful Curse' will charm your Mum (and her Mum too.) The songs might even get your Dad up out of the sofa to dance. But it might all be a bit too sentimental and cuddly for the Generation Y audience.
But give it a try. You never know. You might be lured into their world.
7/10