I love it when I'm researching a band for a review and find other bands out there with the same name. The Shrine are a heavy rock/metal band from California, not I'm pleased to say, the Devon based group that are 'the premier wedding and function' band! The trio of skateboarding wastrels have three previous albums 2012's Primitive Blast, 2014's Bless Off and 2015's Rare Breed. Now they've released a more mature (in sound) EP called Cruel World. Josh Landau (Guitar/Vocals), Court Murphy (Bass) and Jeff Murray (Drums) take their inspiration from the heavyweights of the 70's and 80's… Sabbath and ZZ Top being the more apparent.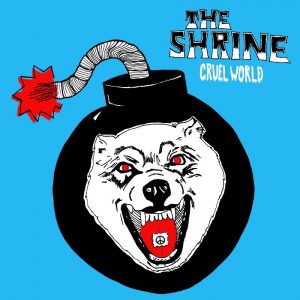 The four tracks start with the title track 'Cruel World', and straight away you find the Sabbath (Vol 4) influence in the riff and then (argh!) a bit of The Darkness in the chorus, but the whole thing comes right with a very good guitar solo and the track ends up as a hugely enjoyable piece of heavy rock. 'Dance On a Razor's Edge' is even better, with its Sabbath meets Priest riff and rapid pace with a great bass line. OK, the vocal isn't Halford but Josh has sufficient range to keep up and fit in with the weighty melody. The bridge promised much with the harmonising guitars but after an entertaining exercise, it cried out for another great solo. 'The Taste of Blood 'moves to a punk-ish intro and then develops into an Iggy Pop style romp where the punk is blended with some crunch and a fast without widdle solo. 'She Is Never' is a rapid fire Hanoi Rocks, but with more attitude! It's not as immediate as the others, perhaps because it's a little more complex and it also reminds me of a heavied up version of 'Never Satisfied' off Rocka Rolla… but that might be just me. Still bloody good though with another solid solo.
In the fifteen minutes of this EP the evidence of increasing maturity and depth in the writing is clear and promises much for a full album. For a trio they make a hell of a noise and it's a very good noise. So, if you like your rock heavy with a bit of punk and an edge of psyche, this is just your kind of record. I look forward to the next steps in their journey.
THE SHRINE Cruel World EP is out now!