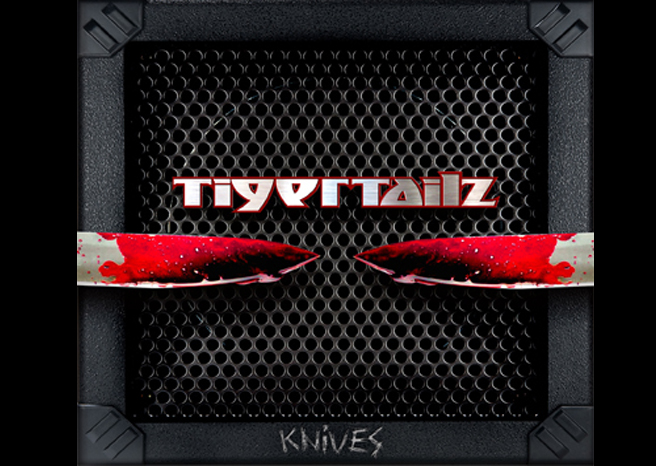 Tigers are known to have relatively little stamina. Normally they hide for hours – days if necessary – before they are ready to pounce. So if you're a fan of these charismatic beasts, you have to be patient. Very patient. To see them at work.
The giants of Welsh glam metal, Tigertailz from Cardiff – are very similar. Their most famous album 'Bezerk' was made in 1990. Fans then had to wait more-or-less 16 years before they got another significant glimpse of the creature. If you (sensibly) ignore 'Wazbones' and 'Banzai!' the next major Tigertailz movement was in 2006 with 'Bezerk 2.0.'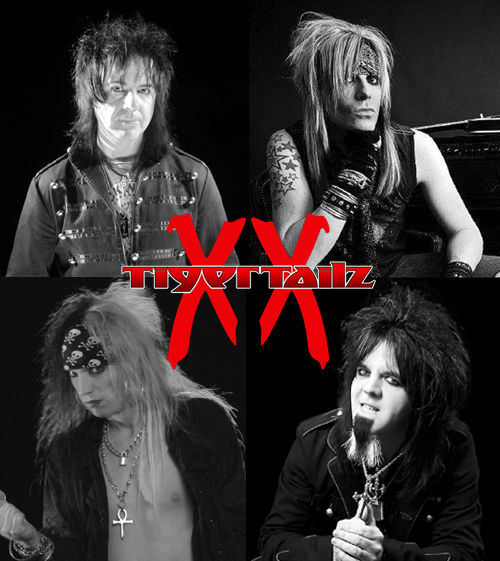 It was a true follow-up to the first `Bezerk' and written well-before the band's 2004 reformation. It was a bold, parading, overloaded, preening monster of an album. But what a sensational sound it was. They took the album on the road, playing to more than 70,000 people as they toured with Whitesnake and Twisted Sister.
Unfortunately, bassist and founding member Pepsi Tate was diagnosed with pancreatic cancer in 2007. Sadly, he died in the same year. And things came to an abrupt halt.
In 2010, Tigertailz recruited Sarah Firebrand as their new bassist. They also announced that they would be playing their seminal hit album 'Bezerk' at all their live shows. And then in 2012, Tigertailz announced another new line-up and played yet another – their third – Hard Rock Hell show. After this performance, the band disintegrated once more.
And now, more than two decades after the publication of 'Bezerk' – Tigertailz rolls out 'Knives' a new 5 – track EP on Scarlet Records. And it comes as a bit of a surprise too. Because it was only five months ago that Jay Pepper was hinting to Classic Rock magazine that it might be high time to bring the curtain down – for good – on Tigertailz.
But Jay Pepper has reunited with long-time drummer Matt Blakout and singer Jules Millis with bassist Rob Wylde, to work on this new cut. Matt has recently been playing with the Mott The Hoople star Verden Allen.
The new EP starts with Shoe Collector which has a surprising harmonic vocal intro. A sleazy slack-hipped guitar then struts around. And the pace becomes loose, baggy and enlivened. The obsession mentioned in this fancy-pants track is the avid addiction to a "Shoe Collection." Yes, it's a lonely addiction. And so is the love for this band. Slurping guitar licks and fuzzy percussions titivate and titillate in equal measure. It's like being tugged off down memory lane. And how youthful do they sound? Hell, they must be pushing fifty ( some of them ) but they sound as innocent and as agile as they did back in 1990.
'One Life' appears next. This is a fanciful étude – well, at first anyway. But it soon properly comes to life with some gorgeous riffs and an urgent vocal. This track has a tension that gnaws. And a pretension that over-awes. All-in -all, it is a beautiful piece of pop glamour. Welcome back, then, to the world of the power ballad .
'Bite The Hand' is a robust blend of screams and lethargic yet thriving riffs. It reminded us of Def Leppard. It has that same kind of ridiculously addictive chorus and those high-shining vocals with intrepid guitar solos. All the while, the chunky rhythms are slugged out independently underneath. It's a great big, loud and boisterous rock song. "Can't slow down/Can't say no…" Thank heavens for that!
'Spit It Out' is an emblazoned call for action. "If you've got something to say … spit it out" they shout. It's as if they were dressing down a recalcitrant kid. The song has the normal tumescent pressures we might expect from a glam-rock piece. Squeezed guitar pimples and jabbing drums. And a twinkle-twinkle guitar piece that is as light and frothy as any Angel Delight. Go spoon some in.
The EP ends with 'Punched In The Gutz' and an azan-like call to prayer. Then a throbbing groan-like riff starts off. And the Maidenesque lead vocal enunciates craftily around the main theme. The vocals are Uriah Heepish in splendour. The chorus when it explodes out, is full of charisma and personality.
You cannot write stuff like this unless you've been through the mill yourself. Yes, these guys have experienced the suffering that is needed to achieve the necessary level of knowledge and skill. In other words, they have been 'Punched In The Nutz/Gut' enough times to work out how to do it right.
'Knives' is incisive, bright and highly polished. And they're doing it right again .
Hey. We're so glad to have you back, Tigertailz.
7/10