The argument continues. Punk killed Prog. Some say it did. Others are less certain. Some are of the opinion that prog rock just killed itself. Like an overstuffed, greedy banker – it died of a heart attack after a particularly corpulent, pushy-mouthed binge. It died of mindless over-consumption. It expired because of unchecked obesity. Too fat and too lazy to even pick itself up from the impotent pile that it had become.
Just because Johnny Rotten wore a shirt with the slogan stating "I Hate Pink Floyd" on it, this does not mean that he had something against prog rock itself. Yes, he hated it. But that was because he hated everything about the establishment. And, oh my God – the proggers in those days really were part-and-parcel of the hated institutions around them. ELP recorded "Toccata" by Ginastera and "Fanfare for the Common Man" by Copland. They swanked about in huge soccer stadiums and toured in three pantechnicons – each one of their names painted on a roof.
Wakeman played his concerts in places like the Royal Festival Hall and planned gargantuan shows on ice. And Pink Floyd purchased much of the London Borough of Islington – just so that they could could knock it all down and turn it into "Storage space." The extent of their corporate power and greed was overwhelming.
And in 1979 there were no more bricks left in the wall. The whole structure was ready for collapse – and so prog-rock moaned heavily, and it fell to the ground in a fart-like exhalation of gas and air. Just like those inflatable pigs that once flew above Battersea Power Station. The whole thing fell to earth. The disintegration and failure of prog-rock was complete.
How Progressive Rock was able to recover and devise to survive in the 21st century is the subject of another discussion. But somehow it did. And so we have groups such as Touchstone. This band, that evolved sometime between 2001-3, seems to be fully aware of the risks associated with their genre. So, their music is generous and expressive – without being grandiose and pretentious.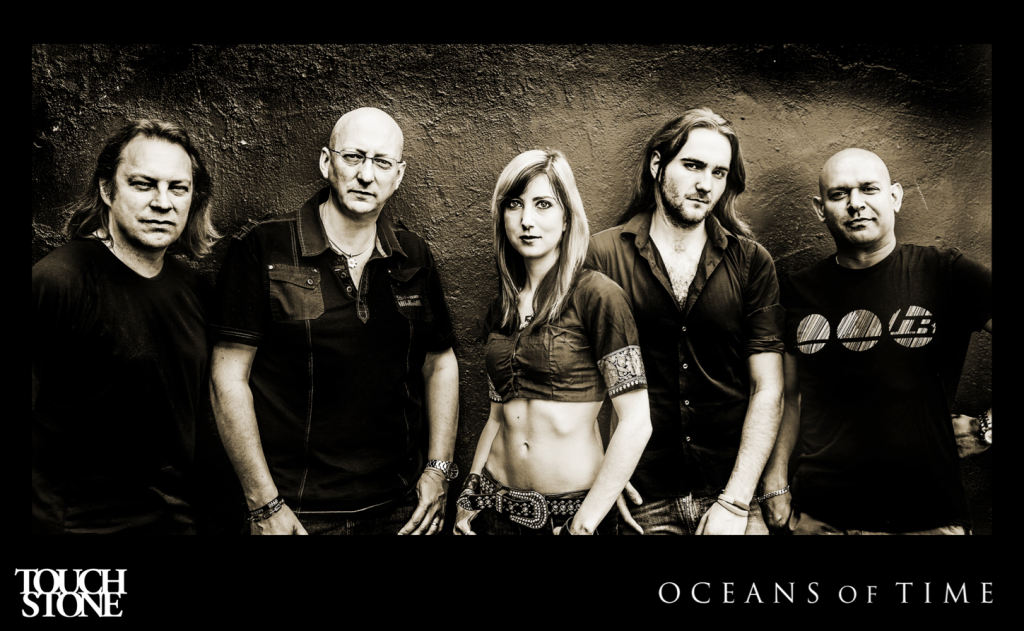 Their first full-length album 'Discordant Dreams' issued in 2007 was fresh and unpredictable. The band were adept at incorporating diverse influences from other genres within their sounds: Folk , thrash metal, hair metal and even goth and industrial. But this was all played in a harmonizing style. They painted broad soundscapes – but they did allow themselves to meander aimlessly. They had big messages – but without the sermonising. And they had great production – but without it stifling the personalities of the performers.
Which brings us to their new album 'Oceans Of Time' issued this month on 'Hear No Evil/Cherry Red'.
On this new recording, the band continue their 'Wintercoast' story that started life as the title track of their "Wintercoast" Album in 2009. Here then, were vertiginous cliff-faces of sound. And flurries of white-plumed guitars that soared and crested within the crags. A nagging aural wind was constructed by the keyboards. And the sweet voice nodded gently, like a feather dandelion caught in a cross- breeze. The melody was cold and salty – harsh as the salt crust left glistening on the rocks at low tide. Otherwise, this was a sweet aria. Lifted by the beautifully crystallized voice of Kim "Elkie" Seviour. The clarity of the voice reminded us – back then – of Annie Haslam.
But, like the sands of the Wintercoast, the topography of the Progressive Rock cliff face is also constantly shifting. And so, with 'Oceans Of Time' (the final track on this new album) we get a lumpy, thorny thing. A spiny sea urchin of sounds. There is certainly an Eastern influence on this track too. And some '80s sounding bumps and burps. The voice of Kim descends lower than we can remember. And the symmetry of the male/female vocals is superbly successful. After the line "Take my hand to a better place…" a hard-nosed guitar snorts powerfully. And then a certain amount of silvery jazziness is present. But don't worry. Because the translucent majesty of the sharpest guitar solo you've heard for a while is yet to come (courtesy of Adam Hodgson). This is a magnificent and impressive piece of work.
Another familiar theme comes with 'Shadows End' the final part of the 'Shadow Trilogy' which started out on 'Discordant Dreams' in 2007. 'Shadows End' starts with an appetizer of engine-wheezing noises that kick over the delicate flurry of keys. A bass note groans in the background. Kim's voice takes control. But soon, a set of space-age of beeps and gloops introduces the voice of Rob. This vocal is glued against the framework – and then the whole edifice comes to a halt. The female voice is reintroduced. And it is then that the song settles down to a chugging rhythm – before the beautifully spooky finale.
Back in 2009 there was a fair amount of criticism about 'Solace' the least-loved track on the 'Wintercoast' album. Many thought it was just plain daft. It was definitely mushy. So Touchstone have updated this song on their new album. "Solace" is now moody and smoky. Thin blue lines of gauzy synth swirl around the recognizable melody. And now it seems as if the fears of the protagonist (the child) are seen through adult eyes. Thus, the theme is more poignant. Maybe even portentous. There is a deep sense of foreboding. We could not help wondering where these monsters actually were. Were they just "ghosts in [her] head" or were they horror-of-horrors – the very people that she relied on for her own security? "Look after me… I'm your little girl." She implores. But can we? And do we? Now the song ignites the whole debate about how (little) we take care of the vulnerable young people within our society.
If you prefer your prog-rock to be devoid of histrionics and theatrical pomp – but you have a passion for something great, inspiring and eloquent – then this should be for you. Recorded and produced at Outhouse Studios, with producer John Mitchell (You Me at Six, Lower Than Atlantis, Funeral For A Friend) this album is passionate and inspiring – with enough metal weight to please fans of prog-metal – while still pleasing melodic-rock aficionados. Go seek.
8/10