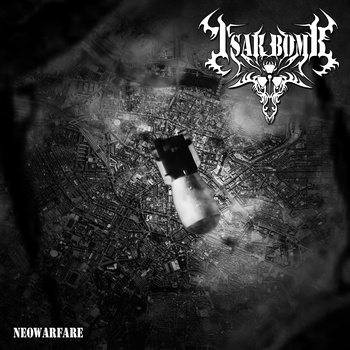 The Russian AN602 hydrogen bomb is the most powerful weapon ever created. It was built and tested in 1961.The resultant explosion created a mushroom cloud that was seven times higher than Mount Everest. It was named the 'Tsar Bomb'. And so is this band.
You do not think of sunny Malaga (Spain) as a fertile place for an Armageddon inducing, disease ridden, filthy black metal band to be bred. But this death metal maggot crawled out of a vile tomb in Malaga in 2009. And has since been creating a nihilistic breed of nuclear annihilated music ever since.
Their newly released album 'Neowarfare' is spangled with threaded and sinuous guitars. These spaghetti themselves out of the machinery of war, like guts spewing themselves out onto a limb-strewn battlefield. Grinding, drilling percussion creates tension – whilst venomous vocals writhe and contort themselves into every orifice
After a tense introduction, the 'Tsar Bomb' theme-track thunders out, and hurtles at the listener with startling speed. The axis of power conjoins at the point where the immense vocal artistry of Ocram (Vocals & Drum programming) and the ceaseless guitars of Ivan (Guitars & Drum programming) create a fissionable fulcrum of unimaginable power. Unsurprisingly, the track ends with an explosion.
What we all want is a 'Victorious Death'. The fatal fascination of a breed, setting out to totally obliterate itself, is carefully studied in this relentlessly punishing piece. It neatly abuts the brewing maelstrom of mutant scavengers that clamour for the 'Nuclear Feast' that follows. Stepping up a jagged set of vertiginous and razor-sharp paths, this song undertakes a painful journey towards a fire-balling conclusion. Gurgling, grimacing hell-bent vocals are infused with infectious guitars, making this an unforgettable piece of gloom.
The study of 'Neowarfare' is what 'Tsar Bomb' is all about. Starting with a hellish howl, a puzzle of guitars is clanked and beaten by the foundry-iron drums. Spittles of fiery bass sputter out amongst the sulphurous fumes. And then, with a gurgle and a whimper, the solid rhythms of song start to careen into a pungent stink-trench. This grimaces, open-mouthed, to beckon the listener in. And then 'Ashes Of My Enemies' breathes in and out like a phlegm filled iron-lung. Spattering drums and non-incarnate vocals spout out, mushrooming into a blunted oblivion.
Notwithstanding the political in-correctness of the song title, 'Zyklon B for the Human Race' and the implied reference to the 1990's Norwegian black metal band 'Zyklon' (who once asserted that their name came from the Nordic word for cyclone,) this is a formidable and grotesquely magnificent track. Full of groaning guitars and satanic verses. You can almost imagine the crowds chanting along to the 'Zyklon B' chorus – fists in the air and spitting rage into the stage-pit. This is bestial, brutal and hellish. But comes with an amazing adornment of luxurious guitars towards the end.
Then we get to the good old 'Tupolev Tu-95.' The trusty Cold War strategic bomber and missile platform. And, of course, birth mother to the 'Tsar Bomb.' As a plague carrier and potent symbol of immense destruction, this track fulfils its destiny. Immense saturated riffs stain the piece. Whilst horrifying vocals bring about an immediate sense of personal destruction, and the looming prospect of eternal night.
At the tail of this epic and doom laden album comes the end-of-ends. And so, with that, all we have left to hope for is a fresh Sumerian dynasty (birthed by the Tupolev/Nammu beast.) . And this dynasty will rise from the ashes. The hope of all creation is contained within this glamorous and excessive concluding track. And 'Nammu' exhibits exorbitant frenzies of power with sizzling percussion, whining air-raid siren riffs, and riddled guitars that flay against an acrid voice.
And then we know for sure that hell's subservient creatures will, inevitably, decline into the blackest night.
Tsar Bomb's "Neowarfare" Out Now on badGod Music!
7/10