Velvet Revolver came together at a time when, according to Duff McKagan, "there wasn't much rock 'n roll happening out there in the world, when it was even being bandied around rock 'n roll was dead. We thought otherwise."  
Velvet Revolver were a short-lived supergroup, in existence for only five years (2003-08) before imploding after the sacking of vocalist Scott Weiland due to his ongoing issues with addiction, which were ultimately to take his life prematurely in 2015, aged only 48. The tag 'supergroup' was applied because each member of the band had previously played in a successful group (Matt Sorum, The Cult .. Scott Weiland, Stone Temple Pilots .. Dave Kushner, Wasted Youth) or in a hugely successful group (Slash, Duff McKagan .. Guns 'n Roses). The intent behind this new band was to invoke the spirit of rock 'n roll and give it a major shot in the arm. Duff McKagan .. "when this band was on, there simply wasn't anyone better doing what we did at the time. Seriously."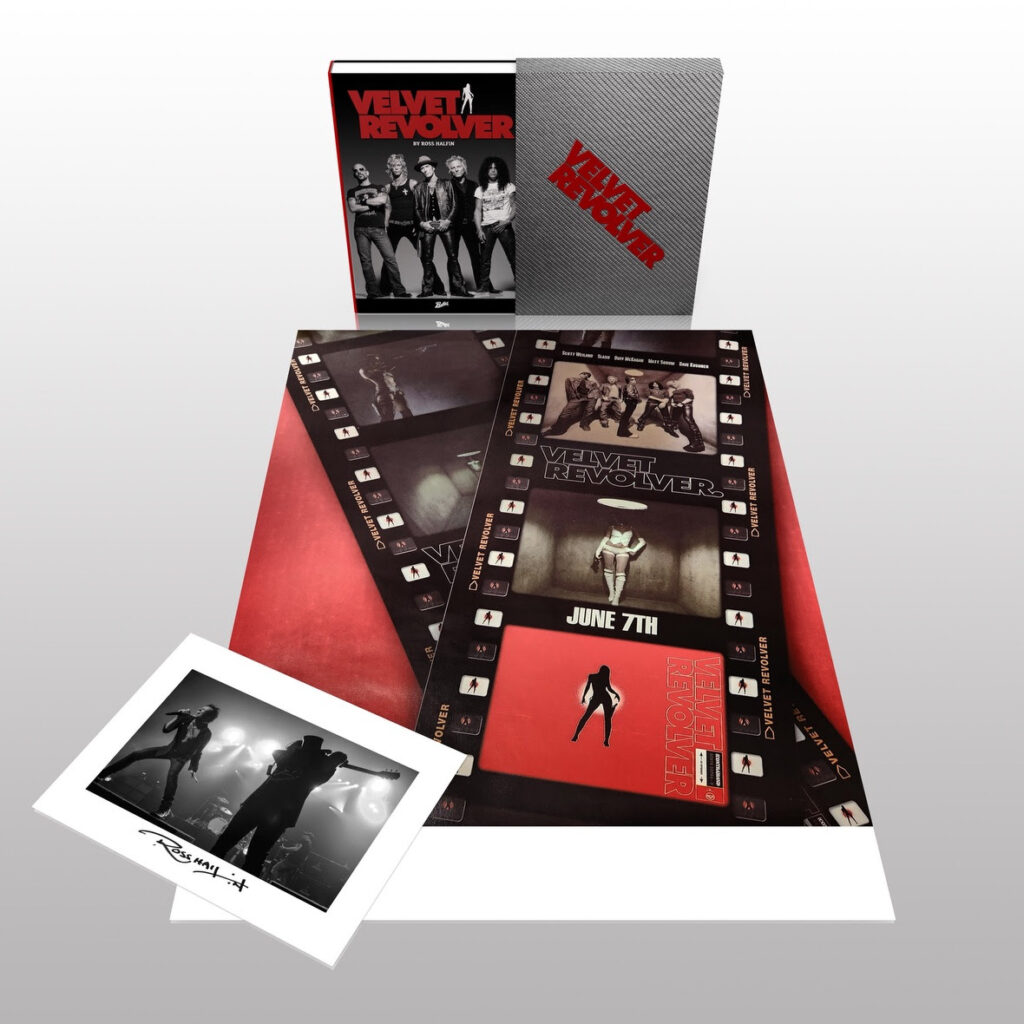 Did they succeed? Two big-selling albums ..  Contraband 2004, which reached no1 on the Billboard charts, and Libertad 2008, which reached no5, suggests perhaps they did. They toured the world and appeared at several major festivals, including Download and Ozfest, playing to huge crowds around the world, and they walked the walk, seemingly with the rock world at their feet, before many of the same internal issues which had led the various band members to leave their previous bands resurfaced again, leading to Velvet Revolver falling apart.
Photog to rock stars down the years, this book of pictures by Ross Halfin, dedicated to the memory of Scott Weiland and with an intro written by Duff McKagan, captures Velvet Revolver in a brief moment in time, in all their short-lived pomp and splendour, and comes as a timely reminder, for all the hype and scepticism about the 'supergroup' tag, they could actually play and they lived up to the hype.
The book itself, by Rufus Publications, is a limited edition hardback, with only 500 copies available worldwide, and comes in a painted, foiled and embossed cover, with a signed print and poster from Halfin included.