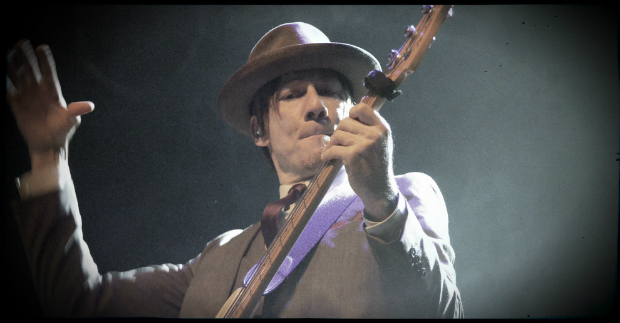 We always judge a band by their opening song: Vintage Trouble – comprising of Ty Taylor (vocals) Nalle Colt (guitar), Richard Danielson (drums) and Rick Barrio Dill (bass) – came out on stage in London last night to cheers and support from their many fans. It was their first headline show at the luxurious O2 venue at the Kentish Town Forum.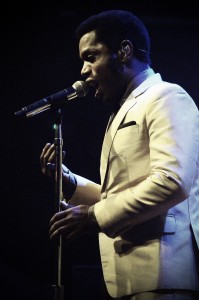 The opener they chose, though, was one of their slower and more soulful/serene numbers. Yes, it was squeaky-clean and cultivated… And, yes, it gently ruffled the air and felt so, so good… like being massaged around the temples with honey-balm. But, when we looked at the crowd, who were swaying gently and clearly fascinated by being so-close to their favourite band, you know what? We couldn't help thinking that they were not really moving. You know, really moving. With the enthusiasm 'n' fire you would expect at a rock concert. No! The opening song was gentle enough to get the fluids rising in our glands … But did our hearts beat faster? Not really.
And the second number was also snoozy soul-blues, with singer Ty Taylor making little pirouettes around the stage to help elevate things. (He crowd surfed later — much to the delight of the adoring fans). But the legendary & world-class stage presence seemed strangely lacking. The band-members sit/stood and played with diligence. They're obviously very accomplished. But can they raise the temperature up to boiling point? Well, if they can, we did not witness it at the Forum.
Songs were mostly taken from their album 1 Hopeful Road (with that awkward-looking cover-shot of Ty and his deformed leg) – it was Vintage Trouble's first album for Blue Note Records – and released in August. The album charted at No 14 in the UK during the first week.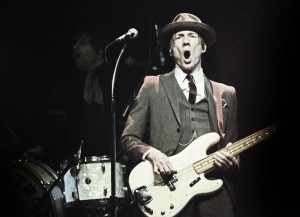 Groovy numbers, always passionately surrendered by the sympathetic Otis Redding soundalike frontman, dropped out of the band's song-book like vanilla pods falling into custard. Immediately pleasing the sweet-toothed taste of all those assembled.
'Angel City, California' buzzed and pinged. It had a carefree attitude and a genuinely raucous attitude.
"Doin' What You Were Doin'" was a honeyed and noble number. It was smoothly articulate, without bumps or any rough moments. A piece so incredibly fluid that the hypnotic influence started to do its work.
"My Heart Won't Fall Again" (the 'new' single released in October 2015) had that base-beat that we have come to admire from the hometown Los Angeles boys. It had a warm glow at its heart and was a genuine hallelujah singalong.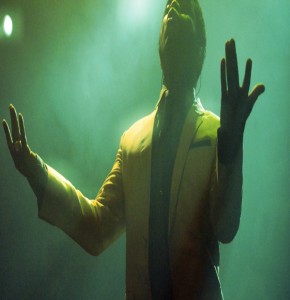 The homage to the victims of the attacks in Paris was also sincere.
Paloma Faith, of course, was there to provide moral support. She has been a great cheerleader for the band over the years, stubbornly promoting them at every given opportunity.
A VT fan at the show told us "They will never be big… They are swimming against the tide… But they are a musician's band… They play elegant music for experts and connoisseurs…"
Are they modern day miracles? Yes, it's likely. Are they masters of music? Yes, probably. Are they sensational? No! Not on your nelly!
But this is, perhaps, the point of Vintage Trouble. They produce the fine-wine equivalent of music. It should be sipped and savoured. Not glugged down or splashed about!