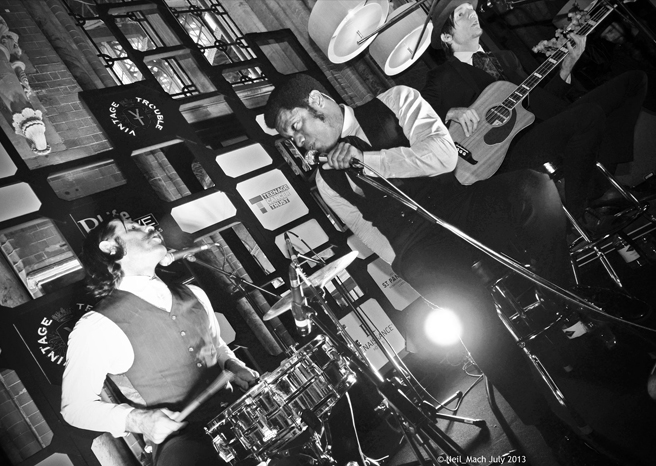 Sandwiched neatly between shows with The Who and the Rolling Stones, the sensationally soulful four-man outfit Vintage Trouble from Hollywood, California played an informal acoustic gig this Tuesday in the Gothic Revivalist splendour of the St. Pancras Renaissance Hotel London – as part of the Renaissance Hotels RLife LIVE series.
Kicking off the show with 'Still And Always Will' the Vintage Trouble front man Ty Taylor announced to the crowd:
"We have one goal … And that is to get everyone in the hotel to come into this room and dance."
The opening song had a limping rhythm and simpering, passionate vocals. The crunchy guitar created a patina of oxidized colour and scaling textures. And the bass guitar from Rick Barrio Dill buzzed like a hornet caught in a hot jar. The song soon enticed in a larger audience – and it was not long before they were seen bopping and quivering to the beats.
'Nancy Lee' had a refreshing tangy twang and more imploring lyrics. Inspired by the romantic notion of Taylor's father wooing his mother (Nancy Lee) with a seductive love-song, this number was lovingly executed and succinctly expressed. It incorporated all the essential characteristics of the Vintage Trouble sound – soulfulness, vitality and spontaneity.
'Low Down Dirty Dog' had a pile of heavy baked, cracked
enamel riffs, with some salacious blues percussion performed by Richard Danielson on drums The loose hipped bass-play on this boogie number was as rich and dirty as Mississippi mud pie. Ty Taylor yelled out the notes, while he writhed and gyrated. And the agile guitar work of Nalle Colt added resonance and fiery spices.
Slower 'You Better Believe It' was a real retro blues number. Squelching guitars and crisply rat-a-tatted drums blossomed behind silvery vocals. The unrefined chorus was contagious – and soon had everyone in the 5-star venue clapping along. This song was strong, sincere and truly remarkable.
The show finished with the insatiable 'Pelvis Pusher' number and frantic drums together with beseeching vocals that reminded us of Wilson Pickett. The guitars ached and moaned, and the thoroughly warmed-up crowd ignored the intense heat of the room, and jigged themselves into delirium.
This was a show for lovers of licentious soul-blues (think of James Brown or Otis Redding) or for those who enjoy the vital emotion of classic rock (think of Led Zeppelin.) It was a sensational show and a formidable warming up event for their Rolling Stones concert scheduled for this Saturday, July 13 at Hyde Park.