2018 marks half a century since the formation of legendary progressive rock group Yes and to celebrate this then band will embark on a 10 date UK tour. This lengthy milestone has seen the band become one of the most successful and enduring of their kind, if not any musical genre, with a series of a participants playing an important role over the decades.
Founded in 1968 by the late Chris Squire and Jon Anderson, the Grammy-award winning Yes have written such rock classics as 'Roundabout' 'Close to the Edge' and 'Starship Trooper' for hit albums such as Fragile, Going For the One and 90125, have been certified multi-platinum, double-platinum, platinum, and more by the RIAA, selling over 50 million records during the band's long and successful career.
Inducted in the Rock 'n' Roll Hall of Fame in April 2017, the current line-up formation of Yes features guitarist Steve Howe, drummer Alan White, keyboard player Geoff Downes, vocalist Jon Davison and bass player Billy Sherwood. They will release Topographic Drama – Live Across America, a new live album, planned for later in the year, recorded during their US 2016/17 tours. Also of minor note but an important factor for fans is that the band's iconic logo has been updated.
Talking about their 50th anniversary, Steve Howe said, "We want to mark this anniversary with a tour that encompasses some of our best loved work – We want to play things we enjoy, maybe songs we haven't done in a while."
Geoff Downes added "I feel enormously privileged be a part of the legacy of the incredible and unique line of musicians in Yes. The band has always remained fresh and inventive throughout its 50 year history, and created an amazing catalogue of music that has inspired millions from all generations."
The 2018 UK tour will feature classic Yes hits, plus the band will perform Sides 1 and 4 and an excerpt from Side 3 of Tales from Topographic Oceans – The first Yes album to top the UK charts back in 1973.
On 24th and 25th March, the final weekend of the tour, a 50th Anniversary Fan Convention will also take place at the London Palladium. Roger Dean (whose fantastical landscapes have become synonymous with the band's albums) will unveil new Close To The Edge paintings at the Palladium on March 25th, and more anniversary celebrations are expected to be announced soon.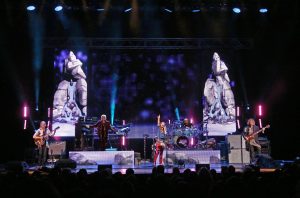 Commenting on his own long term involvement with the band, Alan White commented: "Reflecting on the past 46 years that I've devoted my life to playing Yes music, it's been an interesting journey and a true labour of love. I've always believed in the power of music and the band's recent induction to the Rock & Roll Hall of Fame and our Grammy award in 1985 are testament to the longevity of influence our music has had through the years. I'm extremely grateful to continue to be performing on stages for our dedicated fans and look forward to our 50th Anniversary performing together in 2018. It's been a great ride!!"
MARCH 2018 UK TOUR DATES
Tues 13th: Bristol Colston Hall
Weds 14th: Sheffield City Hall
Fri 16th: Glasgow SEC Armadillo
Sat 17th: Manchester Bridgewater Hall
Sun 18th: Gateshead Sage
Tues 20th: Birmingham Symphony Hall
Weds 21st: Brighton Centre
Fri 23rd: Liverpool Philharmonic Hall
Sat 24th: London Palladium
Sun 25th: London Palladium
Tickets go on sale Friday 8th September from 10.00am. They are available from BookingsDirect.com 24hr Ticket Hotline 0844 249 2222, venue box offices and select authorised ticket agencies. Front row, Meet & Greet & VIP packages are also available direct from the Yes website.