METALLICA are back baby! You can already pre-order their forthcoming album HARDWIRED…TO SELF-DESTRUCT now at METALLICA.COM.
Their new studio album is set for release on November 18th 2016 on their own label Blackened Recordings.
The internet exploded last night when Metallica released a new music video for track 'Hardwired'.

'Hardwired' will be delivered as an instant download to fans who preorder the album.
Hardwired…To Self-Destruct will be Metallicas eleventh studio album featuring 2 CD / 2 Vinyl. Their last album was 2008's multi-platinum Death Magnetic. The album is produced by Greg Fidelman, who also produced the previous album.
"Has it really been eight years? Doesn't feel like it! Nudge, nudge, wink, wink," said Metallica's Lars Ulrich. "We're obviously beyond psyched to share new tunes with all our friends out there.  We've been rockin' along in the studio with Greg on and off for the last 18 months firing up the creative engines again. Putting new music out there, getting in your faces once again and all that comes with it is what we love to do more than anything else, so strap yourselves in … INCOMING!"
Metallica will perform this Saturday, August 20th, at U.S. Bank Stadium — the new home of the Minnesota Vikings. The band's performance will be the first rock concert at the venue and tickets sold out in less than 10 minutes. Fans can tune in from home via a Pandora live stream beginning at 10 pm EST at http://pdora.co/metallicalive. Individual songs from the concert will also spin on Pandora. To listen, log in to your Pandora account or create a new one for free if you live in U.S., Australia or New Zealand. Fans outside of those countries can access the live stream at www.livemetallica.com.
Stay tuned for more details on Hardwired…To Self-Destruct in the coming weeks!
THE ARTWORK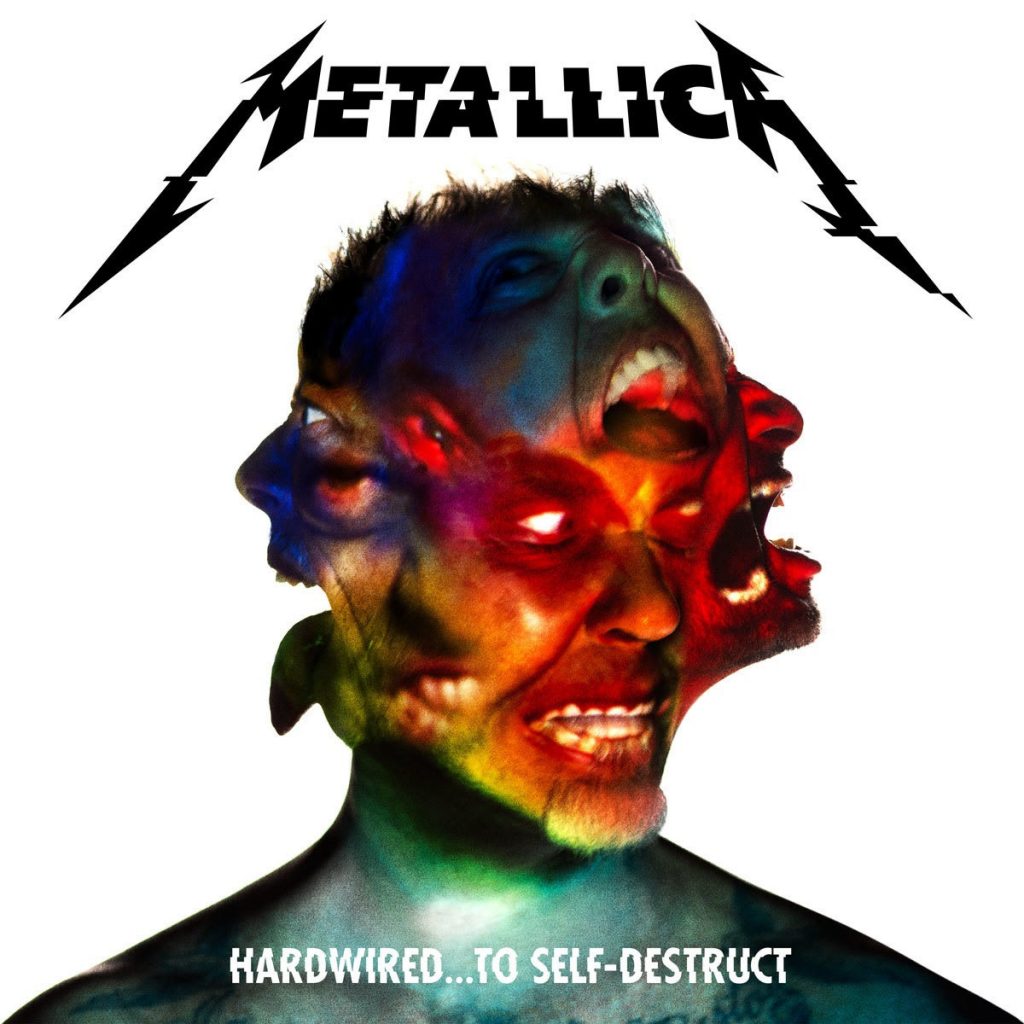 TRACKLISTING
Regular Album (on CD, Vinyl and Digital formats):
Disc One
1. Hardwired
2. Atlas, Rise!
3. Now That We're Dead
4. Moth Into Flame
5. Am I Savage?
6. Halo On Fire
Disc Two
1. Confusion
2. Dream No More
3. ManUNkind
4. Here Comes Revenge
5. Murder One
6. Spit Out The Bone
Deluxe Version (On CD & Vinyl only):
Disc One
1.         Hardwired
2.         Atlas, Rise!
3.         Now That We're Dead
4.         Moth Into Flame
5.         Am I Savage?
6.         Halo On Fire
Disc Two
1.         Confusion
2.         Dream No More
3.         ManUNkind
4.         Here Comes Revenge
5.         Murder One
6.         Spit Out The Bone
Disc Three
1.      Lords Of Summer
2.      Riff Charge (Riff Origins)
3.      N.W.O.B.H.M. A.T.M.  (Riff Origins)
4.      Tin Shot (Riff Origins)
5.      Plow (Riff Origins)
6.      Sawblade (Riff Origins)
7.      RIP (Riff Origins)
8.      Lima (Riff Origins)
9.      91 (Riff Origins)
10.    MTO (Riff Origins)
11.    RL72 (Riff Origins)
12.    Frankenstein (Riff Origins)
13.    CHI (Riff Origins)
14.    X Dust (Riff Origins)