Judas Priest Sin after Sin was released 8th April 1977 through CBS Records.
Who would have thought that Judas Priest started their incredible journey in 1969. Their first album was brought out in 1974 and entitled Rocka Rolla.
My favourite album from Priest is without doubt Sin after Sin released in 1977 mainly due to the fact it brings back memories spending my time with the 6th formers whilst in 4th year, just for the sheer fact I was growing tired of mainstream rubbish in the charts and I had now discovered rock music so there was no turning back.
Priest in their early years were the metal band everyone loved, the leather clad biking maniac Halford could hit notes like no other and was revered by many. Not forgetting the superb K.K. Downing who I had a crush on for ages… and I make no apologies for that! So sad that on 20th April 2011 K.K. announced he was retiring from Priest saying it was due to differences with the band and management respectively, however, for me nobody could take Downing's place and so I just clung to the memories of Priest when they were at their ultimate best.
I did however, see them live at the Birmingham NEC in 2004/05 with the Scorpions supporting them – and it was safe to say The Scorpions blew Priest into a void. Priest were not the same as they once were, especially Halford whose stage presence had sadly diminished leaving an old man in his place and one who struggled getting from one side of the stage to another. It was quite sad to see.
However, Sin after Sin is testimony that Judas Priest were one of the most prolific bands of their time. Listening to 'Sinner' and 'Dissident Aggressor' sends chills down my backbone and reminds me of frequenting the Wilson's in Liverpool and talking non-stop about various bands and one such band was Judas Priest who certainly made their mark in such a technical way with a hard-edged approach. I still get goose bumps when listening to early Priest and still have a hard time hitting the notes for 'Dissident Aggressor' – nobody has a vibrato like Halford and yet listen to Last Rose of Summer you wouldn't think it was the same person singing, so how diverse is Halford? And this was quickly recognised by a lot of metal heads. It is a shame that we cannot turn the clock back and see Judas Priest as they once were – feisty, forthright and feckin' awesome, winning a slot on MTV for "Greatest Metal Band" of all time selling over 45 million records to date and coming second to the worthy Black Sabbath.
Halford's leather look didn't go unnoticed by the metal crowds for sure and at their gigs was a sea of leather-clad rockers all getting fired up by the groove that Judas Priest produced and gained them the very apt title of Metal Gods!
Track List: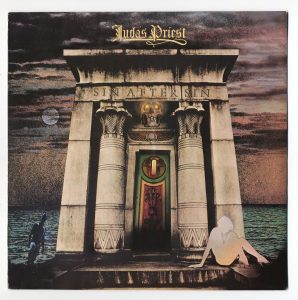 Sinner
Diamonds & Rust
Starbreaker
Last Rose of summer
Let Us Pray/Call for the Priest
Raw Deal
Here Come the Tears
Dissident Aggressor
Members:
Glenn Tipton – Guitar, Arranger, Songwriter
Robert Halford – Vocals, Songwriter
K.K. Downing – Guitar, Songwriter
Ian Hill – Bass guitar
Simon Phillips – Drums, Percussion
Roger Glover – Producer
Judas Priest – Producer
Mark Dodson – Engineer
Dave Ballotti – Assistant Engineer
Judy Szekely – Assistant Engineer
Neil Hornby – Assistant Engineer
Nick W – Mastering
David Hemmings – Manager
Rosław Szaybo – Art Direction
Bob Carlos-Clarke – Design, Photography