Canadian pop punk band Simple Plan, brought their energy, catchy tunes and a whole lot of nostalgia to London's Kentish Town Forum where they performed in front of a a sold out crowd as part of their No Pads, No Helmets.. Just Balls tour.
Crowd surfing, bouncy beach balls and guitar riffs were all part of an awesome show, not that we expected any less from these pop punk veterans. Perfectly in style with the celebrations of the fifteen years anniversary of their very first album No Pads, No Helmets.. Just Balls, the band delivered a set comprising of their debut studio album from start to finish. Released in 2002, arguably when the emo/punk rock scene was at its peak, most of the tracks of this album still represent the essence of Simple Plan.
This got even more evident with the audience reaction to the opening riff of 'I'd Do Anything' which clearly created the right atmosphere to get the party started. 'The Worst Day Ever' and 'You Don't Mean Anything' followed as the band went through the track list.
By the end of one of their most famous songs, 'Addicted', lead vocalist Pierre Bouvier tactfully acknowledged the absence of band mate David Desrosiers stating that he is still part of the band but his absence was due to taking some time off to address issues around mental health.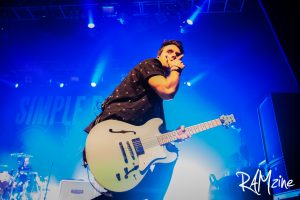 'My Alien', 'God Must Hate me', 'One Day' all made the entire Forum jump and partying as if it was still 2002. The lyrics to most of the tracks are pretty basic, and their expressions of teenage sadness and frustration may not be as appealing to an older audience but I guess whoever decides to buy a ticket to see Simple Plan is also looking to go back in time for one night and feel 16 again. The crowd favourite 'Perfect' is a great example of the nostalgia that was wrapping all the old school fans like me and also made us feel closer to the new generation.
A quite long encore consisting of tracks from the band's wider discography followed, including 'Shut Up', 'Jump', 'Your Love Is a Lie' and of course the most popular emo anthem 'Welcome to my Life'.
Simple Plan have never stopped touring and making music since 2002 just like Bouvier says at the end of the show: "We started making music 15 years ago and we're going to keep making music and keep playing shows, because of you."
Prior the show we took some time to chat with Jeff (lead guitarist) and Chuck (drummer) to get all the news, curiosities and updates about the band.
You are celebrating 15 years anniversary of your first album, what's your favourite old school song?
Jeff: I think my favourite song from that particular record is 'Perfect' which was a song that kinda changed everything for us and it still sounds very relevant today, people can really connect to it. Then live 'I'd do anything' really kicks ass, I like them all but those two are definitely my favourites.
Chuck: What I did enjoy to do on this tour are probably the most obscure tracks, not the singles really, more like the songs that people don't get to hear a lot. One of the highlights for me is doing 'Grow up' which wasn't even in the first album but I really enjoy it because you get to go to the front, get to talk a little bit, Pierre plays some drums and we get some fun with it, you know jumping in the crowd, do some crowd surfing.. brings me back to be 16, there's something really exciting about it every night so I enjoy it a lot.
You also kept the same line-up for all this time, how did you manage?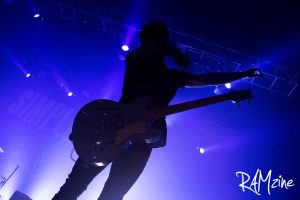 Chuck: I think the key for us was being friends before becoming band members. You know, we never formed this band because I was the best drummer or Jeff the best guitarist but because we enjoy being the five of us together, we grew up in the same area, we went to the same high school so we come from the same place with the same sort of attitude and we look at the world the same way so that's what made a big difference. Whenever there was an issue or a problem, we've always been able to talk to each other's and we are all lucky we got the same priorities and as the years go by it feels like it's even more important to keep going in the same way and working hard.
Do you feel has anything changed, as a band, since 2000?
Jeff: So many things have changed, we used to get those calling cards to call back home. Self phones were really expensive so it was really complex to stay in touch with people at home and the big thing that changed everything was definitely the internet and social media. When we started touring Facebook and Instagram became really big. We would have our email address on our website when we started out and we were actually answering the fans and directly through email. Imagine how much time that used to take while now you can just upload or send a picture out and you are writing to so many people in one single click. So a lot has changed but at the same time it still remains about us being a band playing live shows. When we started out in Chuck's basement I remember just sitting on couches discussing the fact that we wanted to be a touring band and travel the world and that's what's going on now so in a way a lot has changed but what we do is still being ourselves and making records.
Talking about the past, what do you miss the most of the old school days?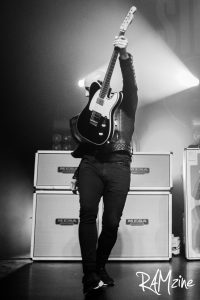 Chuck: I think people were a bit more simpler as far as the music industry was going. It felt like there was maybe more potential or more goals we could achieve like when we were a young band playing in our basement or garage and we kinda had this dream of being signed, starting our shows, getting on MTV and selling our records but I think now it's much more complicated as people don't really know what it takes. You see a lot of bands putting so much effort into touring and making albums and some of them don't even get heard. Even when you put out some quality thing it's just hard to be seen while in the past it was kinda easier to reach people and have an impact.
What are the best and worst things about touring?
Jeff: Best things are definitely the shows and when you have a day off in a cool city like in London for example it's pretty sweet. I guess the worst part is that you are leaving your family and friends behind, you are missing birthdays and anniversaries so that kinda sucks and by the time you get back home there's a system in place and everyone's life gets going even when you aren't around. It is what it is but we also got better to balance our time off and as long as people wanna come to the shows we are happy to continue doing certain sacrifices to live that life.
How do you see pop punk in 2017?
Jeff: It's healthy right now.
Chuck: There's a new breed of bands coming out and doing well like the ones playing with us today. You are looking at Milestones, The Bottom Line, so it's cool to see new bands being successful. We are trying our best to support and welcome the new generation of fans on our shows and break the gap between all that. It's also cool to see a resurgence of a lot of the bands that are either coming back or still doing well and I think we are part of that. There's still a very dedicated audience, people still enjoy this kind of music.
You guys are also playing at Download, would you say you prefer to perform in front of larger or smaller crowds?
Jeff: It's already great that we are allowed to play both. Both types of venues, both types of crowds. We just played Rock Am Ring in Germany and that's probably one of the biggest festivals in the world and when you see 60 or 70 thousand people in front you jumping and going crazy that's pretty insane. It reminds me of those videos I had seen of Guns N' Roses playing Rock in Rio, I still wanna play Rock in Rio so bad, hopefully some day it will happen. I often have to pinch myself like how the hell did we get here? And then we play those smaller shows in those countries we are still developing and growing as a band. I think it's cool because you get to be closer to the fans whereas in festivals everyone is so distant and kinda faceless while in smaller shows you see people faces and reactions so you gotta work harder, you gotta be more physical, it really reminds you how much energy you have to put into a show and when you transfer that to bigger stages I think it makes them better shows too.
Is there any other band you are eager to see at Download?
Jeff: Biffy Clyro. They are like gods here whereas in America they are just an alternative band. A lot of people don't know about them which doesn't really matter because their music is great but I have been listening to their record 'Opposites' like non-stop in my car so I'm really looking forward to see them live.
Chuck: I'm just excited about the whole thing I guess, it's always fun to see other bands which are not the same style. It's the overall experience, walking around and realising how cool is seeing so many people that love music.
Do you have any pre-show ritual?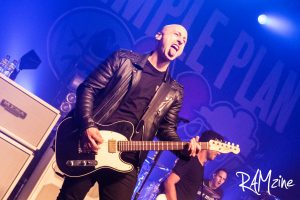 Jeff: I usually kill an animal and drink its blood I think it's really important before the show (laughs). Jokes aside, we usually practice a lot, we warm up, it's the fist bump kind of thing before getting on stage, it's nothing really crazy you know. We are pretty focused before the show.
Chuck: Yeah plus you remind yourself that people have travelled really far so you use that to pump yourself up and be like so this is gonna be a special one tonight. Even when you might be a little tired you just look at the crowd and remember all the stories because you meet people at soundchecks or outside or on social media and you kinda get in that zone where you wanna give the best show.
Do you have any plans or future projects you'd like to share with us?
Chuck: We did a four years on the new album, we've been touring for about a year and a half since the record came out so we wanna keep that going for a little bit as there's still places we have not been. We are going back to Canada and in the States, we are doing Japan and so many other places because with the anniversary and everything we wanna make it special. After that we just gonna sit down and see what we wanna do, make new music right away or keep touring, we are not exactly sure but we are definitely going to make plans in few months time. I am sure it'll involve playing new music and playing live. We also filmed the show on the last tour in California and we wanna find a way to release that so this is part of the project.