After having a tip off about a free spirited folk quartet from Falmouth we headed up to London for a listen. The band is made up of, surprisingly enough, four people, Jessie (vocals), Joe (guitar), Rosa (violin) and Than (Cello and sax). The eclectic quartet mixes it up a little with frequent visits from percussionist Becca. I grabbed the band after their show for a pint and a quick chat.
We began by asking about their missing cellist…
Jessi: "Sadly he couldn't join us tonight as he has an ear infection, we had a bit of time to prepare without him. We felt it sounded a little emptier as we didn't have our bass and lower register but it helped having Becca with us for drums. We changed our set a lot to compensate for it and played a lot louder!"
RAMzine: We'll the audience were pretty into in and didn't seem to notice. How would you describe yourselves to readers?
Jessi: "I think we formed quite naturally, Jo and I were already playing together and bumped into the others when we were laying down some tracks, we've got a bluegrass, folky type sound but try and mix a little bit of everything in."

(Rosa joins us)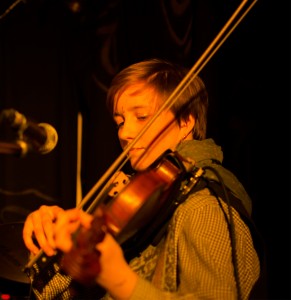 RAMzine: During the show you dedicated one of your songs to your dear friend Holly (as it's about her), Where generally do the ideas behind your other songs come from?
Jessi: "Well I think all of mine come from past experiences, travelling, relationships."

Becca: "Jessie's are basically all about experiences and Joes are all about women! (Laughs)."

Jessi: "Well mine are a lot about women too! (Laughs) Rosa have you got anything more to add? What about clucking?"

Rosa: "Well clucking is an old-time southern American bluegrass song, and I fancied learning some bluegrass and that's where we ended up."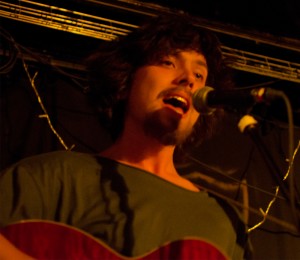 RAMzine: You seem to like experimenting a lot does this help keep your style a little quirky?
Jessi: "We like to experiment with loads of sounds, we have a playful sound, we don't really plan, we just have a bit of a jamming session and work from bits that sound good."

Rosa: "We try a lot of ridiculous things, and a lot of them seem to end up staying."

Jessi: "A lot of that comes from the fact that we don't want to be serious, we want to come across a bit ridiculous and have a laugh on stage. I wrote 'Looking For' at the end of last summer, and it was an expression of the summer I think a lot of our songs are written with the time as well."
Becca: "Don't include that! (Laughs)."
Jessi: "Do include it, it was true! Well that comes across in songs like 'jammin' which I wrote at a festival after a good night."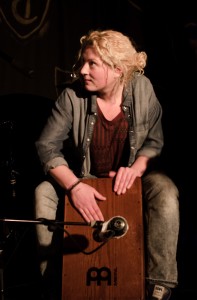 RAMzine: That's the one that's a bit of a merge of festival vibes that's a cheeky 4am round a camp fire type song.
Jessi: "Yeahhh, that sounds pretty much like the time I wrote it!"
RAMzine: Where else do you take your musically influences from?
Jessi: "People like Bob Dylan, Leonard Cohen.."
Becca: "John Martin.."
Jessi: "I really like Martha Tilston."

RAMzine: So you're from a little town in Cornwall, how do you think that influences things?

Jessi: "Well it's a tiny village in the middle of nowhere filled with artists and spirits, we spend a lot of time on the beach, writing, chilling, partying, not everyone has that."

Becca: "Tell me about it."
RAMzine: We'll it's alright for some! The audience seemed to love watching you play, they got quite into it and there was a good atmosphere, lots of foot tapping!
Jessi: "Well music's all about sharing isn't it, we love being up there and seeing people enjoy themselves!"
RAMzine: You met quite spontaneously, what's the most spontaneous thing you've done as a band?
Jessi: "Ooo I'm not sure, chilled or Terry's….. Rosa?"

Rosa: "Well Terry's to be honest! Our friend Terry came to Falmouth to do a joint gig."
Rosa: "What actually ended up happening was we played 15 tracks, 10 of which were his songs and we had to learn them."
Jessi: "In a week! And then we had to play them to a high standard live. It was hard and we were rehearsing for 10-12 hours a day non-stop."
RAMzine: You've got some tracks up on your sound cloud, can we expect an EP anytime soon?
Jessi and Joe: "We've laid down some tracks but the EP isn't quite ready yet, we're just picking the final tracks and then it'll be ready for summer."
RAMzine: Was good to have a chat with you, the gig was sweet, and we look forward to hearing from you over the summer!
You can catch Four Poeple on Source Fm on 20th April and they will be busking in festival queues all over this summer, so keep an eye out!