Making a name for herself as a slide guitarist with a unique sound all her own and moving from a solid blues rock base to a mainstream classic rock sound with her latest album Stolen Hearts, Finland's Erja Lyytinen is someone to keep your eye on. With a September UK tour imminent that shouldn't be hard, but to discover what's lead to her getting to this stage in her career Paul H Birch interviewed her for Ramzine.
Ramzine: Stolen Hearts is your 10th studio album, and very much a broadening of your musical template. If I may, can I ask how your musical tastes first developed and when you became interested in pursuing a musical career?
Erja Lyytinen: I have been studying in a bunch of different music schools from Helsinki all the way to Los Angeles and all the teachers I have had a privilege of learning from have given me knowledge for different music styles and pushed me to new directions. I did know quite fast though that blues is my thing.

I started to play the guitar at the age of 15 and around age of 18 I already had my first blues band put together. But my main intention was to become as great on the guitar as possible, so I tried to master as much of styles as possible. I feel that now I have a quite nice vocabulary from where to scoop when writing music.
When I picked up the guitar, I just knew that it would be my future occupation and passion, so I focused my studies around it.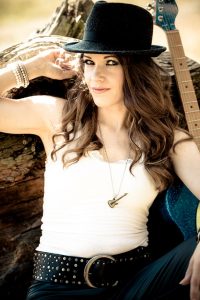 Ramzine: The Blues Magazine has dubbed you "The Finnish slide goddess" and your last studio album The Sky Is Crying, was a tribute to the legendary Elmore James. What was it about the bottleneck style of playing that appealed to you and how did you go about developing your own style of playing?
Erja Lyytinen: One of the reasons why I so much enjoy bottleneck, is that no one hasn´t really taught me how to play it. I did get some technical advises to play the slide from my teacher back in the days, but later on I started to explore the open tunings and learned from the musician friends around me.
For me slide playing is always an adventure. I don´t know where I am going, I mostly play by the ear, and of course occasionally I try to emulate the 'old school' blues slide guitarists such as Muddy Waters, Elmore and Son House. But I´m very keen on trying out different things and playing slide by using effect pedals has become one of my trademarks. I love using wah wah pedal, whammy and delay effects with slide. It is so much fun! Recently I covered Hendrix´s tune 'Crosstown Traffic' with slide. I heard Robert Randolph´s steel guitar version of it and tried mine with slide guitar. It is a fun track to play right now.
Ramzine: What is the musical landscape in Finland like?  I understand you signed to a German record label to release your first album Pilgrimage in 2005 but you had also gained a scholarship to study at the Musician's Institute before that. Was there a need to expand outside your home turf to develop?
Erja Lyytinen: I studied at the Musician´s Institute in 2004. Finnish music education has a very high standard I would say. I did learn to play on the road though, and especially when signing to Ruf Records in 2005 they took me to another level and it did change my being on stage a lot. The label took me towards more rockier style, which actually suits me well. And ever since I have gone even deeper to that direction, which probably my latest Stolen Hearts album indicates too.
Times were different ten years ago with what comes to promoting your music. It was such a big step to get a record deal outside of Finland. But nowadays because of the constant using of internet, Youtube, social media and so on, everything has gotten a lot easier for new artists to break out. I started touring internationally only 11 years ago, and have been broadening the scenery ever since. We got a request to play even in India last year, which was such an exotic thing. They have the blues there too, you know!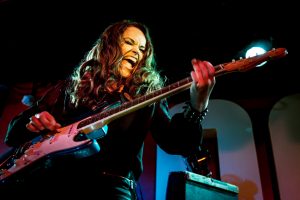 Ramzine: You signed on for 2006's Blues Caravan tour, can you tell us a little about this and the territories you toured because of it, or indeed some of the more interesting places you've played?
Erja Lyytinen: With Blues Caravan, from 2006 I toured mostly
around Europe and then overseas in America. For me trying out my wings in the land where the blues began was such a remarkable thing. We recorded in Mississippi and Memphis and I still get goose pumps for thinking of the trip. We also did some festivals and it was so cool to play for the people whose heritage the blues is. American audience certainly understood what you were doing on stage and responded to that. I had a chance of meeting Muddy Water´s son Big Bill Morganfield on a same festival we played among others, so it was a huge thing for a young girl from Finland to get to experience all these  things at once.

Ramzine: You continued to release a steady flow of albums over the years. Did you see these as an overall musical progression and with guest contributors from bands like Nightwish and Apocalypta did you also see them as opportunities to experiment progressively?
Erja Lyytinen: We have known each other decades with Marco Hietala and Paavo Lötjönen. So for me it was such an honour to get these friends and nowadays world-known stars to perform on my Voracious Love album in 2010. I have always been keen on trying styles, and never too afraid of putting new spices to the mix. Collaboration with different people always opens your eyes, if you just let things happen and are willing to take in new influences. On this album I also used string trio (cello, two violins) so there was a lot of not so common aspects involved than we are used to having on a blues album.
Ramzine: With 2014's The Sky Is Crying and the following Live in London CD and DVD, you received rather substantial international acclaim. They're stirring earthy blues sets. Presumably you set out to reconnect with your original sources of inspiration when making them?
Erja Lyytinen: Oh, yes. Blues plays a very big part in my life, and I feel that making a tribute to Elmore James really just widened my knowledge and interest towards blues music. I also have noticed that when playing live, I seem to take my solos more and more to that direction, whereas over a decade ago I was playing jazzier solos. So I guess I´m starting to finally understand the essence of the blues! After all, it is still very mysterious and fascinating world to me.
Ramzine: While retaining blues elements, with Stolen Hearts you're edging your feet firmly in rock's territory but also encompassing a variety of fertile popular modern sub-genres. Was this planned or did it develop from the songs you found yourself writing?
Erja Lyytinen: These various different songs just emerged during the years, so I didn´t want that development to stop, but I just let them come out. As a result I got an album full of variety. Although the messages in the songs are quite similar. There´s a lot of blue feelings and heartbreak in there as I needed to get certain feelings out. But then again ,there´s a lot of joy and hope in some of the tracks. We need that to survive the bumps on the road. I have always liked British 70s rock and progressive rock, and I had that in mind when writing some of the songs.
Ramzine: Lyrically, as you say, there's a lot of heartache on the album. It's not always direct nor in the first person. Without prying too much into your personal life, how much do you write from experience and how much is the need for a narrative story flow involved?
Erja Lyytinen: Stolen Hearts is very personal album. I was going through some tough times in my life while writing some of the songs. And yes, when you sing straight from the heart, others will notice that too. I´m not too afraid of putting myself into the songs. Besides it is very purifying, although it might be a bit painful too. But then again music is a form of expression, and being on stage and giving out those feelings and sharing it with the audience can be a cathartic moment for both sides.
Ramzine: That said there's some real upbeat music on it too and a number of prominent lengthy guitar solos, with what appears to be twin guitar overdubs. Do you arrange your solos in advance or let your fingers go where the mood takes you?
Erja Lyytinen: There were quite a few guitar solos on the album that I had composed the solos all the way. For instance in 'Black Ocean' I play the solo as it is from the beginning until the end. There´s everything in it what a big guitar solo needs: a big guitar sound, twin harmonies, bendings, lots of notes and a bit of tapping – Yes, on a blues album, ha, ha! Then there´s some songs like 'Slowly Burning' where I just let the moment take the guitar playing to wherever it might go.
Ramzine: The basic recordings for Stolen Hearts were made in Helsinki, but the vocals and final production work was undertaken here in the UK. What were you looking to achieve in working here and was Chris Kimsey (who's worked with the like of The Rolling Stones, Bad Company and INXS) part of the reason you did so, or a happy coincidence?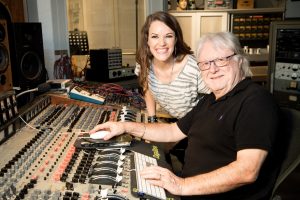 Erja Lyytinen: We got introduced to each other by a mutual friend of us, Alan Darby, with whom I have had a privilege of writing songs since Forbidden Fruit album. I was looking for a mixing engineer/producer who could deliver the best out of my vocals. Also mixing is such an essential part of the sound on the album, it binds it all together, so when I heard I could work with such a talented and professional man like Kimsey, I knew this would be something special. He also wanted to mix the album with a console, the very same he used when doing Some Girls. So yeah, there was a lot of magic happening, modern and old school way of doing music coming together.
Besides Chris is such a kind-hearted person, that I felt homey with him instantly. And we share the similar taste of music, as I have listened to a lot of his work as a teenager, Duran Duran, Zeppelin, Stones etc, so it was just so easy to work with him.
Ramzine: You've also got into making videos specifically for the songs on this album. How did that develop and do you see it as a further means of artistic expression or a modern means to extend your audience base?
Erja Lyytinen: Making and distributing videos nowadays is a lot easier than ever. And people watch so much videos online now! I hadn´t done music videos before and I was keen on looking at some of the songs from a visual point of view. The producer Christian Pulkkinen at Dark Noise Production put together a film group that executed a couple of very cool music videos.
The first one 'Stolen Hearts' had a film noir kind of style, with a very frank story about man-eater stealing men´s hearts, taking the card of Queen of Hearts from their sleeves, until she´d encounter the same fate. My second music video '24 Angels' came out to be a dramatic story about morality and forgiveness. It was freaking cold to stroll in the cemetery for hours for the filming, but all worth a little flue afterwards. The music video doesn't tell all behind the lyrics, but has an indication that something bad happens, and forgiveness plays a big role in it. And who is forgiving to whom? I like the fact that the listener/watcher can find his or her own conclusion about the story.
Ramzine: You toured the UK back in April and you're returning for a seven date tour in September. Who's in your band right now and what can those coming to see you on tour expect?
Erja Lyytinen: I will be coming to UK with the band I have been touring the past two years: Juha Verona on bass, Kai Jokiaho on drums and Harri Taittonen on keyboards/Hammond, who has also played on all of my albums since 2008. For those who will come to see the show will experience an energetic show with some cool covers we´ve been playing recently, like the Hendrix one I told about earlier and then we will be of course playing the songs from the latest Stolen Hearts album, which was cut in with this very same group.
Ramzine: Thanks for your time and have a great tour!
Erja Lyytinen:Thank you, Paul! My pleasure, hopefully we´ll have a chance of catching up some of the shows! X Erja.
For more about Erja Lyytinen and forthcoming tour dates click here to visit her website