Golden Tanks Release R.D.B.H
Reading guys Golden Tanks emerged onto the scene last year, and they sure did bring the party! Not only did this band bring us great punk-rock tracks on their first self-tittled EP, but they got voted Red Bull Bedroom Jam 2012 Finalists! 'Midas Touch' proved a strong track from the self-tittled EP, and sticking to the same roots, but brining in a more raw element they have now released their second EP 'R.D.B.H'. This is a bands who have done a lot in a short space of time, from playing festivals they have always dreamed of playing at, suffering in hospital, to having differences with band mates, and line-up changes. We had a chat with them over the airwaves that are the Internet, to see how its all going.
RAMzine: How would you describe the Golden Tanks sound and how does it feel to have released your 2nd EP 'R.D.B.H'?
"Raw Gritty Punk Rock!

It's awesome to finally get R.D.H.B out, after having it ready for so long and it being pushed back a few times!"
RAMzine: What is the Golden Tanks writing process?
"Our usual writing process starts with Guitarist Matt White bringing in the back bone of the songs and showing Matt (Wilson) the riffs, so he can start putting drums to them, then the full band start structuring the songs, leaving Ben to finalise them with his lyrics."
RAMzine: How did this recording differ from the last one?
"We took a different approach in the recording process on R.D.H.B than we did on the last E.P. The R.D.H.B sound is a lot more raw, whereas the self titled was a lot more polished."
RAMzine: What changes have taken place since the last EP that has affected 'R.D.B.H'?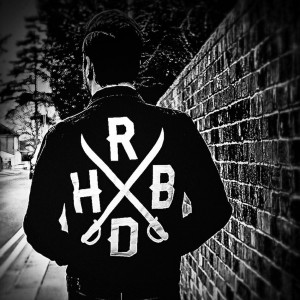 "We have had so much happen to this band since the last E.P, like being finalist's in the Red Bull Bedroom Jam last year, playing a bunch of festival including Download, Hevy and Slam Dunk. Then getting through to the final 3 of the RBBJ, we played the final event and within a week of that our drummer Matt Wilson was in hospital with meningitis! This resulted in us cancelling all of our plans for tours and the recording R.D.H.B got pushed back about 3 months. This inactivity lead to Ryan (bass) and Jamie (lead guitar) leaving the band, but the 3 of us left didn't wanna just throw in the towel, so we got on with the task of getting everything ready for the new release including getting together a new line up so we could gig to support the EP."
RAMzine: Going forward, what is in store for Golden Tanks?
"Well the E.P has just come out so we will be booking up shows to tour it, we want to play the new songs to as many people as possible, then looking forward to doing a full length."
RAMzine: Which bands have had the biggest impact on you as musicians?
"Every Time I Die, The Ghost of a thousand and The Bronx are the 3 bands we all like the most, but we don't really look for anyone for direct influence for our sound."
RAMzine: What bands have you come across during your travels you feel people need to hear?
"There's loads of awesome bands we've come across in our time but stand-outs include Giants, Palm Reader, The Valiant and Empress, to name a few."
RAMzine: What is the funniest Golden Tanks tour memory?
"On a recent spell of dates we did, seeing our merch boy so wrecked that he got kicked out the club we were in for throwing up in front of the manager, then on the manger's shoes. That was pretty funny!"
www.facebook.com/goldentanks