Bloodstock Open Air has always championed the metal underground, pushing new and unheard talent forward. The Metal 2 The Masses programme is at the forefront of this objective.
Hundreds of bands take part by uploading videos of their live performances to: www.wychwood.co.uk/#/mischeif//competitions/bloodstock.
The videos are then judged by the Bloodstock panel, and finalists are nominated to play live in concert in front of the judges. Attendees to these concerts will be in with a chance to win weekend tickets to Bloodstock, and plenty of other goodies. By the end of the tour, the brand new Bloodstock van will have taken the judges to 22 venues to see their nominees perform. The lucky winners will be given the prestigious honour of playing at Bloodstock on the Hobgoblin New Blood Stage this august.
The first batch of New Blood acts have already been selected. Friday's bill has been booked with Cotswold modern metal act MUTAGENOCIDE, Canadian prog-metallers DIATESSARON and Welsh groove outfit PISS VIPER. Saturday's lineup includes CODEX ALIMENTARIUS, tech-metal group AKARUSA YAMI and post-proggers SUMER.
On Sunday we see prog-hardcore group TAKEN BY THE TIDE, Luxembourg extreme metal act SCARRED and Northern Irish hardcore group BY ANY MEANS.
The Bloodstock Metal 2 The Masses finals are taking place over the next few months, with festival tickets up for grabs!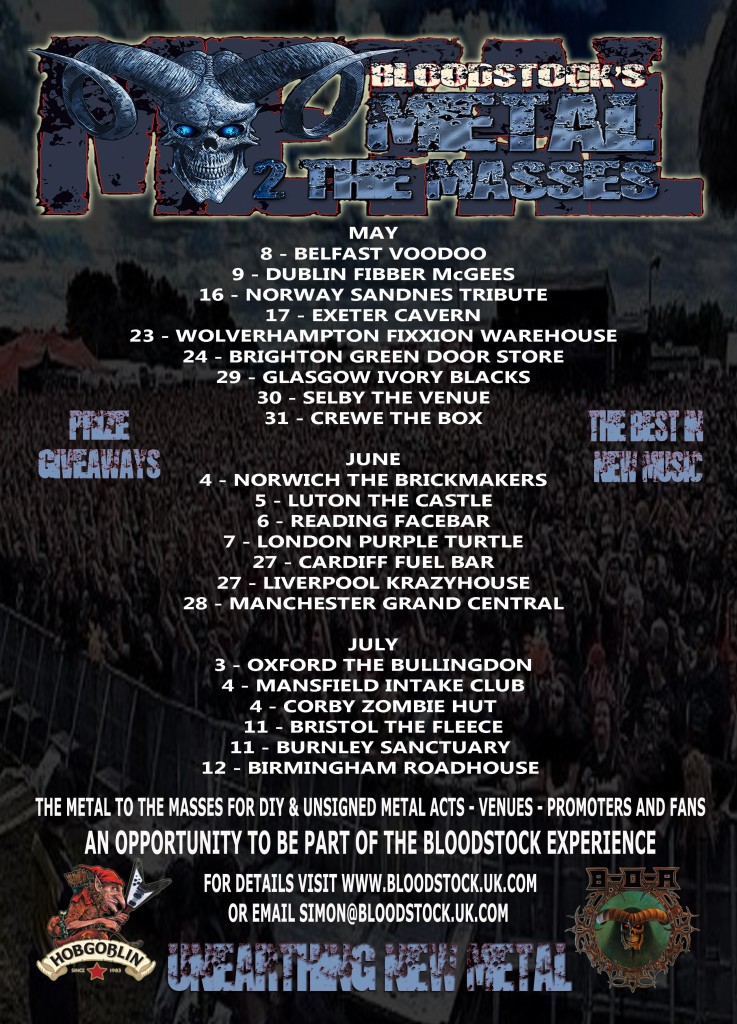 Tickets for BLOODSTOCK 2015 are available via the 24hr ticketline at 0871 230 5584 or online at http://bloodstock.seetickets.com/event/bloodstock-2015/catton-park/809956, priced at the very reasonable £135 (plus booking fee) for a four-day Thursday through Sunday weekend ticket with camping. VIP packages and upgrades are also available, plus pre-booked car parking pitches. Camper van pitches are now all SOLD OUT!
Friday's headliner TRIVIUM and special guests SABATON, Saturday's headliner WITHIN TEMPTATION and special guests OPETH, Sunday's headliner ROB ZOMBIE and special guests BLACK LABEL SOCIETY, plus CANNIBAL CORPSE, IHSAHN, SEPULTURA, ORANGE GOBLIN, DEATH T.A, NUCLEAR ASSAULT, 1349, NAPALM DEATH, DARK ANGEL, ARMORED SAINT, BELPHEGOR, OVERKILL, ENSIFERUM, AGALLOCH, KORPIKLAANI, PRO-PAIN, ENSLAVED, RAGING SPEEDHORN, XERATH and WOLF. Over on the Sophie Lancaster stage, there's headliners DELAIN, FLESHGOD APOCALYPSE, GODFLESH and ARNOCORPS, LAWNMOWER DETH, MORDRED, ETHEREAL, ONSLAUGHT, OAF, CONAN, PLANET OF ZEUS, GODSIZED, plus many more.
BLOODSTOCK will be held at Catton Park, Derbyshire on 6th-9th August 2015. Keep up to date with the very latest info on BLOODSTOCK's official sites at www.facebook.com/bloodstock and www.bloodstock.uk.com.