I know it's only September, but there are already some great events underway all over the world. Next year why not try something a bit different? How about a festival in a beautiful country, where lakes run through the middle of you friendly campsite. Nice image isn't it! Maybe too relaxed? Now picture that with 1000's of metal heads, and a metal line-up to die for! It sounds simply amazing doesn't it! The good news is, such a place exists.
Metaldays a festival based in the lovely country of Solvina, has this week announced it's first batch of bands. If like us, you love your 80s and 90s metal, you are going to love this!
Death Angel will be making an appearance, bringing the Thrash. If you prefer something a bit more goff then Moonspell are the band for you! Bringing more exstream metal we have: Rotting Christ!, Ne Obliviscaris', Noctiferia. For something a bit more experimental Metaldays give you Sacred Steel.
And if all that wans't engough they have also announced: Wehrmacht, Butcher Babies, Avatar, Internal Bleeding, The Devil, Hirax and Adam Bomb.
What a line-up and it's only the first announcement. Stay tuned for more!
Buy tickets at: www.mhshop-online.com/Shop/Category/1147/metaldays-2015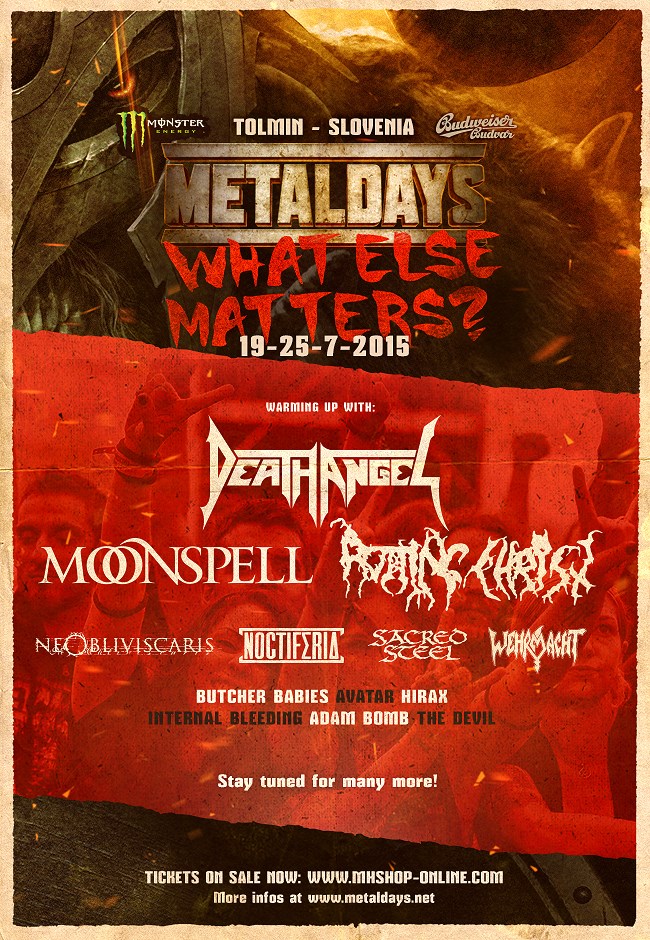 —