Fancy winning a room for 6 with passes to next March's HRH Prog 3?
With a stellar line up of Rick Wakeman, Steeleye Span, Mostly Autumn, The Enid, The Reasoning, Magenta, Anna Phoebe, Life Signs, Touchstone, Sanguine Hum, Knifeworld, Landskap, Agent, Kitten Pyramid, and The Osiris Club its set to be the best yet.
And if thats not enough, running alongside Prog 3 at the same venue in other arenas is the Sci-fi Weekender. Now in its sixth cycle, The Sci-fi Weekender continues to promise the ultimate Sci-Fi experience. Quite simply it's a festival of fun and activities for people who love science fiction and fantasy, Already announced are Sylvester McCoy, James Cosmo, Sophie Aldred, and Neve McIntosh.
Passes for Prog get access to everything, so to be in with a chance of winning one of the last few rooms available for 2015, simply answer the following question, and email your answer to info@hrhprog.com, including your name and phone number and quoting the promo code HRHPRZ .
Which of the following groups was Rick Wakeman NOT part of:
A: Yes
B: Strawbs
C: Mostly Autumn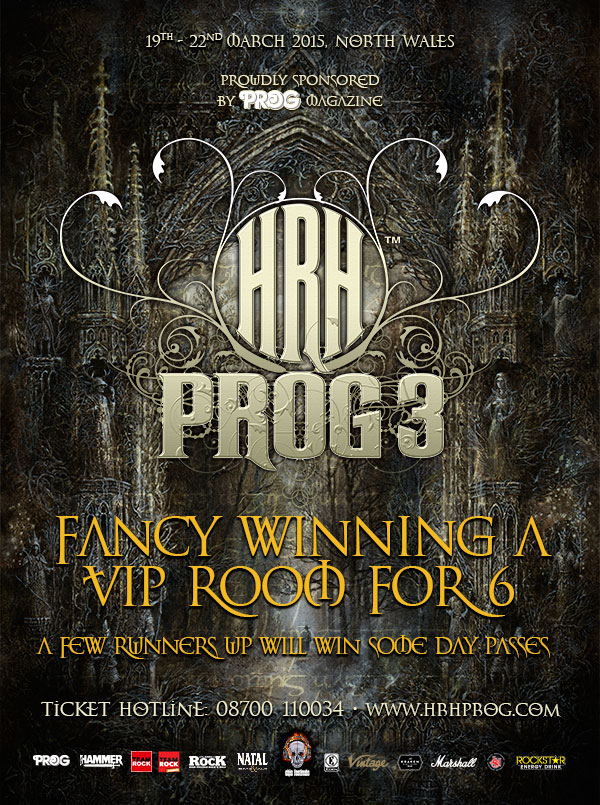 Comp Terms and Conditions
1.Competition closes 19th September 2014. 2.Prizes are claimed online (There is an online booking fee of £10 per ticket to claim prizes) 3.Entrants must be 18 or older on the date of entry to win tickets 4.A winner will be chosen at random and contacted by phone or email 5.Prizes 1st prize Accommodation and passes for 6 people, runners up prizes, 6 day passes for one day to the event 6.Prize does not include transportation 7.Tickets are non-transferable and non refundable 8.Chic Festivals SL reserves the right to withdraw this offer at any time 9.On claiming the prize HRH Prog terms and conditions will apply
http://www.hrhprog.com/information/terms-and-conditions.html
10.Full event info can be found on
http://www.hrhprog.com