Formed in 2012 From Her Eyes are it has been said to follow in the footsteps of fellow home-towner's Funeral for a Friend and Bullet for My Valentine. Consisting of old school friends Tom Owen, James Kearle, Jesse Simmonds and Gary Holley.

The guys have only recently said goodbye to their teen years, however this metal-core team certainly have a formidable sound that certainly defies their age. By drawing from their influences, Architects, While She Sleeps, Devil Sold His Soul and post-rock heroes, Touche Amore – From Her Eyes have refined a sound that is full on, and devouring.

The band have been actively hitting the road since the end of 2012, and during this time they have notched up a considerable amount of energetic live shows, supporting With One Last Breath, Red Seas Fire, Continents, When We Were Wolves, Set to Break and Reaper in Sicily. After literally smashing out their live set, the post-hardcore crew turned their attention to their first recording, and now in 2014, the four man band have taken to Bandit Studios with Jonny Renshaw (Devil Sold His Soul) to record their new forthcoming EP 'Demons'; the end result is nothing short of astonishing.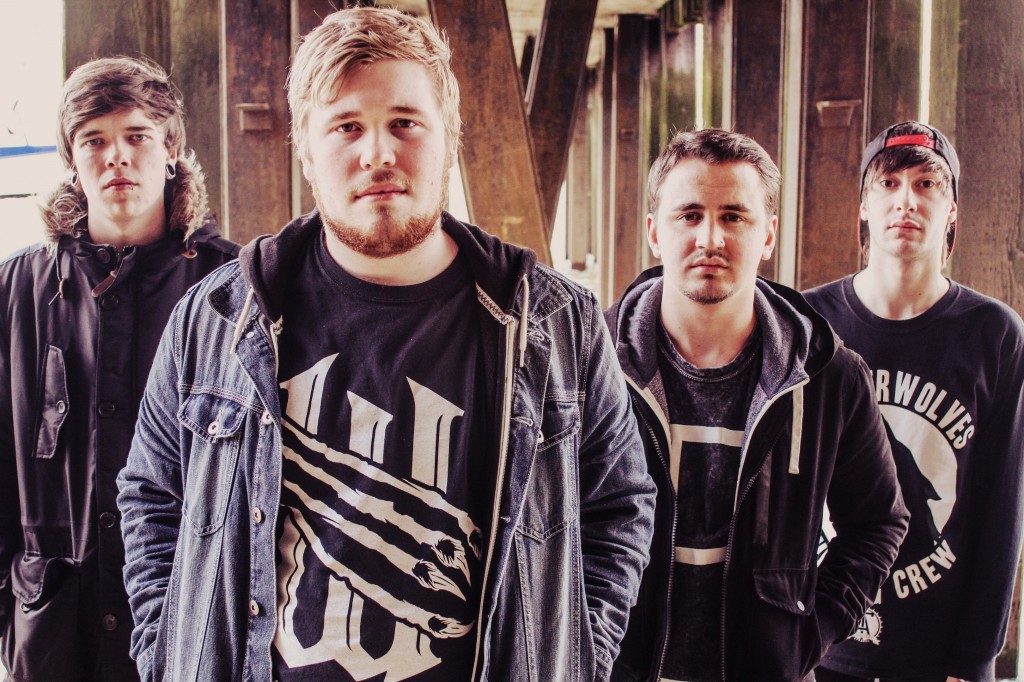 It is always good to get your lug holes around something new. From Her Eyes are relatively new in the sense of launching themselves into the metal scene, and what better way to make an almighty racket than release their 6 track debut E.P! Here is our track-by-track review:
'Decay'
This track is a real stunning piece of music, to me it doesn't portray young musicians but guys who have been playing for a number of years – as it definitely has a mature feel to it. This track has a rich tapestry of sumptuous rhythms attached to it. So a good start!
'Comatose'
Another stunning track but this shows off the bottomless lungs of Tom Owen. The guitar sounds crisp and edgy. I can see why these guys are kicking up a storm, it is really superb stuff! The harmonies between the members are perfect pitch and will leave your senses tingling.
'Porcelain'
This is a very poignant track that hosts some beautifully sculptured rhythms at the very beginning of the track which once fired up, is one breeding ground for utter destruction, the riffing is dynamic, raw and simply cuts to the bone.
'Disillusionist'
The crisp fiery riffs produce some of the finest heart stopping rhythms on this track. It smacks of a twisting rampant groove with heavy bass hooks that are commanding and will indeed demand your attention. This is one unholy intense track and it's not over yet!
'Elysium'
The shrill strings mould themselves around a hazy but intense malevolent vocal. The music softens and then fades out but will leave you wanting more.
'Demons' (feat. Lucas Woodland)
The title track to the E.P is highly intense and strong, with the appearance of the harmonies once again. The bands snappy ability to devour is apparent here and is proof they are ready to take on world domination.
If this E.P doesn't gain the band a bucket load of new fans I don't know what will! They have put so much effort into these six tracks and what has been unleashed on the general public is nothing short of excellence. One could and will get high on just the sheer intensity and volume that exudes from every track – and no doubt it will have metallers everywhere banging their heads in an attempt to melt into the maelstrom of madness contained within its fierce and uncompromising heavy structures. For me metal-core is one way to get the pulse racing and the heart beating faster as the sheer velocity is unleashed. Vocally fluent, the force field will bend at the ferociousness that simply forces its way from the speakers.
This should carry a warning – NOT FOR THE FEINT OF HEART!
10/10
The 6 track EP by From Her Eyes 'Demons' is to be released 25th August 2014.