Genre: Punk-Step
Biography:
Rising out of the dingy, boarded up holiday underworld that is Blackpool, The Karma Party have come to make their mark on this tiny island as a thorn in the side of the establishment – four proud nemeses of the government, the royal family, celebrity culture, the banking system and the music industry. They are outsiders, firm proponents of "punk-step" – an innovative, punchy sound incorporating punk, hard core, dark step and dub elements with fast, melodic guitars and electronica, peppered with rapid-fire destructive lyrics that explode into social consciousness.

The Karma Party released their first EP, 'Dark Matters', in 2013 with single releases, 'This is Britain', 'Collapse' and 'They Tell Me'. Touring extensively with bands such as The Slackers, Sonic Boom Six, Random Hand, Dirty Revolution and Jaya the Cat, The Karma Party finished the year by writing and recording new material for their new EP, Illumination – OUT NOW. With new material set released in autumn 2014, the band have a hectic year ahead of them with national and international shows, festivals and a headline tour booked for October!

I'm always up for reviewing something that's a bit different and Punk-Step kind of perked the interest somewhat. Any band who is against government and the Royals certainly ticks two of the boxes on my pet hate list. Nobody could ever accuse me of not listening to anything different though – the world needs diversity! Here is our step-by-step review of the new EP by The Karma Party 'Illumination'.
World War
This is swathed in unpredictability as well as lively rhythms and houses a kind of chanting vocal entourage that is quite pleasing on the ears. It is a cheeky track that has its own addictable presence – loving' this!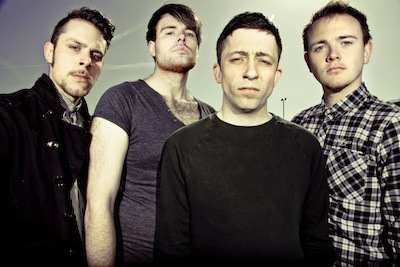 Under Surveillance
Another very creative track that has TKP trade mark of chanting vocal and unusual rhythms – the guys are onto something special with this, I would say more of a rap than punk essence but it is new and extremely catchy!
Democracy
A flair up of what is all wrong with the world and very well produced by TKP in this very convincing track. The cheeky punk/rap vocals from Marc are just delicious and backed up by rugged dub step coaxing from the rest of the band is highly amusing.
End of an Empire
You could pogo to this make no mistake. It ripples with vibrancy until it slows and then the clean punk vocal takes over with a southern accent and some superb harmonies to back it up! It carries a sort of rhythmic haunting ambiance and is very well produced.
Illumination
Piano plays a big part in this melodic track with again so many addictive qualities. The rap essence also dominates but holds alluring hooks and grooves with a simple melody that quickly turns into a pogo massacre towards the end.
Well am I glad I got this to review!! This is really quirky and creative, with clever lyrics that are catchy and inescapable. It's a potent E.P that bursts with unpredictability and is very impressive for the 'open minded' I am not surprised the band are making waves with their intriguing mix of rap/punk and dub-step it is all there. It is a cheeky reminder that we still haven't discovered all the new genres that are waiting out there to be discovered and that new genres are going to appear as the years roll on and Punk-Step is without a doubt a step in the right direction.
For originality The Karma Party are top of the list. They have plenty of bite, with punkish brawl and rap-turous breath that creates a new insight into getting out there what needs to be said, and although it was done by punks in the mid 70's they didn't have the ravenous chunks of dub-step to give it that rush of adrenalin.
So well done to The Karma Party – it's a big thumbs up from me, and hopefully people won't be so closed minded in order to give the band a shot at least! Pleasantly surprising top notch stuff! Don't be surprised if you find yourself singing the lyrics long after the tracks have finished – it will be a foregone conclusion! I think I have found my new guilty pleasure!
10/10
The 5 Track E.P from The Karma Party 'Illumination' is out now via Beautiful Life Records.