Not many of you would of heard of The Loved and Lost and neither had we (team RAM) until we took a visit to Breaking Bands Festival. They are a five piece band from Worcester, Worcestershire and have been around since 2012. The band have an average age of about 20 and already show signs of a more experienced group of very talented musicians.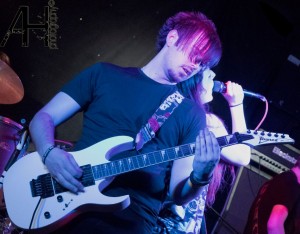 Their debut EP Into a Dream was recorded back in 2013 and upon a first listen after hearing them live I could tell that within the two years post recording, they have ironed out the nerves and become almost militant with song structure. Jordan (Vocals) has some incredibly powerful lungs for such a small girl! Able to hit notes and sustain for an impressive bombardment of pure excitement in every song.
The first track on the EP 'No Escape' really shows just how impressive Jordan's vocals are and already sound like a professional recording artist. Unfortunately, as advised by Jack (Bass), the EP doesn't do them as many favors as it would if they had recorded the EP last week. But believe me, the time between recording and my first listen they have pulled up their pants, pulled their fingers out and are currently smashing it. 'Insomnium' stands out as probably; for me, the best song on the EP. The energy in the song mixed with the melody and emotion is real rock star quality! "I feel like I've been here before" is a strong hook for the future of TLAL as I already find myself singing along with it! Closing the EP is an acoustic version of 'Face The Shame' and sounds like it could of been written by Evanescence. It is a brilliant mix of a rocky blues ballad that is taken to the next level with the extremely hooky vocals!
I would highly recommend you take the time to hear these guys live, follow them on Lifebook (Facebook…) and visit their website, you won't be disappointed.
Review Overview
Summary : The energy in the song mixed with the melody and emotion is real rock star quality!