Hailing from the Greater Reykjavik region in Iceland, a land more in tune with its forbears' Scandinavian folklore than even those residing on mainland Europe, so much so that they actually reroute main roads to avoid disrupting elves' homes, come The Vintage Caravan.
Musical travellers exploring forgotten byways and roads less travelled during the 60s blues boom and 70s exploration of such as it became hard rock; there's a passing whiff of patchouli oil and new age hippy about them but frankly they're less retro and more influenced by their own homeland culture. Still, primarily what we have here in Óskar Logi Ágústsson (guitar and vocals), Alexander Örn Númason (bass), and Guðjón Reynisson (drums) is a young energetic blues rock power trio.
The Vintage Caravan started messing about as kids on their instruments back in 2006, developing with age eventually signing to Sena, Iceland's largest record company. They have now stretched themselves further, releasing Voyage through Nuclear Blast.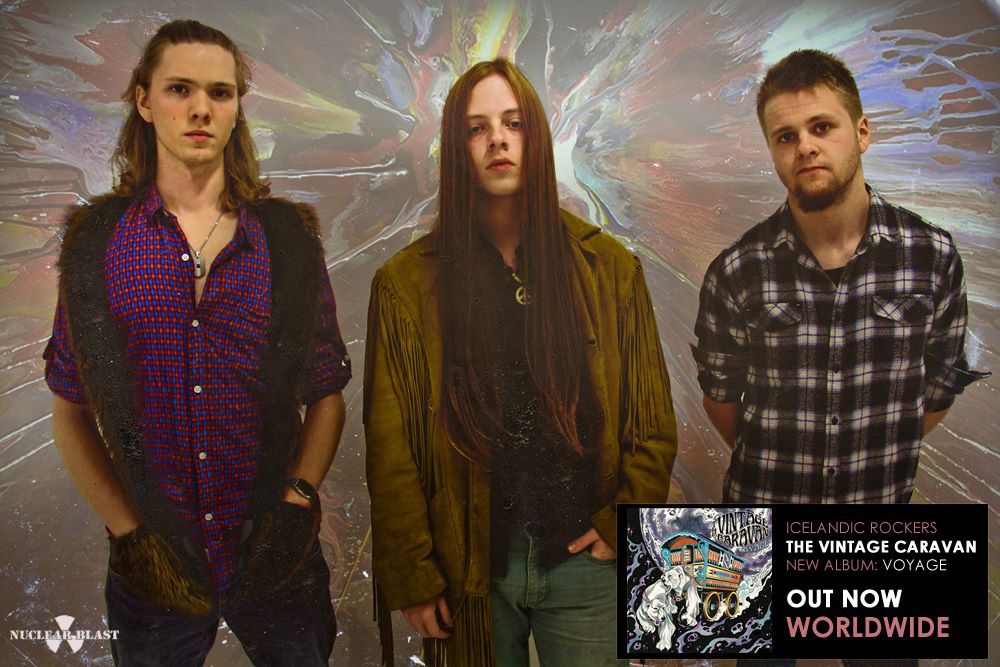 Craving sets the scene, with fuzzed-up Blue Cheer aggression retooling an old riff of blues legend Hubert Sumlin over military style drumming, following it with the more mid-paced bass-heavy Let Me Be wherein a classic solo is admirably pulled out, then slowing things down further for the gentle blues folk of Do You Remember featuring an articulate measured guitar solo. And then things step up a gear.
Expand Your Mind grooves up on a hard hitting riff, Ágústsson singing "Take a trip, take a trip with me" reminiscent of the mantra recitations in Black Sabbath's Behind The Wall of Sleep, even as it sprawls forth, going off at tangents that change pace and sound before  returning. Less Cream and The Jimi Hendrix Experience and more The Groundhogs to my mind, for its corrosive heavy acid progression, while never losing sight of its central beat.
Later, Midnight Meditation will again evoke head tripping connotations lyrically, though whether it's about bad acid or the memories of a girl who's done them wrong is anyone's guess. One thing's for sure and that it's the heaviest track on the album, with incessant cowbell knocking and thudding riff bludgeoning with all the beatnik boogie of Budgie circa In For The Kill (meaning Metallica will probably appropriate the riff) with Ágústsson's voice pitched suitably higher (if anything is lacking in The Vintage Caravan it's strong, distinctive vocals, but the guitarist's voice works suitably within the framework of the band). By contrast M.A.R.S.W.A.T.T. and Cocaine Sally plough a mainstream sound, coming across as a less sexually charged Virgil & The Accelerators, another young trio making favourable noises among blues rock fans.
Winterland begins with mournfully echoing guitars, and its slow ballad has the youths in melancholic reminiscence as did Do You Remember, before the song picks up unexpectedly with stop-start semi-jigging/part-jazz riffing leading off into a chordal progression and a deep jaunty bass coming to the forefront, then it all slowing down for the briefest of acoustic folk melodies, and a slow burning guitar solo emitting out, extemporising over the earlier vocal melody line, that itself returns briefly.
The album closes with its final epic, The King's Voyage. Far more explicit in honouring the band's heritage, it tells the tale of a king setting forth across the ocean with his warriors to do battle. Ágústsson's guitar evokes whale calls before the band kick into a tune that mingles slow blues dirge with speedy timings, followed by a pummelling drum kit, vibrant wah-wah solo and another steady bass exploration plus more sound effects. Returning vocally in reprise, the song slows its pace with notes picked out on guitar as a melodic vocal warrior "Ahh" chant takes over, and the main riff returns in triumphant upbeat manner as they declare they're "going home". Lyrically we're in Robert Plant's Zeppelin as rampaging Vikings territory with the odd bit of Rush's By-tor and The Snowdog as influence on the instrumental battle/harsh sea voyage and early King Crimson jazz-trickery thrown in for good measure. Live this could develop into something quite incredible and powerful, and by the same token it could become likewise become a stylistic noose around the group's collective head. But it all works quite coherently on record. Progressive rock as it used to be labelled when that kind of music truly was intended to be diverse and exploratory.
Young, and already tight as a band while being able to let loose and explore their musical abilities within that framework, The Vintage Caravan dip into the past for inspiration then offer something, if not new, certainly a little different, for the kids of today. They're good, and will most likely get even better. Give them a listen, better still buy Voyage or try and catch them on  tour.
8/10