We had such a fantastic time at Hammerfest this year, so we thought we would share with you our favourite moments. Some of these moments we all witnessed, and others were more behind the scenes. We would love to hear your top moments too! – Please use the comment box at the bottom of the page.
10. Chris James Ryan (RAMzine Photographer): Dancing to the Beach Boys
If I remember correctly after Glory Hammer finished playing, a delightful song 'Get Around' by the Beach Boy's was played, the crowd confused but danced merrily to it! It was too good to be true.
9. Chris James Ryan (RAMzine Photographer): Crabbing on the beach
One random moment I had when venturing onto the beach in the sun. I see some fellow metal heads crabbing! They were searching the beach though rocky places trying to find crabs. Not only this but they were telling people about what type of crabs/ plants there are. A lesson in crustacean at Hammerfest was totally unexpected.
8. Vicky Purcell (RAMzine Editor): Someone shouting 'Lick at F*cking Rabbit' during The Vintage Caravan's Set

You may have seen The Vintage Caravan's most recent video for new single 'Expand your Mind' where lead singer Óskar licks a rabbit to get high. My favourite part of their skilled and energetic (for that time of night) set has to be when someone in the crowd shouts out "Lick a F*cking Rabbit".
7. Chris James Ryan (RAMzine Photographer): Oaf's Set
Oaf… These two guys were brilliant, it was more of a comedy act with a mix of music in between, the crowd was in bits, singing, dancing and chatting along to them, I feel the favourite song which got everyone going was 'f**k off seagull' with props from the crowd!
6. Vicky Purcell (RAMzine Editor): Avatar drinking from a Petrol Can
Swedish rock and metal band Avatar put on an extremely well put together set. Prior to their set I ask lead singer Johannes if they had a theatrical set, to which he said you will have to wait and see. I can confirm that Avatar do deliver a theatrical set, which I am certain with more budget will develop into more of a stage show. A highlight for me was Johannes theatrical outfits, the first being a long black leather trench coat, with what I can only describe as a black gimp mask. He then changes into his clown character, which adds to the theatrical element. During the set Johannes doesn't drink from a mere beer can, he drinks from a petrol can.
5. Chris James Ryan (RAMzine Photographer): Feed The Rhino's Whole Set
Feed The Rhino…Need I say any more? These lot are completely insane especially Lee Tobin (singer) this guy was running around jumping into the crowd barrel rolling onto the stage! The crowd was going nuts!
4. Adam Hemmings (RAMzine Journalist): Breed 77 playing 'Zombie'
After an already electric set and announcement from Paul that he is back to stay, the lights went dim as they rocked out the acoustic guitars for this generations anti-war song. The song in question is of course 'Zombie' originally written by The Cranberries. Everyone knew the words and sang along as in this day in age, no one does it with that much emotion. "Unfortunately…. A war song is never out of place" Paul Isola. A moment I will never forget.
3. Neil Mach (RAMzine Journalist): Goes on a quest with Gloryhammer
21:45 at the Media Centre. I had arranged to meet GloryHammer. Guitarist Paul told me: "I've had a terrible day. I crashed the car …" Roads in North Wales can be tricky. So I asked, "Was it on the way up? " "No" He told me, "It was on the road outside." The band was starving. They suggested a 'Quest' for nutrition. "Why not pop into the Spar shop next door?" I suggested. But that didn't seem adventurous and dangerous enough to be classed a 'Quest'. Paul said: "I suppose I could order pizza. But I do not eat meat, cheese or tomatoes." Chris said, "You could order flour, water and oil." Paul replied: ""Yes – so long as it was cooked." We went off on our Quest. It took the rest of the evening to complete.

2. Vicky Purcell (RAMzine Editor): Overkill playing 'Fuck You'
Overkill leave the stage, and the crowd chants "one more song…". We knew they couldn't resist an encore, what 80's band can? Overkill come back with a song from 1991's Horoscope. Overkill finish with a cover of The Subhumans song F*ck You. Blitz does a fantastic job of screaming "We don't care what you say F*ck You" in his still pitch-perfect 80s voice. Everyone has his or her middle finger in the air for this one. An absolute highlight and privilege to see Overkill playing this brilliant cover.
1.Vicky Purcell (RAMzine Editor): Kreator raising the Flag of Hate
"This song was created in 1985…. It's time to raise the flag Hate" says lead singer Mille during Kreators heading set. As a metal head seeing Kreator play 'Flay of Hate' is something you simply must do before you die. At Hammerfest we all got to cross that one of our list. An amazing ending to an awesome weekend.
It was a weekend of laughs, head-banging, quests, crabbing, and more! Chris decided to put together a little montage of our time at Hammerfest – enjoy!
Above photos & video by Chris James Ryan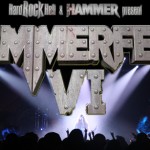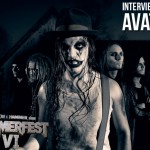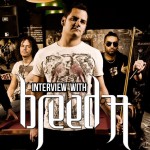 Interview with Bobby 'Blitz' of Overkill at Hammerfest 2014: