When Foreigner's I Want To Know What Love Is stormed the singles charts worldwide I viewed it as a gushing overwrought take on their previous hit ballad Waiting For A Girl Like You; that it sold even more dumbfounded me. Neither had that really special something, as far as I was concerned, but everyone else and their mother seemed to disagree and no one listened when I said they'd been making much better slow songs since their debut album. Fortunately the band and their record company saw the financial benefits of gathering those songs in one place and releasing them on Valentine's Day.
What makes this more than just a best-of-the-ballads collection are that the classics have been re-recorded by the current band line-up casting some of them in a different light, alongside numbers from more recent albums old diehard rockers or the casual radio listener being given this album wouldn't be familiar with. There's an extra bonus disc version available featuring previously unreleased tracks from a live show in Germany.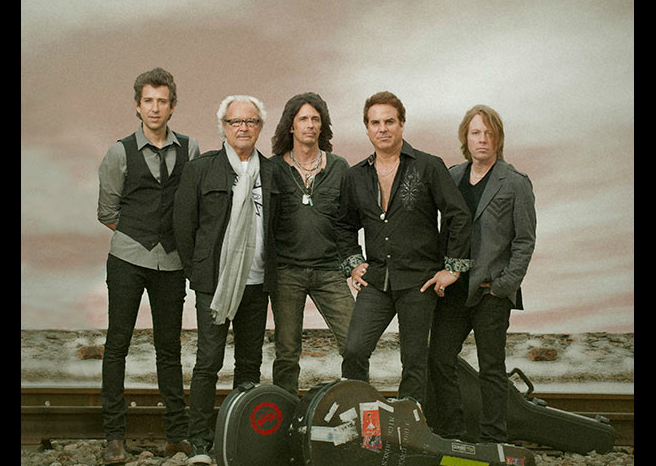 Produced by bass player Jeff Pilson, new vocalist Kelly Hansen's vocals come through bright and clear so highly suitable for singing along to, and there's something of a Motown vibe filtering that feels right, while the more dated synthesised textures of the original versions have been updated or dispensed with. For sure the title track's keyboard sound works, and while even the non-Foreigner radio listener should be able to tell that it's not the Lou Gramm sung original they won't be put off, I'm far less sure his voice suits Waiting For A Girl Like You though, but I've already declared my ambivalence towards those tracks, let's talk about the good stuff.
Feels Like The First Time, the band's first hit stateside, a triumphant rocker with prog flourishes, was never a ballad. Here though, they give it an acoustic guitar treatment, Hansen in fine fettle with a different take on the harmonies, and the lyrics feel less like about sex and more about falling in love. Double Vision also gets the acoustic treatment, and this does add sex to the equation, coming across with Latin passion. Long Way From Home has Mick Jones opting for less distortion on the guitar riff, the horn arrangements less brash in tone but the song refuses to give up its rock credentials and is a welcome inclusion.
Elsewhere, The Flame Still Burns surprises me because I only knew the Still Crazy film version, sung by Jimmy Nail. But then I do recall Clement & La Frenais saying they wrote the rock film satire thinking of bands like Spooky Tooth, of whom Jones had been a member. In Pieces and When It Comes To Love are just cool songs, played well, they could be pop hits by your latest boy band but thank God we've got these versions instead. There's been a maturity to Jones writing, or co-writing, over the years, he's always been about crafting some decent chords together but with the newer batch of songs found here they're more reflective than reactionary, observant rather than impatient, with songs like As long As I Live, that I personally think wipes the floor with this album's title track. However, my favourite track is one found way back on Side 2 of the vinyl edition of their debut, and also covered by The Average White Band. Less busy than the original version,  Fool For You Anyway  has Jones chopping down a rhythm guitar part like Steve Cropper and ringing in a nice solo (the original having been played by fellow Foreigner co-founder Ian McDonald).
A highly listenable album, suitable for your stereotypical modern granny, your committed AOR fan, and just about anyone who likes a good tune played well. If they can do the classic rockers as well as the ballads then those off to watch the current Foreigner live on their UK tour should be in for a treat.
8/10