10. Progress Wrestling "This is Progress"
This Sonisphere weekend RAMzine discovered the world of wrestling, bought to us by Progress Wrestling. Progress brands themselves "Punk Rock Pro Wrestling". I can guarantee fun at their shows! Rock music + Pro Wrestlers + major crowd participation = one hell of a show, better than some set we saw this weekend! It was entertaining in ways music cannot provide on its own. The crowd came out with all sorts of chants, our favourite being during the female Lego round, when the crowd started "Build a Spaceship". Yes, there was even a Lego round! – The winner slammed their opponent into a flaw of Lego, Ouch! Find them on Facebook, and get to a show! www.facebook.com/ProgressWrestling

9. Skanking to Dropkick Murphys
Who doesn't like to skank at a Dropkick Murphys gig? With perfect skanking weather, we sure didn't miss out on that! The skanking began soon after a cover of 'Dirty Deeds Done Dirt Cheap' by AC/DC. Then finishing with the soundtrack to academy award-winning film The Departed 'I'm Shipping Up to Boston'.
8. Ghost play Roky Erickson cover 'If you have Ghosts'
If you have seen them before this is nothing new. It is however always a highlight of seeing Ghost. People assume from their attire that they are going to be rather Death Metal, but Papa Emeritus certainly has a voice that you can sign along to. We managed to bump into Papa Emeritus II and the nameless Nameless Ghouls after their set, and bag a signature! I must say such polite gentlemen, the bands identity still remains completely unknown, although you can identify each Ghoul if he lets you know his symbol.
7. Dream Theater (being themselves)
Obviously Dream Theater were going to be on this list. Dream Theater are on a different level of musicianship, they schooled every band at this festival. It is nice to see that these days they don't just have the 30 minute songs, with their newest album, being relatively normal in length.
6. Limp Bizkit cover Rage Against The Machine
One of the most anticipated non-headline sets this weekend was Limp Bizkit and they delivered! Opening with the absolute classic that is 'Rollin' – a track that can get people moving at the most sutal of times. The second track hits, and its only a cover of George Micheal's 'Faith'. They played all the tracks we were waiting for 'My Generation' , 'My Way', and 'Nookie' before charging into a cover of Rage Aginst The Machine's 'Killing In The Name Of'. Bar The Prodigy, this set saw most bodies moving.
5. Slayer salute Jeff Hannemann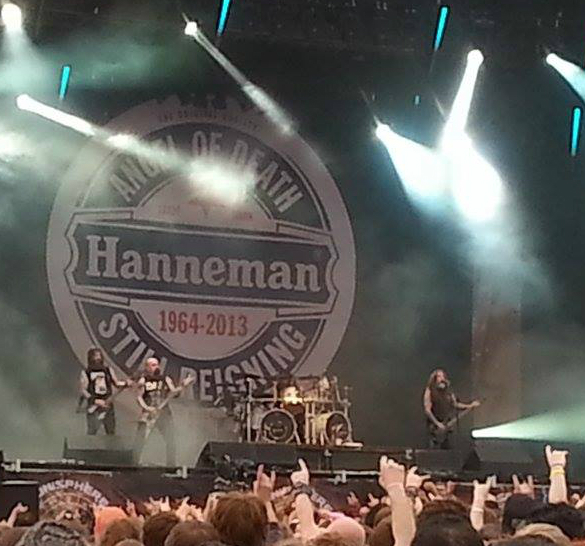 The Slayer army were out in full force at Sonisphere! If only Megadeath could have played, then the big 4 would have been reunited yet again at Knebworth. Alas, Slayer were Thrashing-Awesome! They had one of the biggest crowds of the weekend at the Saturn Stage. They opened with 'Hell Awaits' and finished with 'Black Magic' before returning to the stage for an encore. It was during the encore when the band swapped their Slayer logo backdrop with a Heineken-inspired banner saluting their fallen brother, Jeff Hanneman, as they ended the set with 'South of Heaven' and 'Angel of Death.'
RIP Jeff Hannemann.
4. BABYMETAL owning the first wall of death of the weekend
BabyMetal the youngest in the industry, they prove that ages means shit. They delivered one of the heaviest set of the weekend and managed to completely own the first and biggest Wall of Death of the entire festival. They gave the oldies a run for their money, with their energetic set.

3. Anthrax play not 1 but 2 sets
The first set saw Anthrax play the entire 'Among the living' album for the first time in their entire career. The second set saw Anthrax own the main stage! Our favourite track being 'Indians'.
Anthrax guitarist Scott Ian told NME about the prospect of performing the entire 'Among The Living' album: "We've done all the songs in a concert before, but we've broken it up. Like, we'done it side A, and then played a bunch of other stuff, and then side B and then do some encores. So we've done it in that context. But tonight we're only playing the nine songs off 'Among The Living', so it's the first time ever."
2. Iron Maiden play their last set of 3-year world tour!
Finally! The last set of their 3 year world tour! The only reason we are happy about this, is that we get to see a new set next time! Bruce did recognize the fact that most people in the audience would have seen this set on the last UK run, or at Download Festival 2013. For this they changed it up at little bit, and played 'Revelations'. The rest of the set was identical, but who doesn't love the Maiden classics?
"Scream for me Knebworth!"
1. Metallica play 'By Request'
They have just been on a European tour playing by request! Fans who buy tickets are able to vote on which tracks Metallica play. Whilst it's a bit lame pre-knowing which track is going to be played – we knew that we were in for a treat. 18 tracks Metallica played! In out opinion we didn't miss out on anything, however I personally selected 'Wherever I May Roam' as the vote of the day. '…And Justice for All' won the vote of the day by an absolute landslide, with 'The Four Horsemen' being second preference to the crowd. James Hetfield was very talkative through the set, he had allowed a few fans to announce the next track for the band. One guy came onto the stage wearing sunglasses, to which fans starting booing. Hetfield replied to the crowd "Why are ou booing your family members?. "Is it too bright up here?" he said,"Take them (sunglasses) off. They need to look into your eyes to know you're legit". Metallica finished the weekend with 'Seek & Destroy'.
#1 Fan Award
Our number 1 fan award goes to this man during The Prodigy's headline set, we call him 'The Human Siren' – he is amazing!