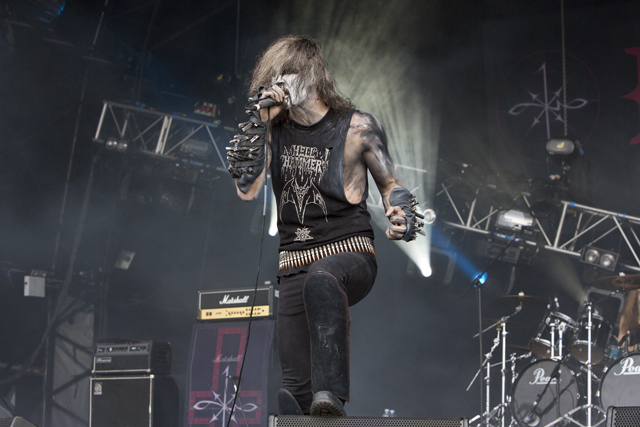 All photos by Mark Lloyd.
Traditionally Saturday is the most 'fun' day at a festival, and looking at the line-up for today, Bloodstock 2015 shouldn't be any different.It's a bit sunny to be sporting black-metal face-paint but 1349 pull it off well. What a way to wake up!
Something completely different on the Dio stage from Finnish folk-metallers Korpiklaani. Who says violins and accordions have no place in metal? Really refreshing to see some variety  in the world of heavy rock. Over to the Sophie stage: Godsized by name, godsized by nature! They must be talking about their stoner rock riffs, because they are awesome. Would work well on a bigger stage next time.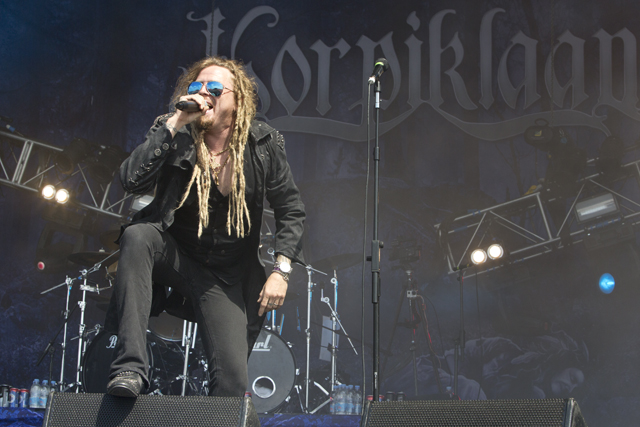 Back to the Dio stage, we get to see the band that started the whole 'grindcore' sound – Napalm Death. Their set is great mix of newer material such as 'Metaphorically Screw You' and old school tracks like 'Scum' and officially world's shortest song 'You Suffer'. They even perform ther famous cover Dead Kennedys' hardcore classic 'Nazi Punks Fuck Off' to finish off a great gig. Napalm Death should have been higher on the bill considering their notoriety and the lesser known names who follow.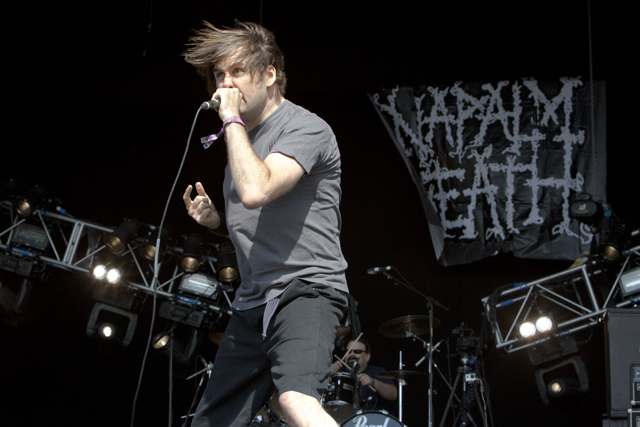 Over on the Jagermeister stage are Knock-Out Kaine, popping their BOA cherries. The way Dean Foxx handles the crowd shows this isn't their first rodeo, despite never playing a festival of this scale or not being the heaviest of bands on the bill. Maybe a bigger stage next time?A crowd draws to the Dio stage for a band everyone is curious to check out. That band is Swedish prog-metallers Opeth. Some fantastic musicianship here along with a stunning vocal. Due to the length of their songs, Mikael Åkerfeldt and co only manage to fit in six tracks. Like Korpiklaani before, this is something totally unique yet welcome to Bloodstock. Even if some of their synth sections sound like 'Columns' on the Sega Mega Drive.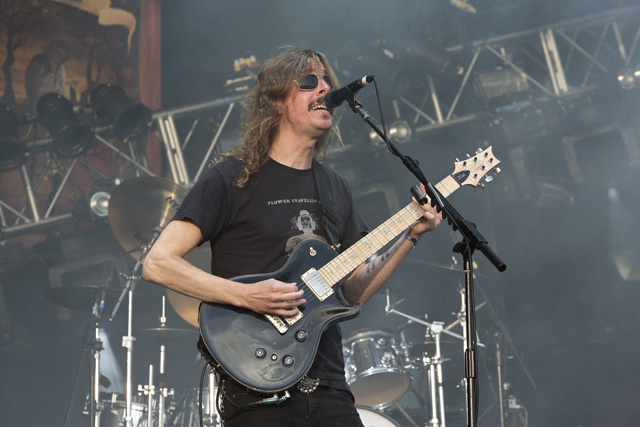 Although it is an uncharacteristically warm weekend here at Catton Hall – Jettblack with a rainstorm affect on the Sophie stage. This is what a lot of people would call a 'proper' rock band taking lessons from legends such as Aerosmith, Guns N Roses and in places AC/DC. The joint vocals of Will Stapleton and Jon Dow are something to behold. A band full of passion and power who will more than likely end up on a bigger stage in the coming years.
Second main stage headliner of the weekend Within Temptation are of to a firey start. Quite literally! The set kicks off with 'Paradise (What About Us?)' a duet with Tarja Turunen…on a screen. Which seems to be a running theme in their show. A highlight track from 'Hydra' is 'Dangerous' with Howard Jones (formerly of Killswitch Engage) – which is performed again with the help of a recording of Howard. There is a blue filter on the video making him look like a weird Sonic / Shrek hybrid.  There are plenty of artists aat this festival they could of 'borrowed' for a new live version of these songs.  Added awkwardness comes when Xzibit's rap plays on 'And We Run'.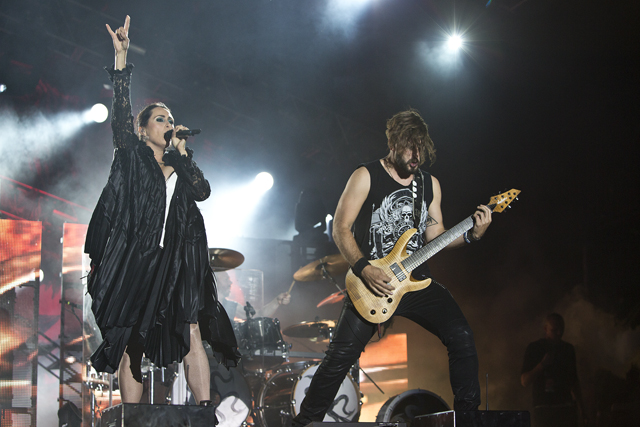 Being fair they are still great musicians, despite them not being the 'heaviest' choice for a headliner, they draw crowds. That said, even their greatest tracks verge on Eurovision material. The set is going pretty well until disaster strikes in the form of a power cut (or three) during the intro for 'Ice Queen'. A real shame as this is one of the band's signature live performances. Like most great bands Sharon del Adel and co carry on and finish the gig. A lesser band would of walked off right there.
Although Within Temptation have more of an 'epic' headliner feel to them, they don't feel right for Bloodstock. Even so a great show, despite the hicups. Let's hope Sunday is just as amazing!
The full review of Bloodstock Open Air 2015 will appear in issue 5 of RAMzine.
Keep checking back to RAMzine.co.uk for Sunday highlights and more band interviews, including Within Temptation.
To read highlights of Thursday and Friday, click here