Bristol, UK rock band TAX THE HEAT love creating sounds that bridge the gap between the raw energy of classic British 1960s R&B bands [think Kinks, Yardbirds, The Who] with the riff-oriented, heavy rock of modern proponents such as Them Crooked Vultures or, if you wanna go more bluesy, The Raconteurs.
Change Your Position is the follow-up album to their acclaimed 2016 debut Fed To The Lions.
The band, Jack Taylor (drums) Antonio Angotti (bass) JP Jacyshyn (guitars) and Alex Veale (vocals and guitars) recorded the new album at The Chairworks Studio in Castleford, West Yorkshire. They insisted on recording with all four members of the band standing in one room, playing their instruments together, looking each other in the eye, to capture the raw energy and sense of joyous camaraderie that fuels all their work.
Change Your Position is released via Nuclear Blast on 9th March 2018.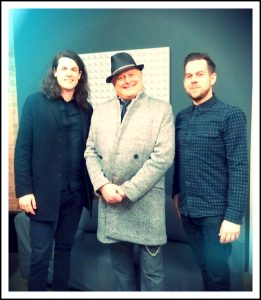 We met the band in London to discuss the new release —
"We started recording the album April of last year…" they told RAMzine.
"On our first album we got to write the songs over a long period of time — but once we started to record the album it was quite quick — full on — we got into the studio and, even though it took a while to write the songs, it happened quite quickly. Whereas on Change Your Position we started recording this quite while ago, about nine months writing to recording, which was daunting to start with but looking back on it, it was really exciting. And we wanted to do it all fresh, because we were in a different place [from the first album] we'd changed and we guess that's why the album title kinda works with it. It feels really good to us because it takes a snapshot of where we were, during that time — there were a lot of things influencing the writing. It came as a bizarre type of therapy session, I guess… And that's the dream of being able to get a career in what we love… to put our feelings as to what's going on around us into songs and to provide a snapshot of society as its going along."
"We are all involved in the compositional side of things, so although we knew that each of the songs we went into the studio with were good, there was enough space for each of us to bring our own individual qualities… so for example, certain songs would start with a riff or a melody line or after a five-minute we'd  jam we'll look at each other and say, "that's really good… this could be something." And there's something magic about the numbers that come out of a jam. And we're all about making it a sum of four parts, so something that naturally evolves from a jam is just different… and we've got some techniques that help us get there: For instance, we have some songs that we know will never go onto an album but, for us, they are launch-pads for moving us into other areas…"

RAMzine: 'Money in the Bank' has been described as "Year 2000 emo" — how do you respond to that?
"Really? We haven't heard that. Maybe, though. We grew up through that era, so if we could travel back in time and speak to the teenage-emo version of [ourselves] we might understand. We admit, there is so much space in that song. And a lot of the best rock songs in history have got space between the notes. And the lead-on to the chorus is very definitely melodic, so I guess that's where maybe, the idea of it being emo comes from. The melody is heavy-hitting."
RAMzine: And 'All that Medicine' reminded us of Peter Gabriel…
"Cool. Well, that's good. We love Gabriel and he doesn't fit into a box, genre point of view. We remember hearing "Up" for the first ever time and thinking wow!  the sound on it was so superb. So, yeah, that's a great comparison. And we've noticed, with the new album, that people have brought up some of the slightly different influences coming through. And those influences have always been there for us... but perhaps that's what being a rock band is about. It's being able to pick from all the great rock music there has ever been…"
RAMzine: Congratulations on a very fine album and we wish you best of luck on your forthcoming Spring tour.
"Thank you very much."
Tax The Heat were talking to Neil Mach.