Fans have been treated to a tremendous triple header in London, Cardiff, Manchester and Birmingham with Steel Panther, Bowling For Soup and Buckcherry sharing the stage.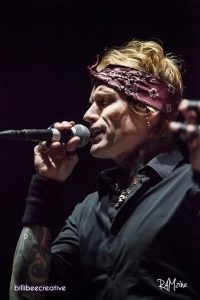 We were invited to have a chat with Keith Nelson, lead guitarist of Buckcherry, to catch-up and find  out the bands future plans. The Californian notorious multi-platinum-selling rock band, has been opening all the UK shows – they looked and sounded on top form.
We have the pleasure of you back in London, do you have any memorable moments you shared here?
"All of our UK tours have been very special, I mean when you come from the United States being well aware of the music history over here it makes it even more significant. Coming to our first Download Festival was probably the most meaningful moment for us. We also played in a small venue called 'The Garage' once, so many good memories."
"Every tour is a little bit different. I think it's going to be great to play in big UK arenas for the first time, that's very exciting for us!"
You are going to join Bowling for Soup and Steel Panther for a few exciting dates in the UK. Where does this tour idea come from?
"You know I'm not really sure, we have toured with Steel Panther before, we went to Australia with those guys. I just think we share a lot of fans. Steel Panther are good guys and a lot of fun to be around."
"I don't know the Bowling For Soup guys at all but should be an interesting mix. We are just looking forward to having a party."

What is it about playing live that you enjoy the most?
"Connecting with the fans is really what it's all about. From the song writing point of view and from making records you write songs that you don't really know how they are going to be received. You know that you like them – so you go out there and perform them while you watch people sing the songs back to you, and you meet the fans, and they relate to these lyrics. Reminds me of being young and being really into a band, it's very humbling thinking that we are now a band that is influencing people, and that we represent the soundtrack of their lives."
Is there a particular song either old or new that you will never get tired of performing live?
"Not really. I think that our catalogue of music has really stood across the time. There isn't anything that we play that sounds dated or annoying, I love them all. There will always be the hits that get massive crowd reaction. To name some, songs like 'Check Your Head', 'Bliss', 'Fallout' weren't singles in the United States and neither the most popular songs but they are just so fun to play live.
After the emotional Confessions how would you describe the album Rock 'n Roll?
"Well, I think Confessions was more like a themed record with a story behind it and the subject matter was pretty heavy, emotionally. So for the next two releases after that, the EP called Fuck and then the Rock 'n Roll record, it was more like a way to getting back to have some fun and play some rock 'n roll. There are many fun hits and it's a very honest representation of our band."
You have just celebrated the ten year anniversary of '06 album 15… how do you feel about it and how much has changed since then?
"So much has changed since then. From what's going on personally with all the guys in the band, we had a line-up change, the music business is changing, the way that people get their music is changing.. in fact people weren't streaming music when we started. The thing that stayed the same for us it's that we have always been all about the music and the songs and the live performance."
You have accomplished so much in your career so far but have you got any regrets or anything that you would change if you could?
"I think earlier on before we received the heartbreaking lesson of how it's like to be a baby band I think maybe there are some things we would have done differently back then, but generally I'm very proud of what we have achieved. Musically I think we've always stayed true to who we are and I'm very proud of that. There's been a lot of pressure at different times to sound like different things or to conform maybe to what could have been more popular but we have always stuck to our guns.
Any imminent plan with the band you want to share with us?
"It's the typical plan we always kinda do. We tour and we make records so we are going to wrap up the 15 Anniversary Tour in November in North America and once we've done that we'll get through to making another record and hopefully see you next year!