The heavy metal outfit SONIC SYNDICATE from Falkenberg in Sweden have undergone a whole load of stylistic changes over the years. Early demos contained no clean vocals and sounded like Dark Tranquillity or In Flames. Then clean vocals started to appear on some tracks and even occasional female vocals from bass player Karin Axelsson.
We Rule the Night was ultra-soft with acoustic guitars and synths, now we get to "Confessions" and a totally new direction for the four-piece headed-up by vocalist Nathan James Biggs.
We met with Nathan in London to discuss the new work.
Aren't confessions all about clearing the slate?
"Yes, that's exactly how this album has been for us. You feel lighter. Confession is a painful process to go through — you're admitting everything — It could be something that you're not proud of or even the positive things in your life, you're talking about a lot of events that have kinda shaped you, and you're admitting it to a third party. You're talking about a lot of things that are emotionally significant to you. They have shaped your train of thought in some ways… so you're gonna get all that off your chest. You do feel exhausted afterwards, but at the same time you feel re-born, you feel re-energised."
Did anything spark these Confessions?
"It started when we found-out we were not working with our record label, Nuclear Blast. We parted ways with them, they said they didn't want to do the new album with us. That 'led to' Confessions. We already had a whole album written — maybe ten to fifteen songs — we had finished all the pre-production, we were about to head into the studio within 3 weeks with a different producer and we were about to go record the album and then we had this news that Nuclear didn't want to do it with us. And we were like "There's a reason for all this…" And [although] we thought the songs were quite good, we were happy with them, but there was this feeling that "OK. We can do better than this."
"We had been walking a path that was very familiar to us, there wasn't anything surprising and we always try to evolve a little bit from album-to-album and kind-of grow but it wasn't anything significant enough. Perhaps. And this news really gave us the opportunity to 'not hide' anything."
"We've had label change, we've had members come-and-go, we've changed our style … we've even been to the point where we didn't know if we were going to continue as a band. And we even admitted all of this in a series of semi-documentaries on our You Tube channel."
"Those documentaries felt amazing and cathartic. Like confessions. It felt great to get everything off our chest. Nobody can ever use anything against us. What we now know is that we reached ground zero and yet we still had the passion to make music. And we wanna do something that we are gonna be remembered for. And that can't be compared to another band. And, more than anything, we're doing it for us. Nobody can take it away from us…We ware standing behind it 100 per cent and saying "I'm confident that this is the most I have enjoyed making an album in my whole life." Obviously we want to reach-out to our fans that have followed us, stayed with us and have evolved with us. They are fans that listen to lots of different music and we know they're gonna dig the album. But even if it didn't sell one copy I can honestly 100 per cent stand behind it and say "This is the album I have loved making the most […] and is the most honest thing I have ever done."
How do you approach the layered structures in your sound?
"Layer-by-layer. [Laughs.] It can be completely different from song-to-song. I think "Start A War" started with a guitar but a lot of the time it starts off with vocal melody and then a guitar or guitar/vocal and stuff is built around it. But — that said — we are working with a lot of different instruments such as live strings, live cello, we've got keyboards, piano and of course we have got all sorts of electronic synthesized beats as well. So various songs have started life as a beat… and we get the emotion from that… and then we get the synth-sound and the most organic [elements] that are vocals and guitar. This time we have built the songs in so many different ways."
What kind of new music impresses you at the moment?
"We listen to so much! Different types. But I listen to a lot of House Music, a lot of pop music… I think that maybe the band being based in Stockholm now has had some sort of effect. Stockholm is a real melting-pot of pop and house, with DJ's and electronic stuff going on. What I have wanted to do, through the passion I have for listening to all kinds of music, as a music fan… is to expand the genre."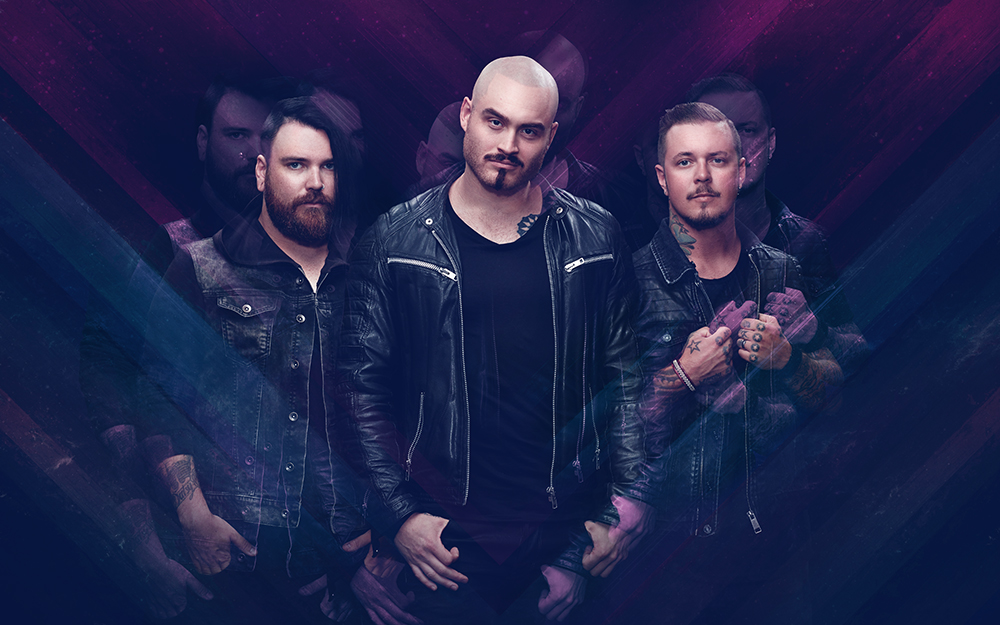 Would you want people to dance to the material?
"Yeah. Definitely. And that's what I love about our live shows. We have people head-banging to tracks and we have mosh-pits and people bouncing. But there's also this great party vibe. People just lose themselves."
So, although the Confessions felt raw, the end result is quite joyful?
"That's what I wanted. For years now I have realized that you carry with you quite a lot of responsibility, being in a band. I never thought it at first — I was just a kid in a rock band. Having a good time. And over the years, and especially when we did We Rule the Night [2010-11] we did this one song called "My Own Life" [the second single from the LP] and whether its a favourite or not, it seemed to connect with fans on a lyrical level. And I got a mail telling me — thanking me — that this song stopped the fan ending [his] own life. I was like: "Wow!" I felt very humble. And then it happened again… And Again. I had like maybe 10 messages much the same. That's when I realized "It's not just for me now…" And I told myself that I carried a certain responsibility. Ever since then, and really more-than-anything, for this album I wanted to be 100 per cent honest, explore very real attitudes in life and my emotions and how I felt when someone very important to me has passed away. And I think it's something that people can relate to."
"But no matter what I've been dealing with on a lyrical level I always want there to be light at the end of the tunnel."
What do Richard and Roger [Sjunnesson] think of the new music?
" I have got to be honest. We don't have any contact. We had a very clean cut. They wanted to do their thing, we wanted to do ours. And we grew apart as people. I say, on record, that I wish them the best of luck. But we don't keep any contact."
And you lost Karin Axelsson [bass] along the way?
"Yeah. The original member is Robin [lead guitar.] John [drums] is not with us any more either. Basically Karin and John quit the band for the same reason. Their family life came first, they had a baby and they weren't able to tour and when they were comfortable to tour again they didn't want to do it as a full-time career choice. And we respect their decision. And it's very admirable. So we don't hold it against them. But we had to re-think what we were doing.And we believe it's all a blessing in disguise."
"Through Karin not being with us, even though she was a pillar in the band, I wouldn't have met Michel [Bärzén, bass.] And now I have known him 2½ years and yet it feels like I have known him my whole life. He brought me and Robin even closer together as friends and the three of us together — it's just ridiculous how much fun we have. It feels the same as when you're a kid and when you start a band. I've always enjoyed playing music throughout my whole career but it's never felt like this before."
What's next?
"It's non-stop from here. We rehearse for a few days then we play some special album release shows. After those [Scandi] shows we fly to Russia for a week. Straight after that we go to Germany where we start the tour with Amaranthe [Maximalism European Tour.]"
Good luck with the shows and congratulations on the new album. Thank you, Nathan.