Before we kick into this review, allow me to start off with the aftermath of the gig, and an important yet short anecdote…
It's a freezing yet miserable night in Tunbridge Wells, and for some unfortunate moshers who somehow went the wrong way back to the train station whilst dressed in shorts and hoodies (and one in cow print trousers), three unfortunate souls missed their train and had to embark on four to five hours stranded in subzero temperatures, which almost got them a severe case of hypothermia. Whilst this was in part to a temporary case of stupidity (and the curse of Google maps), was it worth the pain and suffering? Yes it damn well was, because these mosh pit veterans stranded on this cold night were not just gluttons for punishment, oh no… they came to see the motherf***ing Cancer Bats!
That's right. The Cancer Bats – Canada's finest and loudest sons, are back on a length UK tour in support for their fantastic new album The Spark That Moves. But on this very night at Tunbridge Wells Forum – once the largest public toilet in the UK, the punk rock freight train is about to tear down the walls. However this is not before their more metallic sounding supports who have joined them on this tour, Bleed From Within, and the night's opening act all the way from Nepal, Underside.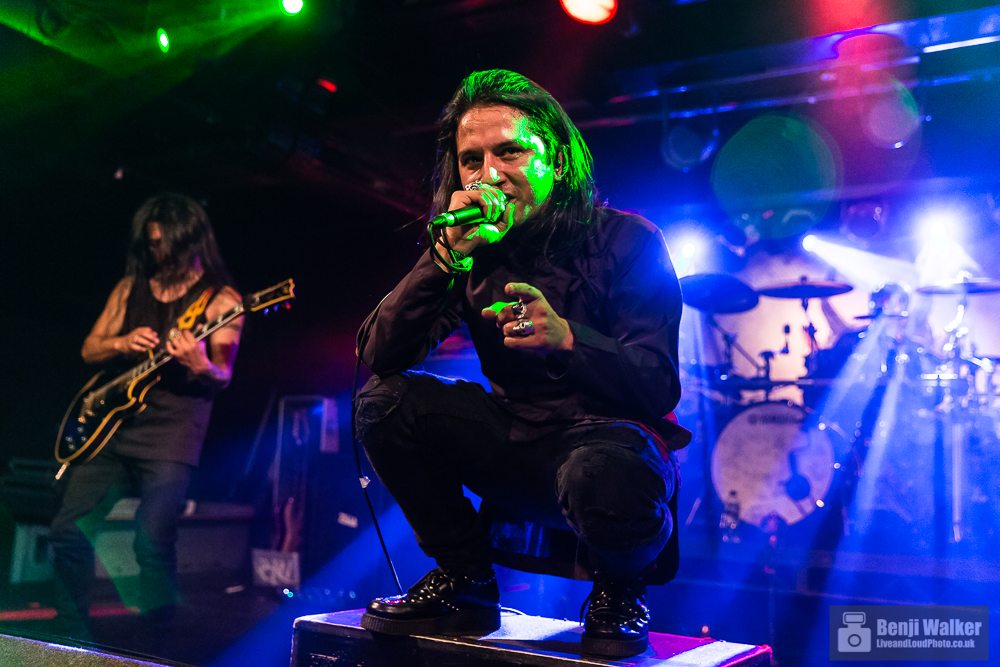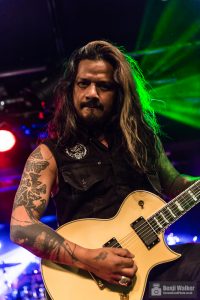 For a band to be driven with such dedication and heart to come this far to spread their musical message, Underside are certainly a true testament. Whilst the sound is a little too tinny to fully appreciate their full sonic onslaught, the crowd of curious onlookers are more so just absorbing everything that Underside bring to the table. Even if that didn't grab your attention, the bemusement of what can only be described as some sort of a band mascot that looks like a cross between Animal from The Muppet Show, and the Predator, stalking the stage and the crowd busting some very attention grabbing dance moves, certainly was a talking point on its own. But in the psychological sense, it works wonders and has everyone in the room engaged in some sort of way. But this isn't about fashion, this is about the music. And the respect and appreciation that Underside are shown afterwards is lovely, so kudos to them for kicking it off in style.
But next up are Scottish metalcore crew Bleed From Within. Now a little story about these dudes… admittedly, I was very cynical when I first heard them years ago, as they seemed to be riding some sort of a hype machine, and I could not get away from them. So naturally when that happens, I tend to not go anywhere near it, as I don't want to be disappointed, or fed a PR driven machine that lacks substance. But oh how my preconceptions came crashing down…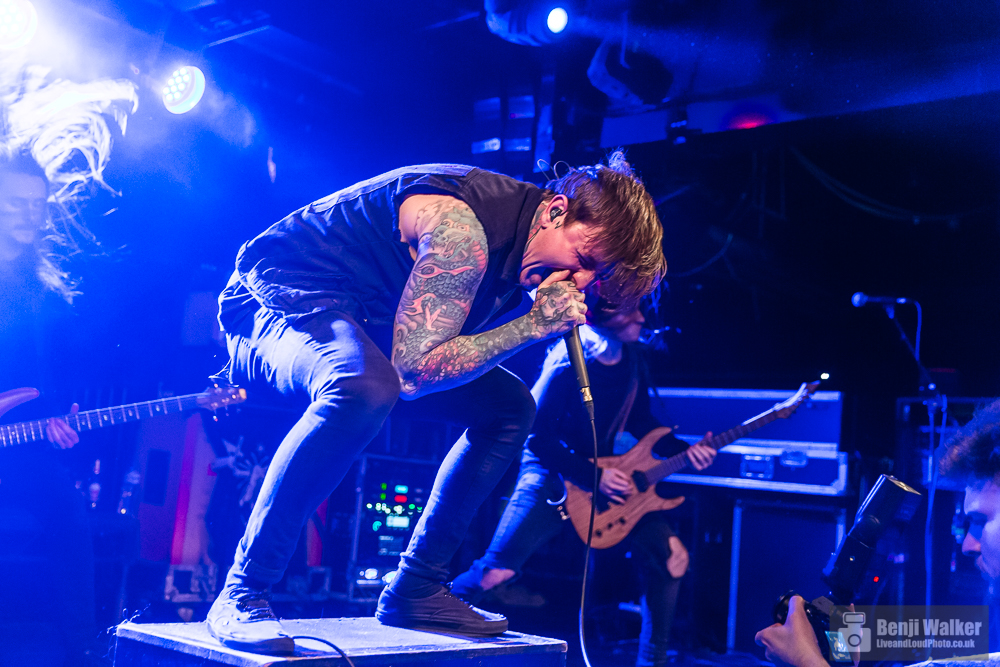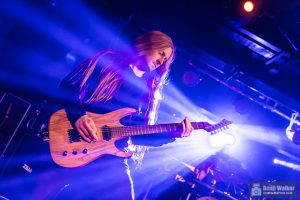 Bleed From Within were MAGNIFICENT. Their sound and delivery is enough to penetrate Fort Knox, and the musicianship and heart and appreciation these guys display is nothing short of admirable. But for one of the first times in ages, I was proven wrong and made a believer out of a band that I admittedly brushed off in the past. Bleed From Within gave a maniacal performance which incited the pits and energy from 0-70mph in a quick succession. A surprise hit which left a long lasting impact on myself, and many others here tonight.
Though when its time for Cancer Bats, it goes without saying that all hell will break loose. This is standard procedure. If you have ever been to a Cancer Bats show, you know its going to be a party from start to finish. However on this tour, we are informed that drummer Mike Peters has had to stay at home because of a new arrival in to this world – so congratulations dude! But in the meantime, we are blessed with a drumming replacement, who I would like to mythically dub 'The Belgian Beast' for added primal mystique and effect, and who had to learn a 19 song set with the rest of the guys. And damn was it a hell of a set…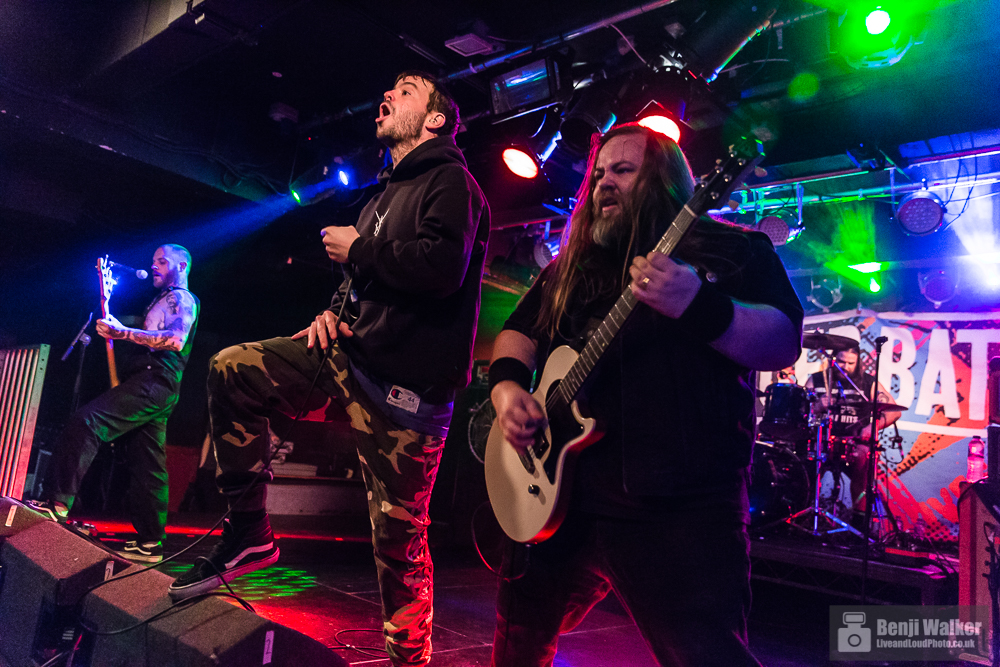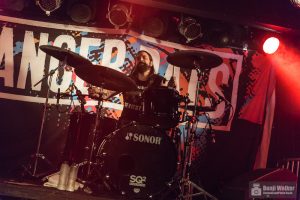 Not only are we treated to a lot of the new material from The Spark That Moves, but also brand new B-side 'Inside Out' – which the Cancer Bats have done a tour exclusive split vinyl with Bleed From Within to celebrate its release, but also a whole lovely range of older material, including 'Bricks' and Mortar', 'Sabotage', 'Pneumonia Hawk', 'Lucifer's Rocking Chair, 'Hail Destroyer', and (to my delight) an old gem resurrected in 'Butterscotch' from their seminal debut album Birthing The Giant. Whilst the pit is a lot safer than it has been for other Cancer Bats shows previously seen, its a real nice mixture of posi-vibed people from all walks of life here, who are down to dance, mosh, party, and in the case of yours truly – attempts to stage dive to whatever degree possible.
Let's face it, there has NEVER been a bad Cancer Bats show, ever. These guys are some of the most humble, down to earth, most awesome and kind hearted souls on the planet, who work tirelessly hard and show so much love and time for their fans than I have arguably seen any other band ever do in all the time I have been going to shows. This is a true testament to how much of a beloved, well respected, and inspiring band the Cancer Bats have grown to be, and will continue to be for as long as their spark still sets fire to the trail of glory and destruction that they leave!
But on a philosophical note – when going to a show and in event you may potentially be stranded on a cold night, take a jumper with you. It helps.