Faster Pussycat turned back the clock and turned the Underworld in Camden into the Glam Rock scene of Hollywood via 1986 for the entire set. The group was most successful during the late 1980's with their self-titled album, their 1989 gold album Wake Me When It's Over and the 80,000 selling Whipped! in 1992.
The music of Faster Pussycat has a definite Ramones meets New York Dolls meets LA Guns vibe with huge punk rock influences. Tonight guitarist Ace Von Johnson turned up the volume with his powerful guitar riffs and Chad's energy on drums was above and beyond throughout the whole gig. Taime, dressed in leather and coolness brought his veteran rocker attitude and front man skills on stage and didn't disappoint for a second.
The most heartfelt and only toned down moment occurred when Downe sat down in front of the audience and sang 'House Of Pain'. One of the most entertaining tracks, besides all the famous hits, was definitely 'Pretty Fucked Up' joined by bassist Danny on vocal duties.
Prior the gig we got to sit down with drummer Chad Stewart and guitarist Ace Von Johnson to have a chat regarding future and past of the band.
RAMzine: Hi guys, thanks for taking the time to talk to us. How's the tour life treating you?
Ace: The tour is great other than Danny Nordahl being in the band (laughs). Last night HRH Sleaze Festival was awesome. Completely sold out.
RAMzine: After tonight you are coming back to London with The Answer and Mr Big, are you guys excited to share the stage with these two bands?
Chad: Absolutely, we are excited to come back and play big shows and opening them (laughs).
Ace: Yeah it's like less stressful and the responsibility is not so much on us so we can just tour and be part of the package and just have fun collectively rather than worrying too much about what slot you get. It doesn't matter if you play first, second or third, I think for once it'd be cool to have no responsibilities.
Chad: I think the majority of Mr Big fans probably don't even know who we are because we were kinda in the middle of the whole thing, they were at the end.. it depends. But in any case I like the fact that that will be the first crowd.
Ace: Yeah I like that too.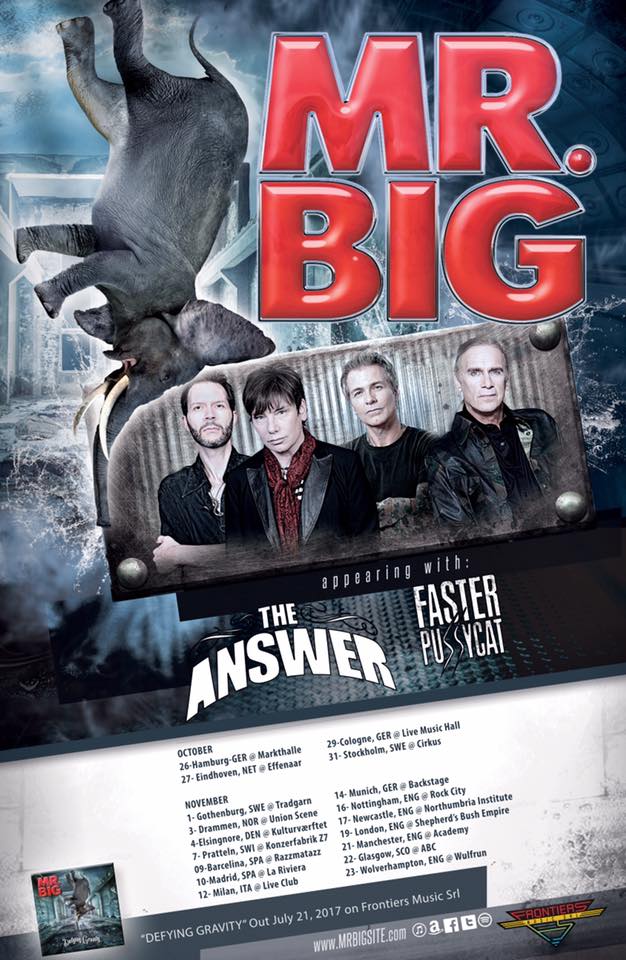 RAMzine: Are you guys friends with them?
Chad: Well, we are friends with Eric.
Ace: Eric is great.
RAMzine: What's a band you are really proud of having played with?
Ace: I liked playing with Quiet Riot when Tracii was in the band.
Chad: I liked that. I liked touring with Cinderella, anytime we can tour with Tom or anything to do with him just turns up great. The Quireboys and Kixx are amazing bands too. We are friends with a lot of people.
Ace: We haven't toured with Wednesday 13 yet but we are fans.
Chad: We are trying to make that happen, I am sure it would be fun.
RAMzine: I am quite sure your fans can barely wait for a brand new record after Front Row For The Donkey Show released in 2009, why such a long wait?
Chad: It's been a difficult process, Taime had some health issues so we had to stop. We got Gilby Clarke involved now and he'll be producing. The thing is we are on the road all the time so having time to stop, switch gears and finish a record has been hard.
Ace: And there's no real record label or serious demand other than from the fans, it's not like there's been someone going 'every eighteen months you have to put out an album' it's just out of discretion, but when we get off tour, you know, we have like a month off or so and the last thing you want to do is going in a studio.
Chad: We've been approached by labels to put it out, I just think we need to get our timing correct with the tour schedule and everything else.
Ace: There are a lot of moving parts.
RAMzine: Also the band has gone through a few line-up changes, do you think you have finally reached the perfect balance among your current members?
Chad: I do. I don't think the band is been through that many changes, we have switched the guitar player a couple of times. Actually three times in twenty years and that's not really a lot, considering that everyone from our days has gone through so much anyways.
Ace: I think it's tacky when people compare us to bands like Motley Crue or Guns 'N Roses, well the thing is they are all travelling in separate buses making a million dollars a tour. We are a club band, it's a complete different level.
Chad: We were always worried even when we did arenas, I mean my second tour with the band was Poison.
Ace: I've been in the band for 8 years so in 18 years there's been three guitar players and everyone else has been consistent.
RAMzine: What was the first band you have ever listened to that made you feel like music was the path you wanted to take?
Chad: Kiss. End of story. Next question (laughs).
Ace: I guess Metallica I've never thought about it but I was about 12 when I was waiting in line to buy 'Load'. And probably The Misfits too.
RAMzine: From the 80's till now many things have changed in the music business, what piece of advice would you give to a brand new rock band?
Ace: I'd say network, write songs, work on the songs. I think I'm stealing a Cooper quote but Alice said 'All these new bands look great but they don't have songs'. I feel like a lot of bands from a lot of different genres I hear now whether it's rock or metal or punk or industrial or anything alternative well I find these bands looking cool but when I listen to their stuff there's nothing that gets actually stuck in my head, obviously not everybody but that happens very frequently. So I'd say work on writing very memorable songs and do networking. The reason of where I am now, as a nobody as some people may say (laughs), is that I networked.
Chad: And be nice because you have no idea how many times that's gonna take you a lot further. Don't be an asshole!
RAMzine: What do you miss the most of the 80's rock golden age?
Chad: Just the whole debauchery was absolutely insane and the internet killed it. You can't do that stuff now, you'd be shamed for stuff like that. That's what I miss the most, everyone was out partying, enjoying the moment with no phones or cameras.
RAMzine: Anything else you'd like to add or tell your fans in the UK?
Ace: We love it here. Everyone has been awesome.
Chad: We always have a good time when we are here, it's been a while since last time but we'll come back more frequently, we are glad to be in the UK!