This week RAMzine had the unique opportunity of visiting London's Metropolis Studios, at the Powerhouse in Chiswick as guests of The Academy of Contemporary Music (ACM) to see a guitar masterclass given by expert guitarist MIKEY DEMUS of heavy rock & reggae band SKINDRED.
The class was given to ACM students and introduced by the Skunk Anansie guitarist Martin "Ace" Kent.
Before the class was given, we had a chance to chat to Mikey…
RAMzine: Tell us about working in Skindred.
"I've been with Skindred for 15 years. We work really non-stop, especially during Festival Season. We're out touring our sixth studio album [Volume]"
RAMzine: Did you have any formal music education?
"Just the normal music lessons in school. Classical music etc. I thought it was fairly frigid and outdated. I'm mainly self-taught. I was seven years old when my Dad gave me a 1970s Gibson copy to play. He's left-handed (which is why I play left-hand) but actually I'm naturally right-handed. That's the biggest secret in rock! My Dad taught me a few chords but I didn't get on with it, too difficult, so I gave it up."
"Then when I was about eleven years old I saw a documentary on Woodstock. With Ten years After, Jimi Hendrix and Santana, you know. And I liked what I saw. So I picked up the guitar again and started to practice."
"Then I came across Rage Against the Machine and Nirvana and realized their chords and fingerings were easy to copy. I concentrated on that. I don't really have a "solo technique" to speak of. I think you become the product of your own mistakes — so for example I only know the pentatonic scale and, probably, that's the only one I'll ever need."
RAMzine: What were your main influences when starting out?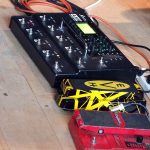 "I wasn't really into metal and thrash, like I say. I liked heavy rock, Judas Priest, Deep Purple, then I got into Queens of the Stone Age, Eagles of Death Metal, that sort of thing. But I've always had a wide range of influences. For example I've always been a big fan of Steve Cropper (Stax) and, of course, Skunk Anansie."
RAMzine: So how did you learn your art?
"From copying techniques. Maybe from YouTube. Or being shown chords by others".
"As I say, I was never really a shredder. I was brought up on the blues stuff, so the minor pentatonic is all I needed to play along to the kinda music I loved."
During the masterclass Mikey discussed his Fractal Audio Rig and explained to ACM students how bands nowadays tend to cut down on their equipment in the studio so they can produce the same sounds on the road.
"We found that one cabinet contained just cables, for example… and that cabinet costs literally hundreds of pounds to fly all over the world. So we are always thinking of new ways to cut down on equipment, to make touring more economical."
"For example, I now take just three guitars [the Audio Rig ] and a pedal board…"
When asked how he made the best use of his time, he explained:
"We plot out a plan for at least 18 months. We pick the festivals we'd like to do, in advance, then we work the rest around those dates, you know? This would form the tour cycle for the next record. We tend to base our movements around territories."
"UK is our healthiest market. But there are only a certain amount of venues you can play in the UK. We do the Academy venues with LIVE NATION but we also do some smaller venues, smaller stages, on each tour to reach new fans. We like to travel to Europe. We're big fans of Germany and we like their shows that are well-organised and, of course, the Germans love to rock."
"For a while we set up "second home" in the United States. We supported Korn, Papa Roach and Sevendust. and we did the Warped Tour which was gruelling. We found you can do the whole of the UK in maybe 2-3 weeks but if you spend two months on the road in the U.S. you basically haven't covered any of it. But we worked really hard and America really embraced us. They took us to their hearts. In fact, I think they didn't know we were British at all. It was not something that we 'banged the drum' about too much — we do now."
When asked about composing new material, he discussed Skindred's songwriting history:
"We worked with Russ Ballard [Argent] writing songs with him for a big production album. But then we wanted to do something simpler, just us guys in a room with guitars…"
"I tend to hum into an iPhone. Normally at night. That wakes my wife up so I've taken to going downstairs and humming a bit louder… sometimes at three in the morning…"
"I hum-out new ideas on the tour bus or wherever. But we've found that the only way to really write is to play together in a really loud room with Benji and the others. That's how we get good results."
"When we go into the studio we don't muck about… we are familiar with the songs we're gonna record and already know 90% of what we're going to do before we arrive to go in. That way we don't waste time…"
Mikey played three songs to students before taking questions. He finished the masterclass with a superb rendition of "Warning" taken from the 2011 album Union Black.
Notes: The ACM is a music academy based in Guildford, Surrey and provides its own contemporary music-based courses and partners with three public institutions, one college and two universities in respect of many of their contemporary music courses.
The school has links with Guildford's Electric Theatre, East Surrey College, Middlesex University, and the University of Falmouth and has sites in Guildford, London and now also Birmingham.
Their connection with Metropolis gives students a unique opportunity to work in a live studio. And their industry-link department is dedicated to supporting the professional development of students, helping them take their first steps into the music industry and connecting students with music industry jobs.
Mikey Demus was talking to Neil Mach.