Returning for its seventh year running promising some of the best UK punk acts on the scene, Wonkfest offers a great day of music, food and drunken revelry for all. 
Not just a music festival, Wonkfest is also a community event embracing the true ethos of punk. This year the festival supported Hesita Crisis Support, a charity supporting those affected by domestic violence. Donations were supported by a large finger buffet, live silkscreen t-shirt printing and a BBQ in a courtyard where you could relax in between sets.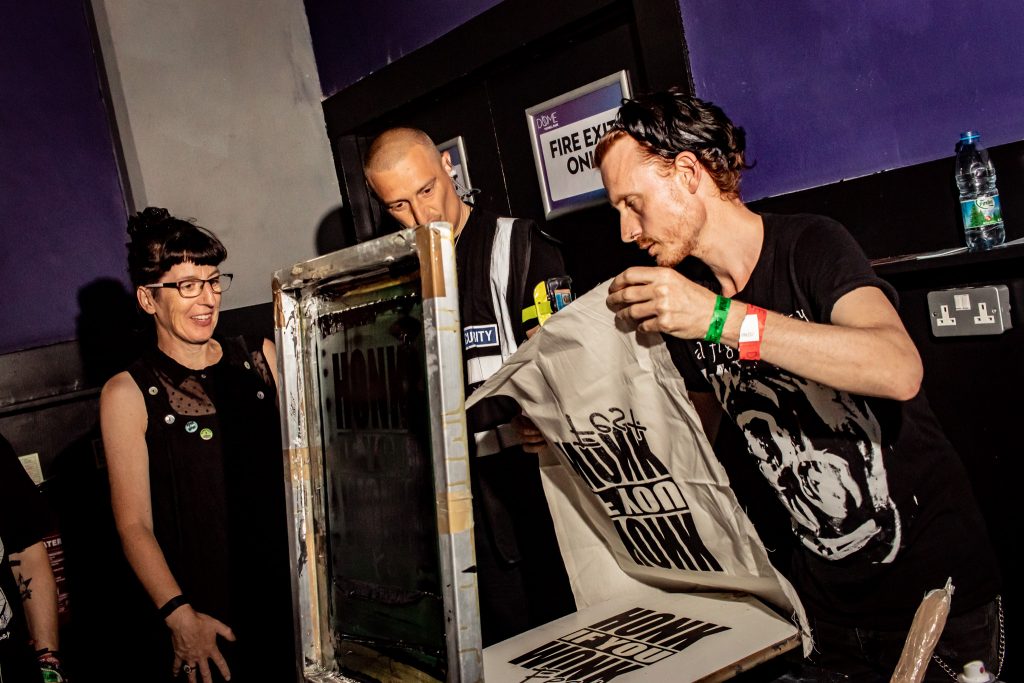 Arriving at Tufnell Park bright and early we were greeted with a massive vinyl banner pointing in the right direction to the festival. It's hard to miss the Dome with a line of old school punk veterans as far as the eye can see patiently waiting for the doors to open. On a typically sleepy Saturday morning the true hardcore fans are subjected to some odd glances from the locals; a family of three walked past and looked bemused at the fluorescent hair, tattoos, spikes and patches on show.
Doors opened and everyone headed up to the main hall where the first act, African Vegetables performed. African Vegetables are the side project of the host Alex Wonk and Pwosion (bassist for Wonk Unit) with a rather jaunty and upbeat Afro-Caribbean sound, loosening the crowd up as more and more people entered the venue.

Alex was in a jovial mood, thanking the crowd and announcing this was his favourite Wonkfest so far, namely because this year's fest was to be his 'history line-up' and featured two of his major musical influences, Frankie Stubbs and Duncan Redmonds. Right after that he went into 'Bailey' a song about his favourite drug dealer, followed by 'I Love Children with Glasses' and an acoustic version of the Wonk Unit classic 'Springtime'.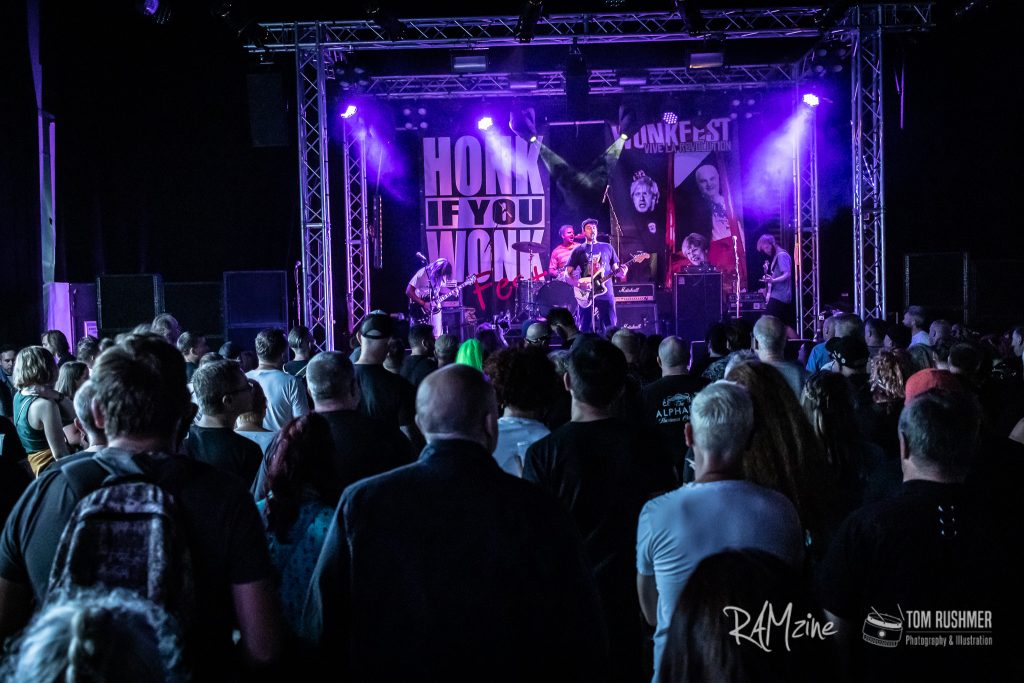 The day started to get heavier with The Barracks playing in the second room downstairs, their anthems and California punk reminiscent of The Distillers and Offspring got everyone in the mood for bopping. Then onto Project Mork playing heavy metal with thrash influences, inciting the first mosh of the day. Beverly Kills were late so Steve Pitcher and Rob from former Vanilla Pod kindly stood in to play a heartfelt acoustic set.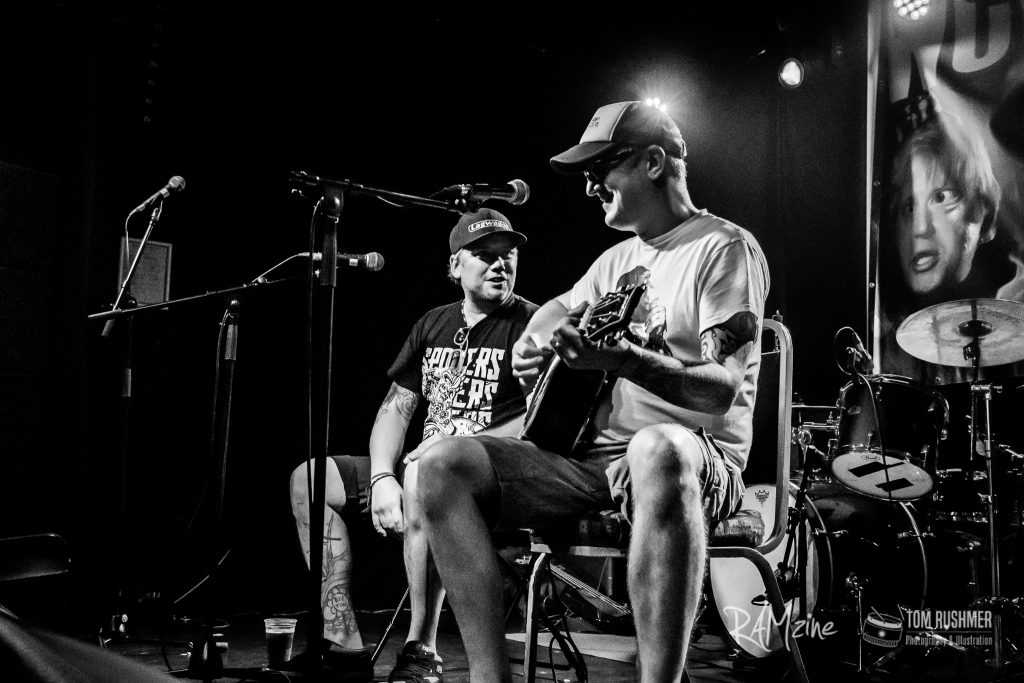 From this point bands played in alternating rooms, some overlapping each other but not enough to negate the chance to see everyone playing. This included acts such as Laserchrist, Youth Killed it, The Dub Righters, The Dopamines, Goober Patrol, Aerial Salad, MurderBurgers to name a few.

Punk legend and former frontman of Leatherface Frankie Stubbs delivered a wonderful performance greeted with a roaring crowd that packed the room. As was the same with Duncan Richmonds with his band Guns and Wankers. It was to see these veterans of the genre shwoing us how a to perform a great show and keep the spirit of punk alive.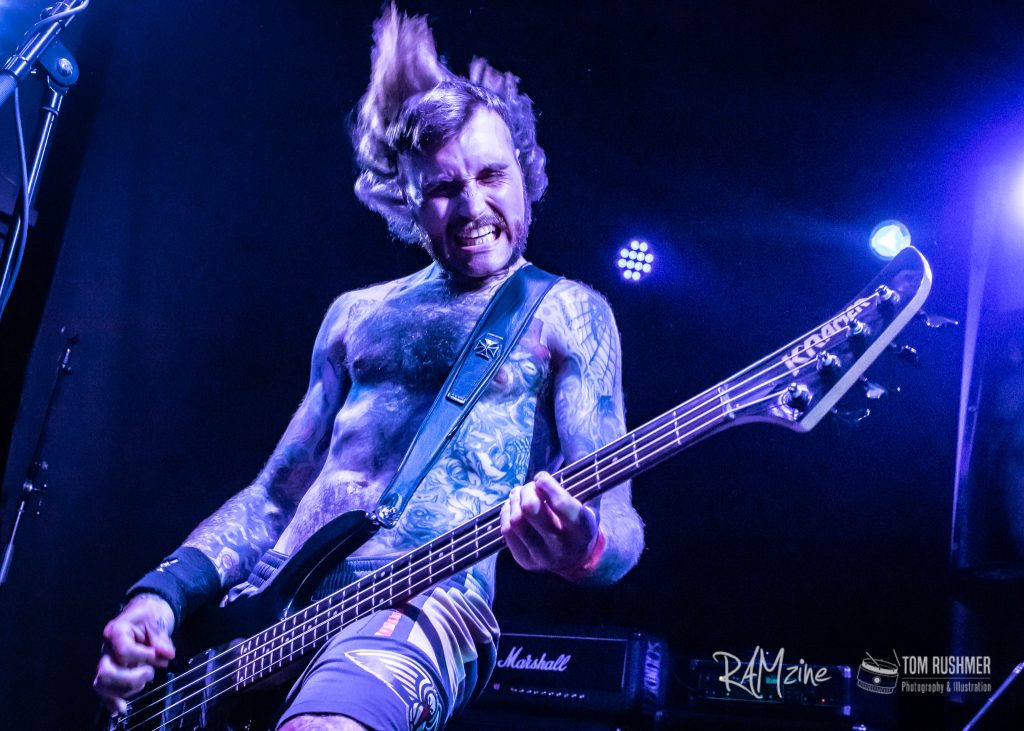 Spirits were high and after nearly getting crushed in a mosh pit during a Pizzatramp set we went upstairs to catch Hard Skin, who were one of the more abrasive acts of the day with hard-hitting chants and gritty two-tone riffs. All with an attitude to match, humorously stating "There's still time for you catch Pizza Hut downstairs, what kind of a fucking name is that anyway?!" and after a hail of laughter from the audience "Fuck you and your positivity!" was met with even more laughter.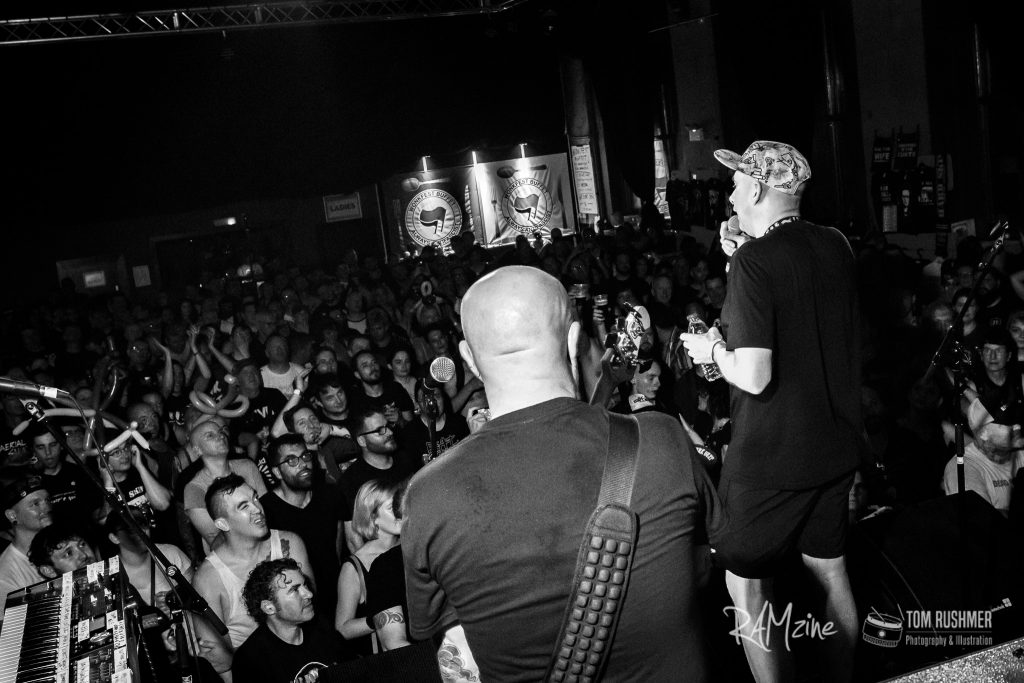 After that came Wonk Unit themselves. Everyone had piled into the main hall to see them and went wild as soon as they appeared on-stage. After Alex greeted and thanked the crowd once more, they went straight into the set dishing out fan-favourites such as 'Awful Jeans', 'Lewisham', 'Horses', 'Je'Mappelle Alex' and the classic finisher anthem 'Johnny Rambo'. The mood was sky-high and it was clear that the band had put on a fantastic festival that welcomed everyone (apart from one guy dressed like Mr Toad, who had clearly gotten lost on the way to a Cheltenham racecourse meet / fox hunt and after an altercation with security was subsequently thrown out).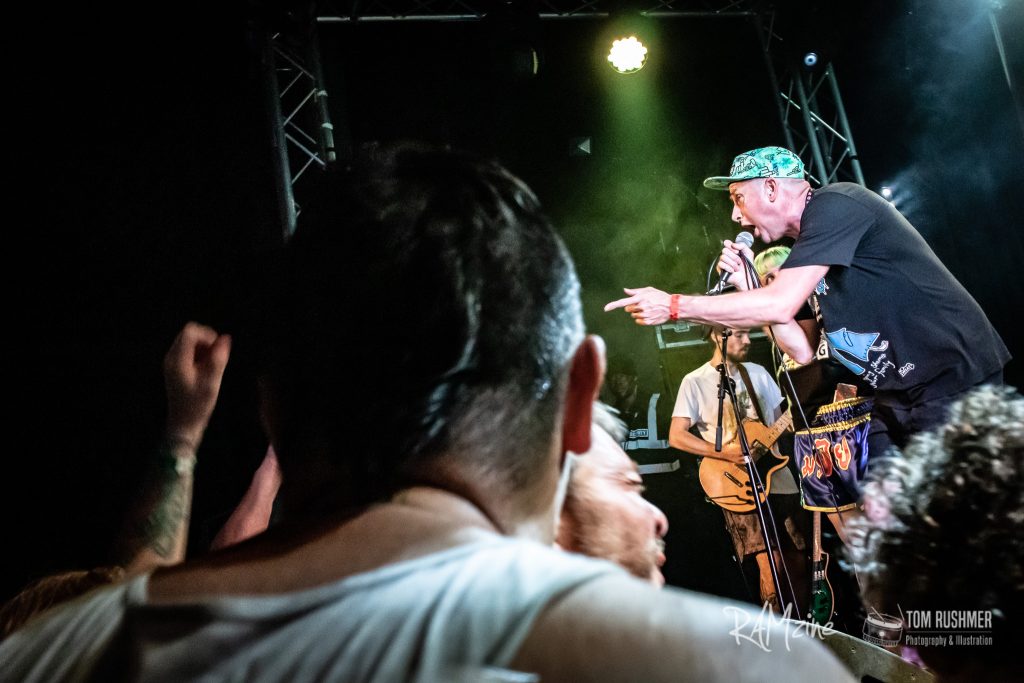 Throughout the day it was clear that punk is still going strong, now more than ever. Perhaps not with as much grit as back the day but still fueled by the same ethics, blood, sweat and determination that came before. This is proof that you don't need copious amounts of land, promoters and alcohol sponsorship's to run a great and successful fest. If the community you appeal to is strong enough, they'll keep the fire burning. Here's to Wonkfest.