Gloriously, the gods of weather have treated us here at Hard Rock Hell by getting all of the rain out overnight so we don't have to suffer through it. This is especially welcome as the suffering is real. If you don't have a hangover this morning, you are not experiencing a rock and roll festival properly. With pounding headaches, a dislike for bright light and a serious need for a ketchup slathered bacon buttie, it's time to kick off the first full day of Hard Rock Hell.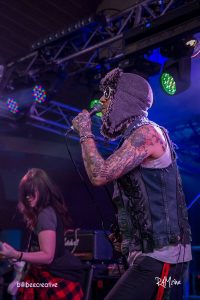 Over on the second stage, Black Bullets are changing things up to blast out the cobwebs and get the crowd moving. They certainly stick out like a sore thumb on this line-up, with their grunge-come-thrash high-velocity tempo, and a flippant carelessness that leaves them oozing cool from every pore. Not everyone in the crowd is convinced; some attendees quickly leave in bewilderment, while an equal number are racing in to see just what the hell is going on.
Vocalist Billy T. is channelling Kurt Cobain's fashion sense today and spends most of the set draped over the mic stand like a Sid Vicious themed tea-towel, but the ferocity with which he shrieks through the set proves that, despite appearances, he is fully dedicated to this set. The epitome of a rock star frontman.
The rest of the band provide excellent harmonies and offer space for crowd interaction within the cacophony, and special praise has to be given to bass player, Alice E. Atkinson. Easily the most impressive 4-string wielder of the weekend. How bloody punk do you want it?
A few more bands and a portion of chips later, the second stage treats us to Estrella. Leather waistcoats and a hefty bass tone, the boys are classic, Whitesnake inspired glam. Sexy bounce and swagger and more sing-a-long moments than you can shake a stick at, the decent sized, early evening crowd are more than happy to indulge the Scottish four-piece.
The band's chemistry is second to none, and once you realise that the singer, guitarist and bassist are brothers, it becomes evident why: This is more than just a job, more than just passion, for the Gunn brothers and drummer Leo McPherson, this is life.
Singer, Paul Gunn, is obviously loving every minute of what he's doing, and his enthusiasm rubs off on every single pit-swilling rock fan here. He does have a couple of bum notes that squeak their way out during the first two songs, but by the end of the set, they're in full flight and kicking arse.
They do however highlight a much-needed public service announcement: Lead singers, leave your acoustic guitar at home! Unless you're Bon Jovi, a ballad ¾ of the way into such an energetic set just dampens the mood.
With a damn good shout of being the most exhilarating live show of the festival so far, Voodoo Vegas mean business.
Lawrence Case is one hell of a singer. Technically proficient, gritty vocals accentuate their brand of high tempo grimy rock and roll, and the whole show is laced with boundless energy and enthusiasm. Case feels stoic and enigmatic throughout, but don't take this to mean he's not bothered about what he's doing; he is clearly as passionate as you can get about music, he gives the adoring fans a run for their money as to who is having the best time.
This is their first appearance at an HRH event, and with Case commanding the crowd with his request of, 'are we gonna prove that stage 2 is the place to be and make some noise?', you can tell that everyone here will gladly champion their return.
The highlight of the band's set gets the entire crowd up and jumping, throwing the devil horns throughout their homage to The Joker from Batman in the form of the dirty, whisky soaked ode to the Clown Prince of Gotham. Song of the day by a mile.
Headlining the main stage, and by far the biggest draw of the day, the squeeze to get into the crowd for Lita Ford is tighter than Joe Elliot's waistline. As Accept's 'Balls to the Wall', blasts out into the venue, everyone is pumped as all hell and has given their vocal chords plenty of time to warm up by the time Lita and co. grace the stage.
From the offset, there is a flurry of blistering guitar solos, a terminally high-velocity rhythm section, and guitarist Patrick Kennison is as good a singer as most who have graced the two stages today. The band are almost drowned out by the crowds howls of joy and wolf whistles.
'The Bitch is Back' is a showcase of the best of Lita: A smoky, warm and welcoming verse, with a snarling chorus steeped in 'no-bullshit' attitude. Do not mess with this rock and roll star!
There is no one standing in the sweat-drenched venue tonight who doesn't love what Lita has to offer, and she's proving herself to be the Queen of crowd-control. Next time the Tories incite a riot, they Met want to give Lita a bell to sort it all out; though it definitely wouldn't be a peaceful resolution.