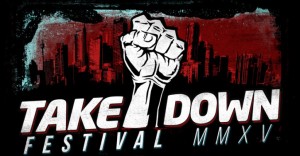 When we met InMe, they were just a few hours away from taking the stage to play Overgrown Eden in full. We spoke to them about how it felt to play the album in full yet again, their THREE upcoming new albums and looking back on their career to date.
Overgrown Eden – It's quite a moody album lyrically, but when we play it to a crowd of people, and everyone is singing along there is a celebratory, anthemic quality to it" – Dave McPherson

Towards the end of the interview we discuss the bands thoughts on ticket touting.