If we're to believe the press spiel, TOTO XIV is the album that guitarist Steve Lukather, keyboard players David Paich and Steve Porcaro, and bass player David Hungate (returning to the fold, and one of several four stringers featured on the record) consider the one they should have followed their worldwide vinyl hit TOTO IV with. If that's the unmitigated truth, there's a lot to be said for coasting on past successes because they've not done badly in the 30 plus years that followed.
Financial recompense to one side, the creative flow of ideas present across the 12 tracks on the standard release is pretty admirable, and I talk as someone who pretty much hates 'Africa' one of the two hit singles from TOTO IV (though for the record let this old warhorse record for prosperity that their debut single 'Hold the Line' will always raise a smile, due to several now mature ladies claiming it reminded them of him, if only at the time). But we digress down memory lane too much: what exactly have TOTO got to offer the listening world of today?
Well, Lukather's been waiting that long for a new Jeff Beck record he's inventing jazz fusion riffs of echoed bottleneck complexity himself and placing them within the framework of actual songs, the band as a whole have been laughing their heads off at super group Flying Colors' attempts to marry prog rock with modern pop sensibilities and decided to show them how it is done, they've also laid down enough tracks to get picked for a couple of Hollywood romance chick flicks, and not forgot to pull a power chord or two out of the box once in a while.
Things start well with Lukather layering in Beckian guitar melody lines that surrender to Eastern scales as effect-patched vocals sing over ascending subtle power chords and dancing keyboards that nod cautiously toward prog rock for 'Running Out Of Time'. It's a song that could be about romance but is more likely a metaphor for the planet's ecological landslide. Lyrically TOTO ply allegorical sentiments to several songs on this album. On the one hand the more direct lines will be enough for that much-maligned stereotypical housewife catching a tune on the radio, for others –  aware that the band contribute to a number of worthy causes – it should show the maturity of their work. The fact is sometimes it works and at others it doesn't.  Take 'Holy War', it's fairly obvious the price of oil is the choice subject here and not the particulars of a divorce settlement but it comes across a little too heavy-handed and the dichotomy of it cruising over a rocking tune that's great uplifting driving-with-the-top-down car music kind of spoils the mood. '21st Century Blues' gets it spot on: a blues beat with jazz asides, big chorus vocals and a knowing way with words that could have been lifted off any choice Steely Dan album (a band  TOTO were connected family tree wise to from Day 1).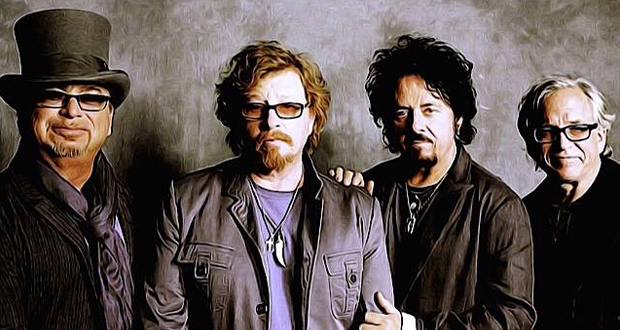 'Orphan' is another cracking tune, intimating within its opening musical phrases that it might be going for a mid-west Americana approach only to strike out with rocking power chords and then turn it all on its head by mixing it up with the kind of fast beat cod-reggae The Police used to do so well. There are also some really cool keyboards sounds filtering about only for the song to end just as Steve Lukather is getting warmed up on an old school rock 'n' roll solo.  Praise should also be handed out to lead vocalist Joseph Williams here and on pretty much every other number: another member returning to the fold, having previously appeared on both their The Seventh One and Fahrenheit albums
'Burn' has a beautifully haunting piano melody with syncopated drums for a scenario one axe swing removed from  Edgar Allan Poe's The Tell Tale Heart but needs a little bit more to stand outside the framework of the album as a whole.  The same may be said for 'Chinatown' that not only sounds like The Doobie Brothers but shares a song title with them, while the album also features that band's Michael McDonald  amongst its many musical affiliates; nice guitar solo and sax lines though. 'Unknown Soldier (For Jeffrey)' however has an epic feel from the start, the right side of early Bon Jovi if they were covering Lynard Skynard, or too serious a song for Bad Company to have put on Straight Shooter. It fits in perfectly with the album's themes and could prove to be quite profound live, but not one those stereotypical housewives are going to go far.
That they then seamlessly change course to deliver a treated keyboard ballad that could be the Art of Noise with Donny Osmond on vocals (Do not knock the singing Mormon if you've not seen him holler out and stand up to Jeff Beck's six string wailing on the video to the guitarist's 'Ambition' single, my macho friends). There are similar treated keyboard sounds on 'All The Tears' an affecting love song that comes in with a heavenly upbeat chorus harmony melody used sparingly – You'd probably need it edited to fit a mainstream radio format but play a few bars of this at the right moment during some steamy summer blockbuster movie and it would be a chart hit regardless of length.
This is a classy album, meant to be heard as a traditional long player from start to finish. Best heard over an early evening meal for two, with several bottles of wine uncorked, TOTO XIV has the audacity to follow some moody romance numbers with 'Fortune' a teasingly coy part lullaby, part blue-eyed soul with a little Steely Dan in there again but sexy and slinky for ladies listening will be tempted to shuffle their bootie around the room, or their male partners make such requests of them. To then end the album with the many themed progressive rock flavoured 'Great Expectations' may not sound right on paper, but there's some manly stirrings of synthesizers, strumming acoustics and high note guitar racing to be heard that pretty much works as a climax to what could turn out to be rather a good night in.
I'll be honest with you; I really didn't think this was going to be as a good an album as it is. They don't make them like this anymore, at least not often enough. Rather snazzy album cover too.