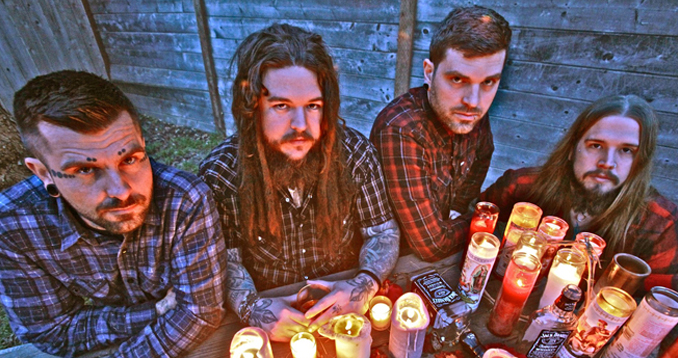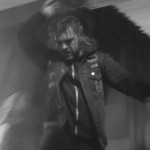 All Hail The Yeti are a band that know what they want, they know who they are, and they are focused on their path towards the light. Hailing from where many would believe the light already sits, Hollywood, LA.
We sat down with vocalist Connor Garritty, before their show with 36 Crazyfists at The Marble Factory in Bristol. Connor is very softly spoken, you can hear the honesty in his voice. In this interview he portrays a calmness, which you wouldn't necessarily assume from the bands stage performance.
RAMzine describes All Hail The Yeti as a band that brings an ubumdance of swampy, sludgy riffs, and throat bleeding vocals all of which culminates into, what you have dubbed 'Whisky Metal'. Would you agree with that statement?
Yeah, I would say that. The whole 'Whisky Metal' thing got given to us by some of our fans back home, we like to drink Whisky, but there is a lot more to it then just being drinkers, it's not all about that.
Yeah, it says that a lot on the internet.
Yeah, I don't know why. I think when the record came out the label used that. Some things get misconstrued.
Your self-tittled album came out a while ago now, what are your future plans for recording?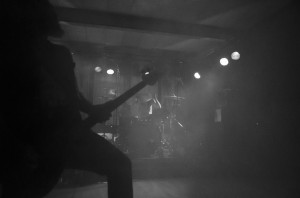 We have just finished a 5-track EP, we are using that right now to find ourselves a new home. So, we are free agents, if anyone is looking… (Check them out at www.facebook.com/officialallhailtheyeti).
The label that we were on didn't pick up our option, which was kind of good for us, as we have now been able to do a lot more since then. We are in a better position now to find a better place.
Sounds Exciting! Has the new EP been fully recorded?
Yeah, it's being mixed right now. We are going to use that to shop, and then hopefully once that's done, we will be able to put it out, or at least release some of the songs. Then do a new record, hopefully by the summer – that's the plan!
We are really excited to hear the new material! We heard that you have had a few line-up changes, was that prior to the new EP being recorded?
We have had line-up changes quite a few times up until now. It's been rough. I think it's because of where we live, everyone is always coming to California, to LA, to Hollywood, to 'make it'. It's this thing where everyone says "we gotta go there, we gotta do whatever it takes". But then, one person will get another offer from another band, that might not even necessarily be a band thats good, or doing anything, but they have money. They say "well, we will pay you to play drums" etc. So, we have been though a lot of members since we started.
Where we are now, we are pretty solid. For me, the best it's ever been. Since the record came out, it's only been two (line-up changes). It just wasn't right for them, and it wasn't right for us, and now it is right. We are pretty happy with the line-up now.

Would you say that them line-up changes have influenced your sound at all?
Yeah, definitely. Now we are writting songs with our new guitar player. So, it's changed quite a bit from the original guitar player. But we still have the Yeti sound.
I think it's grown, It's changed, we always stick to what we like, and what we want it to sound like. We have definitely grown and matured as musicians, after doing the first record. The first 12 songs that we have ever written together took about 4/5 years, whereas these ones we wanted to get done quicker. So, we have learn't to deal with the process, a lot better then before. I wouldn't say we have changed, but we have gown for sure.
Yeah, I think it's pretty natural for a band to progress in their own way, that can only be a good thing. You have a kind of occult vibe to the music. 
Yeah, that's something that was a personal thing for me, I try to put a lot of my personality into the lyrics, and the artwork, and the image of the band. People sometimes think we are trying to be this satanic band, which is a super hipster thing to do or whatever. But for us it's who we are, so we went with that. It's scary too, people get scared by it. It's good to have a show, rather then just a band who sings about something like "oh my girlfriend just broke up with me". For us it's more about stories.
It's great to see a band with their own personality. On the internet, it says a lot about you turned your back on your Hollywood homes…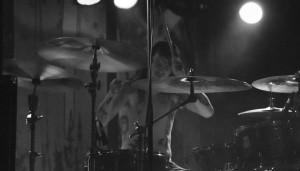 That's another one of those things that got perhaps a bit misconstrued. Hollywood is our home, thats where we started the band, and when we started the band it was good for us, but it's not good for us now. I think what our previouse label meant by that, is it was time for us to leave Hollywood behind, and start touring.
Time to get out of the bubble?
Yeah exactly, we became a big fish in a small sea, it was hard to stay above water with all the band members changing, and that sort of thing. A lot of the bands in the metal or hard rock scean in Hollywood, are just on revolving door. They break up, then two guys will start another band, and two guys will start a different band. Everyone is still friends, but it's just this thing of "we gotta make it, we gotta succeed and be somebody" and they will try and do whatever it takes.
Whereas for us, we know this is what we want to do, this is the music that we love, and we are going to keep doing it, whether this guy is with us or not.
So, overall that statement didn't mean your wear turning your backs at all, just getting out of that bubble?
Exactly, and it's been misconstrued a lot, I had a few people asking about it, and even a few in Hollywood saying "Why would you say that?". I just explain I didn't say it, and exsplain what it means.
Oddly enough RAMzine wrote an article about All Hail The Yeti back in 2012, because we found out about you when we went to Hollywood. Someone mentioned you at the Rainbow. 
That place is like our Cheers, our stomping ground, we are there all the time.
We really like Hollywood for all the music history, the Rainbow, the Whisky A Go Go, everything along the strip. But sadly we have heard that some of it is shutting down.
It's a weird time in the world for this type of music nowadays, as Brock (36 Crazyfisrst) was telling you earlier rquarding illegal downloading, and what the internet has done (see interview here).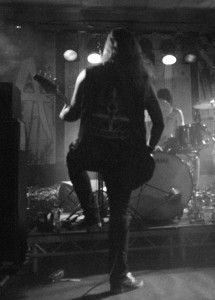 Everything is kind of leaning towards electronic dance music, it's become this thing where kids aren't into Rock and Roll anymore, like they were when I was a kid. I remember thinking that Motley Crue was this larger then life band and I was like "I wanna be like them, they look so cool and scary". They were from Hollywood, and they had girls, and drugs, and booze, and the whole persona of it. I think a lot of that has gone, lost with the internet, with the digital age.
Poeple are able to record their own albums, it's so accessible to everyone. For me, I remember having to wait a year or 2 years to listen to a new Motley Crue record, and you would stand in line at record store.
Now kids want stuff quicker, they are like "we are bored with those 2 songs, we want 4 more now" and if you don't have them now they will move onto the next band. Because they can get stuff instantaneously on their phone. Every kid has an iPhone or a HTC, of whatever else. I think that has kind of diluted the whole thing of being in a band, and loving what you do, wanting to be a step up from where you were before.
Friday and Saturday night at the Rainbow, is just like this influx of people that go to them sort of clubs (dance music, rap, RnB and Hip Hop). It's not a rock vibe at all on those nights, its like "whats happening to this place?". A lot of the owners of the venues are up in arms about it, they are just like "this is like an institution, and you are tainting it". It's hard to explain it, but I'm irritated about it, and iv only been here for 14 years, so I can image people that have been there from the start must be.
The House of Blues is shutting down, I don't know where they are going to move to. I know the Hustler store is moving, and they have been their since '98. They bought the property for something like 1 million and a half dollars, and, they sold it for 26! As a business owner, perhaps you would be like" I don't care about the strip, I'm out, heres the keys". I think they are building a hotel of something.
The Whisky, and the Rainbow, Troubadour, and The Roxy, they are never going to go anywhere. I hope anyway. That's where we started, we played our first show at The Roxy Theatre, and we would play the Whisky one month, and then The Roxy the other.
Yeah, that place has been a starting place for many bands… even for a lot of our heroes. 
We also ask Connor about his favourite festivals, and he gives us some tips for this summer, see page 9 of RAMzine here:
Download and Wacken, Rock am Ring, all of those we would love to see, do and play.
Hopefully we will see you at some next year!
Yeah, thats the plan.